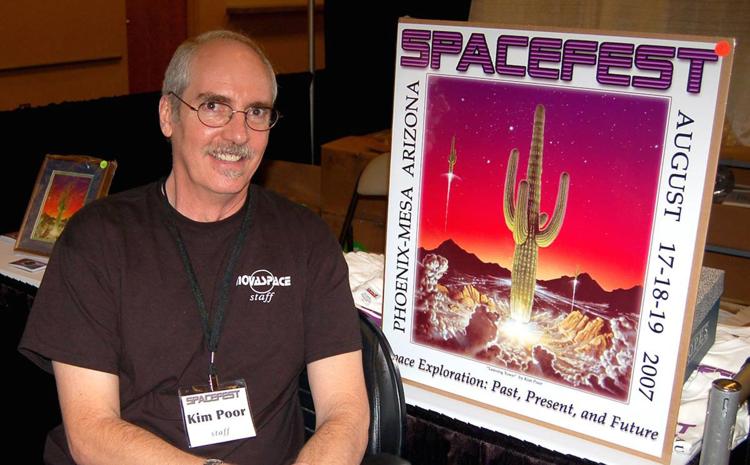 When Sally Poor was asked what her husband, Kim, would want to wear when cremated, she knew right away — his Spacefest T-shirt.
Kim Poor, who died Aug. 16 at age 65, was a world-renowned space artist based in Tucson. But he was also known for many other roles, including co-founder and first president of the International Association for Astronomical Artists and creator of Spacefest, a festival for all things space-related.
Kim was also a cartoonist, musician, entrepreneur, husband, father and friend to many, including Apollo astronauts.
He was able to achieve so much and do what he loved, Sally said, because his philosophy toward life echoed the famous phrase written for the "Apollo 13" movie but often misattributed to Gene Kranz, actual flight director of the Gemini, Apollo and space shuttle missions: "Failure is not an option."
A budding artist
As a teenager, Kim was the cartoonist for the high school newspaper. "He was clever," Sally said, and sometimes had a dry sense of humor. He called his section of the paper "Poor Sports."
He had an interest in political science and began working on a campaign in Phoenix where the candidate's wife offered to let him work in her gallery. He learned to frame, and in the back room, he started to paint.
It was around this time that Kim met Sally at Glendale Community College.
Kim then headed to the University of Arizona and enrolled as a political science major and astronomy minor.
"That's when he started painting what they call 'rocks and balls,'" Sally said, referring to the planets and stars ever-present in astronomical art.
He hung his paintings on the walls of his Tucson home. He came home one day, and his paintings were missing. On the wall was a note from his roommate that said, "I'm buying these."
"He thought, maybe I should start selling these," Sally said.
Building a reputation
Kim started traveling to mall shows to sell his art in the 1970s and 1980s.
"The first mall show I don't think he sold anything," Sally said with a smile. "He traded somebody. He got me a little ring."
Kim and Sally married in 1978 and had two children, Kelsey, now 34, and Nathan, 31, and over time, selling art at mall shows and commissions became the family's "bread and butter," Sally said.
He traveled across the Southwest and built an international reputation for his art.
At a mall show in Texas, he met Alan Bean, lunar module pilot for Apollo 12, man's second landing on the moon.
Bean was also a space artist and they became friends. Bean introduced him to other astronauts, and that's when Kim got the idea to sell astronaut memorabilia.
Kim and his wife started a business called Novaspace and worked out of a back room in their house. From there they filled orders for signed astronaut photographs and Kim's and Bean's art.
"I kept a notepad by my bed so I could take orders," Sally said, because they'd get calls from around the world. "This was before the internet."
Building a community
In 1982, Kim founded the International Association for Astronomical Artists with fellow artists Michael Carroll and Rick Sternbach, known for his artistic work on "Star Trek." Kim was its first president.
Members of the association view themselves as part of a legacy that stretches back to the exploration of the western United States when artists would accompany explorers to record images of what the rest of the world looked like and share them with people back home.
Association members also view space as a new frontier. Some of the places in the far reaches of the solar system, galaxy or universe are unreachable by current technology, but artists can represent these places with their understanding of space science and elements of art.
The association connects a community of space artists and buyers around the world.
By the mid-'90s, his business was taking off, so Kim focused his attention to getting online.
"He was one of the first 40,000 websites to get online," said son Nathan, who is now revamping the Nova Space Art website.
In 1997, Kim started showing signs of ataxia, a neurodegenerative disease. Ataxia is a general term for loss of muscle control and coordination. He was formally diagnosed with Machado-Joseph disease, a form of ataxia, in 2000. He died from complications of ataxia.
The disease progressed over the years, making him unable to play music. "He wasn't as mad that he couldn't paint anymore, but he was mad when he couldn't play his guitar anymore," Kelsey said.
The birth of Spacefest
Kim thought promoting space was important because "It's cool," said Jon Ramer, president of the artists association. "He liked other worlds, other planets, new galaxies and imagining and making them come true."
Every endeavor Kim undertook came true in the end. "He was tenacious," Sally said.
So when Kim dreamed-up Spacefest in 2006, he went all out.
Spacefest is a collection of all things space-related. This included astronauts from the Apollo and later missions, astronomers, planetary scientists, space artists and vendors of meteorites, telescopes and other space paraphernalia and equipment.
"They all laughed when I said what I wanted to do," Kim said on the Spacefest website. "It would be like a four-ring circus. Something for everyone."
And it was a circus. For the Poors, the first Space-fest was a whirlwind experience.
"We were just flying by the seat of our pants, but it turned out well," Sally said, screaming at the chaos of the memory, "and everyone thought it was wonderful."
"I've had the opportunity to meet some fantastic, smart, super-friendly people and we're still friends," Kelsey said about her years at Spacefest.
The first Spacefest was Aug. 17, 2007. Kim died almost exactly 10 years later.
His family never questioned his motivation for promoting space and space art throughout his life, Sally said. "He just thought it up and we had to figure out how to execute it."
"I know a lot of people tried to do something similar, but they'd get scared and quit, but he would not give it up," Sally said.
Kim's family hopes to continue his legacy by promoting space and art. Recently they've been incorporating and promoting STEAM — Science, Technology, Engineering, Art and Mathematics — through Spacefest, with an emphasis on the art.
"We have a legacy to fulfill," Kelsey said.
Contact Mikayla Mace at mmace@tucson.com or (520) 573-4158. On Twitter: @mikaylagram
Get local news delivered to your inbox!
Subscribe to our Daily Headlines newsletter.