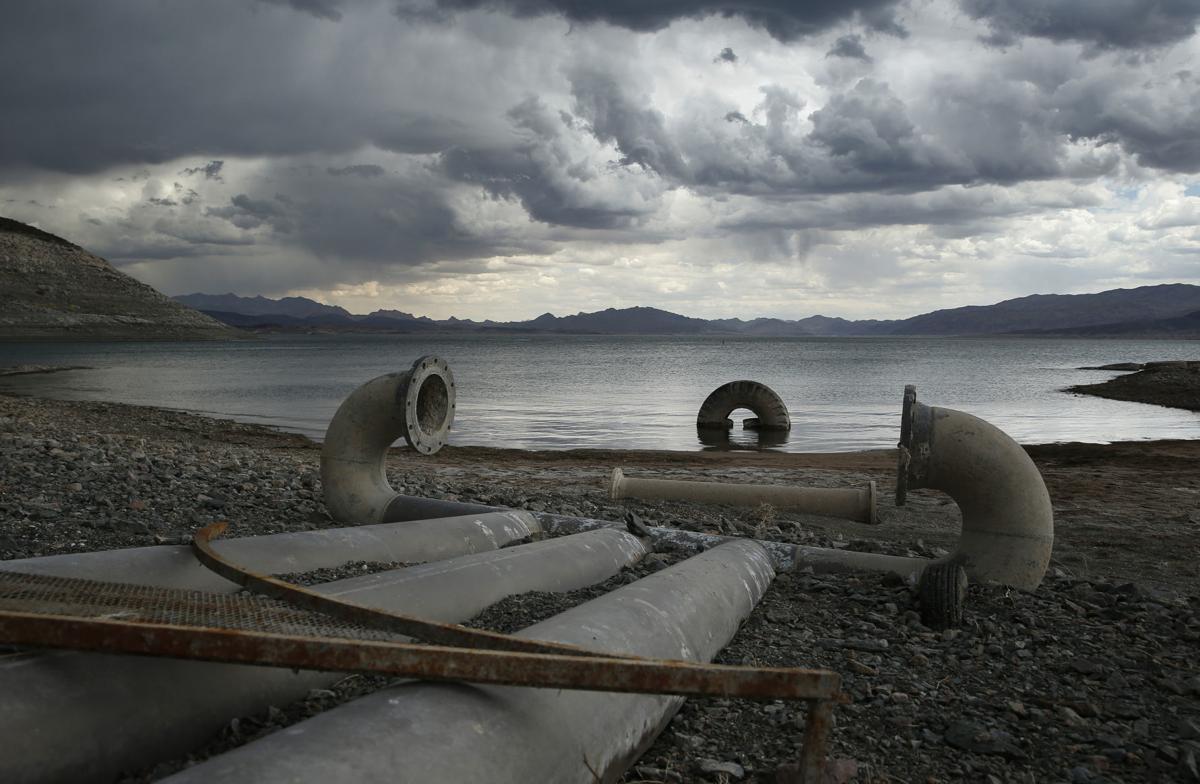 "Horrible" and "chaos" are among the outcomes that water experts are predicting for Arizona if the Legislature fails to approve a drought contingency plan for the Colorado River.
Among the concerns raised by experts in academia and government about the potential failure to approve a drought plan:
Pinal County farmers, whose concerns have been at the center over the drought plan debate, would be the hardest hit.
California, which for the first time in a half-century had agreed to take cuts in its Colorado River deliveries under a drought plan, would be freed of that obligation and likely wouldn't take cuts.
If the federal government took over Colorado River management to protect Lake Mead and Lake Powell as it's threatened to do, Arizona could lose more water than it would stand to lose under the current drought contingency plan proposal.
Litigation from parties opposed to various cuts could sweep the river basin, plunging its water management into chaos.
The water experts responded to questions from the Star last week about the likely consequences of no drought plan, with barely a week to go before the federal deadline strikes the seven river basin states.
U.S. Bureau of Reclamation Commissioner Brenda Burman has warned that if all seven states don't adopt drought plans by Thursday, Jan. 31, she'll start a process leading to a decision by August as to how to best run the river to protect the reservoirs from catastrophic declines.
That's the purpose of the drought plans proposed for the river's Upper and Lower Basins; Arizona is one of three states in the Lower Basin. As of now, all Upper Basin states and Nevada in the Lower Basin have approved drought plans. Southern California's Metropolitan Water District has approved a drought plan but two major irrigation districts lying in the Southern California desert region have not.
Prospects for Arizona's Legislature to adopt a drought plan by Thursday remain unclear.
The Arizona Department of Water Resources and the Central Arizona Project board have endorsed the language of a resolution that would amount to legislative approval of the $100 million-plus plan for Arizona to leave up to nearly half its CAP water supply in Lake Mead.
But numerous unresolved issues concerning the plan remain among legislators.
A Senate bill introducing the legislation was offered only late Thursday. No hearings had been scheduled on it as of late Friday.
Here's what experts said could happen without a drought plan:
Calif. would be free to do what it wants
No DCP will be "horrible" for Arizona, said Robert Glennon, a University of Arizona law professor and author of two books on water.
The seven Colorado River Basin states have come together with a plan to reduce their consumption of river water, but "if this whole deal comes falling down," the states will be free to do whatever they want, Glennon said.
That's particularly the case for California, which has agreed to reduce its take from Lake Mead by 350,000 acre-feet — equivalent to about three years' worth of Tucson's CAP water supply — after Mead drops below 1,030 feet, and by lesser amounts at higher elevations.
It's made this commitment even though under federal law, California is not due to take any cuts in its river supply until all CAP supplies have been cut. With no plan, California would almost certainly have no cuts, Glennon said.
For Pinal County farmers in Arizona, no DCP could be particularly bad, he said. Under the current system of contracts for CAP water, farmers only have access to "the water that others don't want, and I don't think there will be any excess water" in a shortage, Glennon said.
With no DCP, the farmers also have "absolutely" no chance at getting the $25 million in federal subsidies they want to drill wells and put in other infrastructure to pump groundwater when CAP supplies disappear, he said. Without the state matching funds that would be part of a drought plan, "Burman can't unilaterally come up with $30 million or more on her own," he said.
L.A. agency already taking more water
In Southern California, an inability to approve the drought plan has already taken a toll on the Colorado River, said Metropolitan Water District general manager Jeffrey Kightlinger.
The district sells water wholesale to agencies in six Southern California counties. It started running pumps full tilt this month along the 250-mile-long California Aqueduct, running from the river to Los Angeles, to remove lots of water it had previously stored in Lake Mead.
The district is taking far more water out of the lake this year than normal, to protect it against a drought plan failure, Kightlinger told the Star.
Under earlier guidelines approved by the seven basin states to manage the river, California left 600,000 acre feet in Lake Mead over the past few years that it can later remove when needed, unless the river is in shortage. With a drought plan in place, California could take that water out even during shortages. Without one, it couldn't.
Taking out 600,000 acre feet could lower Mead about 8 feet on top of declines already predicted. MWD would take out 300,000 this year if there's no drought plan. But if the plan is approved, that could slow the district's pace of withdrawals later in the year.
That threat aside, the worst-case scenario if a drought plan isn't approved is that federal officials would approve a plan more Draconian than those the states were considering, Kightlinger said. It probably would remove a lot of flexibility that the current plan has, and he expects the bureau will be looking at making bigger cuts than the states agreed to make.
"They'll be getting a lot of comments from other stakeholders, nongovernmental groups, people who want to use some of that water for restoration," he said.
Plus, "you might end up with a lot of litigation, with people saying we don't believe the feds' plans are legal. We could probably spend years in court, with people trying to get injunctions or trying not to," while the reservoirs keep dropping, he said.
farms, developers, tribes would be hurt
Farmers won't be the only Arizona water users to suffer without a drought plan, said Kathy Ferris, a former director of the Arizona Department of Water Resources. She is chief counsel for the Arizona Municipal Water Users Association.
If the feds do take over management of the Colorado, any cuts made within Arizona will likely follow the system of priorities laid down in 2007 guidelines, she said.
Those cuts would slash at the Arizona Water Bank, which now salts away unused CAP water underground to be used later.
Developers would also be hurt because the cuts would take away water that's now recharged into the ground to compensate for groundwater pumped out for new subdivisions. For instance, the lack of a plan would kill a $97 million CAP deal with the Gila River Indian Community to use tribal water for 25 years for future growth in suburban Tucson and Phoenix.
Also on the future chopping block would be a class of CAP water that is sold to tribes including the Tohono O'odham near Tucson and to Phoenix-area cities. Tucson itself would be among the last to be hit seriously by cuts, with or without a drought plan, because it gets only the highest-priority CAP water.
"Water planners want certainty. If you don't know what your water supply is because there is not a formal agreement in place, you have uncertainty. That creates problems for people trying to insure the reliability of our water supply," said Ferris, who is also a senior fellow for Arizona State University's Kyl Center on Water Policy.
"It also creates public perception problems. We live in a desert. We already get criticism — 'why are we there?' If we don't take steps to manage our Colorado River supply, we look worse," said Ferris, adding that a bad perception of Arizona among investors outside the state would hurt future economic development.
'Arizona needs to use less water'
In 2016, Albuquerque author John Fleck won numerous favorable reviews when he published a book saying the Colorado River's problems can be fixed if all the warring water interest groups choose to collaborate instead. The book, "Water is for Fighting Over," was his effort to counter what he saw as the media's typical gloom and doom approach toward water.
Now, however, Fleck is a little gloomy himself, saying that if Arizona fails to approve a drought plan, it will mean "chaos" on the river.
That's even though he expects the Interior Department, which oversees the Bureau of Reclamation, to impose a plan that's not much different from what Arizona and the other Western states have been discussing.
Without a plan, instead of Arizona having stepped up and voluntarily agreed to take cuts, "Arizona is being forced to take cuts that appear to be against Arizona's will," said Fleck, now director of the University of New Mexico Water Resources Research Program. "That creates an element of chaos. There has to be collaborative process to figure out how you are going to use less Colorado river."
Beyond that, his own optimism would be tempered. The state's failure to adopt a drought plan would suggest "that I misunderstood Arizona's willingness and ability to come to terms with the reality that Arizona needs to use less water."
Feds could cut Ariz. water supply more
If Arizona doesn't approve a drought plan, "we are back to square one," said Dave White, a longtime Arizona State University water researcher.
Under the existing, 2007 guidelines for managing shortages on the river, Arizona is due to lose 320,000 acre feet of water when Mead drops below 1,075 at the end of a calendar year and the first shortage is declared.
But under a federal takeover, Burman could easily take 500,000 acre feet from Arizona to try to keep Mead whole, "or it could be worse — 600,000 or 700,000," said White, director of ASU's Decision Center for a Desert City.
"Certainly we have seen the Trump administration act in ways that seem less than rational," White said, referring for one to the president's threat to withdraw emergency disaster funds from California because he disliked the state's wildfire policies so much.
"I don't think it's beyond reason," White said, "for this administration to act in ways beyond predictable on the river."