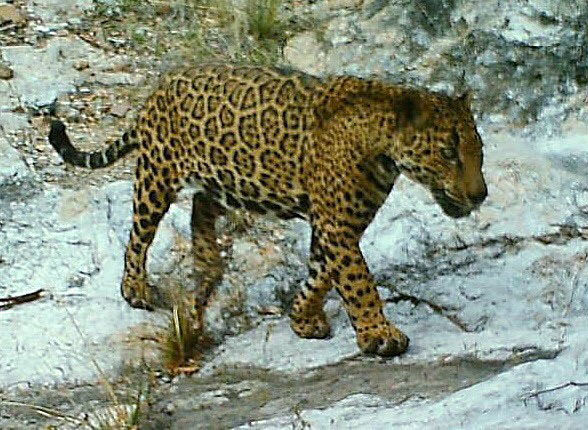 A recent court ruling that put additional skids on the already stalled Rosemont Mine is turning out to be at least a partial victory for the jaguar and a clear defeat for a federal biologist who became an environmentalist hero a year ago when he blew the whistle on another big Southern Arizona issue.
The reason? Most of U.S. District Judge James Soto's February ruling that overturned the Fish and Wildlife Service's biological opinion allowing the mine to go through is not being appealed to a higher court. That's unlike his July 2019 ruling that overturned a Forest Service decision approving the mine, which the feds and Rosemont proponent Hudbay Minerals Inc. are appealing.
"Due to current litigation over the topic, we do not provide any comment," Alejandro Morales, a Fish and Wildlife Service spokesman, emailed Friday.
Soto cited the jaguar as one of three factors for why he overturned the 2016 biological opinion that led directly to the approval by the Forest Service a year later. He faulted how ex-Fish and Wildlife supervisor Steve Spangle, who ultimately signed off on the opinion, defined the word "likely," in determining the mine wouldn't illegally damage critical habitat for the large cat. Soto also faulted findings in the opinion affecting the threatened northern Mexican garter snake and six other imperiled fish, frog and bird species.
The almost certain result of Soto's ruling is that the wildlife service will have to revise those three sections. The ruling stemmed from a lawsuit filed by the Tucson-based Center for Biological Diversity.
The only part of Soto's ruling being appealed is a section upholding an earlier wildlife service decision to put the mine site and surrounding lands into jaguar critical habitat.
Hudbay is expecting that the 9th Circuit Court of Appeals in San Francisco will go along with a recent opinion by the 10th Circuit Court of Appeals in Denver overturning a service decision designating 103,000 acres in southwest New Mexico as jaguar critical habitat. That decision used the same grounds to toss out the critical habitat as Hudbay has raised, the company said in a statement.
Meanwhile, Spangle now acknowledges that "in hindsight," he erred in a section of the 2016 opinion that made it harder to conclude the mine will illegally damage that habitat.
In that opinion, now-retired Spangle, then supervisor of the service's Arizona offices, used a Merriam Webster's dictionary definition of "likely" to conclude the mine – a $2 billion construction project – probably won't destroy or illegally modify jaguar critical habitat that includes the mine site.
Judge Soto's ruling called Spangle's definition "arbitrary and capricious" because it conflicted with past definitions the service had used for "likely."
Despite that, Spangle said that now, he thinks that "with a little wordsmithing," the biological opinion can be revised to meet the judge's objections on the jaguar and gartersnake.
Hudbay officials also said "it is our expectation that the remaining three issues from Judge Soto's decision can easily be addressed" in a revised biological opinion.
But Spangle and another former wildlife service official, Jeanne Calhoun, said the fix for the third issue Soto ruled on – impacts to imperiled fish, frogs and birds – will be very tough.
On that issue, the judge faulted how the wildlife service established standards for determining if the mine would illegally kill, harm or harass the species – practices known formally as "take."
Whistleblower's different role
Soto's ruling offers a starkly different perspective on retired wildlife service official Spangle from what emerged a year ago.
That's when Spangle made national news, by speaking out against what he said was political pressure from Interior Department higher-ups that led him to reverse a decision he made requiring a detailed environmental analysis of a 28,000-home Benson development. Before backing off, he had required the Army Corps of Engineers to evaluate whether groundwater pumping for the Villages at Vigneto could dry up the neighboring San Pedro River. That whole case, like Rosemont, is still being argued in federal court.
Spangle's original decision on Vigneto came in the fall of 2016, just a few months after the wildlife service signed off on the biological opinion allowing Rosemont to go forward – the opinion that Soto has now thrown out.
First, the longtime wildlife service biologist, who retired in March 2018, was dinged by the judge for his definition of "likely," in connection with the opinion's conclusion that the mine wasn't likely to destroy or "adversely modify" jaguar habitat, which is forbidden by the Endangered Species Act. Spangle's conclusion overturned a finding from the service's Tucson office that the mine would adversely impact this habitat.
Spangle relied on Merriam Webster's 10th Edition dictionary to define "likely" as "having a high probability of occurring or being true; very probable," the judge wrote.
The Center for Biological Diversity correctly cited "past regulations, rules and litigation whereby both the FWS, and the National Marine Fisheries Service appropriately defined 'likely' as: 'more likely than not,' 'probability of 50% or greater' and 'probable,' " the judge wrote.
"When an agency changes their position, as it did in this case, it must provide a reasoned explanation," Soto wrote. "The record does not reflect any reasonable basis as to why the FWS applied a heightened standard that conflicts with the ESA's institutionalized caution in favor of protecting listed species."
In an interview last week, Spangle didn't disagree with the judge's finding.
"I'm not aware that we had defined 'likely' differently in the past," he said. "If we used different standards, that's arbitrary and capricious."
To explain how he came up with his definition, Spangle recalled that back then, "I started thinking I've never seen a real definition of 'likely.' I reached for my only definition on my bookshelf.
"I quoted the dictionary on my bookshelf and quoted it verbatim. It seemed like a decent definition. In hindsight, based on what the court ruled, it was an inappropriate thing to do," Spangle added.
A lawyer for the service reviewed Spangle's action before the opinion was finished, "and he told me that that was not an inappropriate use of the dictionary," Spangle said.
But since the Center for Biological Diversity's attorneys could find out about the service's previous definitions of "likely," wildlife service officials had to have known them, too, countered Randy Serraglio, a conservation advocate for the center.
"We've seen this pattern over and over with the service, where science and law are trumped by politics. That's how these decisions get made," Serraglio said.
Tipping points
Soto's ruling also faulted the Rosemont biological opinion for failing to determine whether the mine's presence would become a "tipping point," pushing the garter snake toward extinction.
The ruling centered on the concerns raised by environmentalists, outside biologists and many others that groundwater pumping to create the mine's half-mile- deep open pit would reduce water flows in Cienega Creek, to the mine's east, where the snake lives.
Soto wrote that the 9th Circuit Court of Appeals has found that to determine if a project will jeopardize a species chances of survival and recovery, "an agency must logically know the rough survival and recovery needs – i.e. tipping points – to evaluate if a species will be jeopardized."
He noted that an Interior Department attorney specifically advised the wildlife service staff that "tipping points need to be addressed, and internally consistent.
"Unfortunately, the FWS did not heed the advice of agency counsel," Soto wrote.
Such an analysis is often needed to prevent a "death by a thousand pinpricks," in which one action with a small effect will push a species toward eventual extinction, or past the point where recovery is impossible, Soto wrote.
Spangle, while not disagreeing with Soto, stood by his opinion's finding that the mine wouldn't jeopardize the garter snake. Yet he acknowledged the service didn't analyze specifically for a "tipping point."
"We did look at the mine's effect on recovery, but what we may not have done, and this is always a very tough thing to call, is what is the point of no return for a species," Spangle said. "It is hard to pick the one point at which a species cannot recover."
He said the opinion clearly laid out five or six points on why service biologists didn't believe the mine would jeopardize the garter snake. Among them was Hudbay's commitment to buying and preserving a 1,200-acre ranch near Sonoita that has flowing water and upgrading Cienega Creek by buying water rights from a nearby golf course.
Fish and frogs
On the "take" issue, the judge found that the service's failed to set forth a clear trigger that, when reached, results in unacceptable take, Soto wrote.
The "take" issue starts with the conclusion reached by wildlife service biologists – disputed by Hudbay's biologists – that the mine's groundwater pumping to create its half-mile-deep open pit will reduce flows of water that support the flows in Cienega Creek.
For Rosemont, the service found that while the mine wouldn't jeopardize these species, it would cause some individual animals to be killed, harmed or harassed. But the service found it wasn't practical to set a numerical limit for how much "take" the species can handle.
So it relied on estimates of water table decline that would create unacceptable impacts to the species, requiring additional review and conservation measures. Besides the snake, the species include the Gila chub and Gila topminnow, the desert pupfish and the southwestern willow flycatcher.
But the estimated amounts for lowering the water table were generally so little, as low as .1 foot, that they fell below the minimum 5- foot groundwater decline that the Forest Service says can be reliably predicted by computer models. Also, groundwater levels in that area fluctuate so much naturally that the Forest Service has found "there is no reliable method for separating out ongoing seasonal or annual variation from impacts from the mine," Soto wrote.
Spangle said it was hard for him to say if he agreed or disagreed with that part of Soto's ruling. "All I know is that this is a very difficult thing to come up with," determining how much damage is legally acceptable.
"Neither the judge nor the plaintiffs came up with acceptable criteria," he said. "I'm sure there are greater minds than I that will come up with something, but it's not going to be easy."
Calhoun declined to comment specifically on Soto's ruling, since she still works for the federal government, as Grand Canyon National Park's science and resource management division chief. But she agreed that modeling to determine how much "the extreme amounts of water Rosemont would be using" was very difficult – "there were multiple different models, none of which was very satisfactory. It's probably a good idea that this time, given additional information about the area, to redo that."