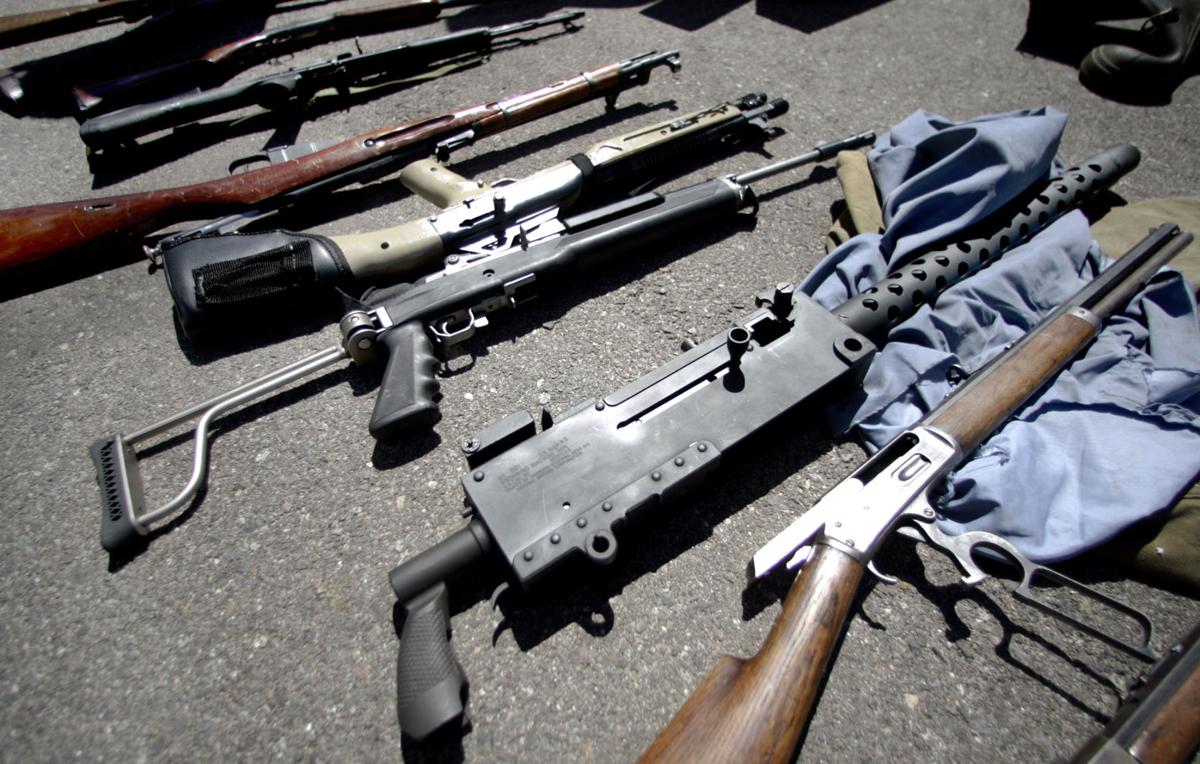 Is Tucson breaking state law by destroying guns rather than selling them?
It is a question state Rep. Mark Finchem wants Arizona Attorney General Mark Brnovich to answer. Finchem filed a complaint Wednesday arguing the city is violating a 2013 law requiring sales of otherwise legal guns.
Finchem said he has proof that Tucson is breaking the law, and that he obtained city documents outlining the destruction of guns — including a collectible gun worth more than $10,000 — through a public-records request.
"The city of Tucson flagrantly violated state statutes and deprived the taxpayers of the opportunity to obtain fair-market value of a public asset," the Oro Valley Republican said in a news release, adding that the guns should have been auctioned off to the highest bidder.
Finchem said he handed over a 231-page document to fellow Republican Brnovich, listing hundreds of firearms that were apparently destroyed by the city.
City officials acknowledged that documents were given to Finchem as part of a public-records request but said they could not immediately confirm that all the guns listed in the documents had been destroyed.
City Attorney Mike Rankin and other city officials said they did not have an accurate account of how many guns were physically destroyed in the last two years.
The guns came into the city's possession largely as a result of criminal investigations, although they also could become city property if they were turned in by residents to be destroyed.
A law signed by Republican Gov. Doug Ducey this year, SB 1487, says local governments that violate state laws lose their state-shared revenue if they don't stop.
Tucson received $172 million from the state last year, Finchem said.
Rankin said the city will respond to any Attorney General's Office inquiry, but said it is too early to say whether he will call for an executive session next week to formally discuss the complaint with the Tucson City Council.
Finchem's complaint has been added to pending investigations, said Brnovich spokeswoman Mia Garcia.
Tucson Mayor Jonathan Rothschild said the new state law was clearly written to intimidate local elected officials with dire economic sanctions for setting local policies.
"State Representative Finchem's eagerness to use SB 1487 to punish the people of Tucson for not agreeing with his worldview is an example of why this is such a pernicious statute," the Democrat said.
An attorney , Rothschild noted that because Tucson is a charter city, it has certain powers other Arizona cities don't have.
The Tucson City Charter gives the city the power to "purchase, receive, have, take, hold, lease, use and enjoy property of every kind and description, both within and without the limits of said city, and control and dispose of the same for the common benefit."
Two court cases, Rothschild said, have challenged the city's authority on similar issues and the city has prevailed.
"Ultimately, it's my hope, and that of just about every other local elected official in Arizona, that SB 1487 be struck down," he said.
Democratic City Councilman Steve Kozachik said the new state law is illegal and remains on the books only because it has not been challenged in court.
"It is clearly unconstitutional. You can't strip the city's funding without due process," Kozachik said.
State Sen. Steve Farley, a Tucson Democrat, agreed, saying Finchem represents only his political constituency and wants to use the state Legislature to force Democrat-controlled counties, cities and towns to bend to his political will.
Rothschild said the city is prepared to fight the new state law. "Whether this is the case to do that, we'll see," he said.