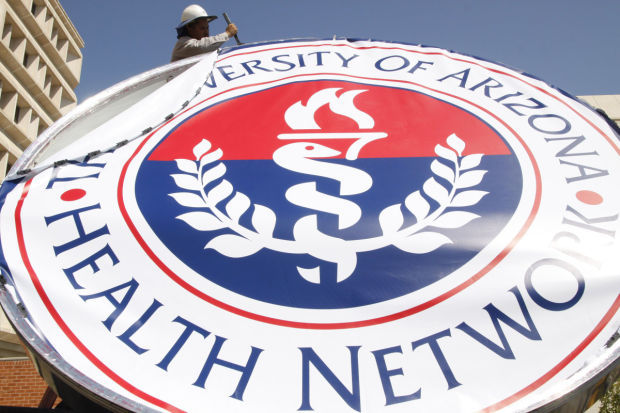 Following the loss of a major health plan contract in Maricopa County, dozens of jobs at University of Arizona Health Plans are in jeopardy.
UA Health Plans, a division of the $1.2 billion UA Health Network, may have to cut up to 58 jobs next year unless it can find a contract to replace the lost Maricopa County-based health plans that make up one-third of its business.
UA Health Plans will still administer the plans through the end of the year. But on Tuesday, officials decided to give a heads-up to staffers whose jobs may be terminated, said James Stover, vice president and CEO of UA Health Plans.
"We just wanted to be very, very transparent about what's going on in the organization," he said in an interview.
The job cuts likely wouldn't take effect until March 2017, he said. To minimize the fallout, UA Health Plans has been avoiding filling noncritical positions and using temp workers. The number of job cuts may end up being fewer than the 58 predicted, Stover said.
The health plans affected cover 80,000 Maricopa County residents enrolled in AHCCCS, the state's Medicaid program for the poor and disabled, and 1,500 eligible for both AHCCCS and Medicare.
Pima County enrollees in other UA Health Plans offerings won't be affected.
In May, United Healthcare beat out UA Health Plans for the contract with Maricopa Integrated Health System, the safety net provider for Maricopa County. AHCCCS contracts directly with MIHS, which subcontracts management of the plans to private insurers like UA Health Plans.
UA Health Plans had managed the Maricopa plans — called Maricopa Health Plan and Maricopa Care Advantage — since 2005. The contract award to United is pending negotiation of a formal agreement with MIHS, as well as local approval and AHCCCS approval.
Affected AHCCCS members will transition to United's plan, or one of the four other AHCCCS plans still available in Maricopa County, Stover said.
UA Health Plans, which has administered AHCCCS health plans since the 1980s, will continue to offer two health plans: an AHCCCS plan that covers enrollees in 10 counties, including Pima County, and its dual-eligible plan for those on both AHCCCS and Medicare.
Last year, the division dropped its smaller commercial insurance plan that was offered through the Affordable Care Act's marketplace.
PLAN CHOICES REMAIN
Thanks to the restoration and expansion of AHCCCS, nearly 474,000 additional Arizonans have enrolled in AHCCCS since 2013, said Dr. Dan Derksen, director of the Arizona Center for Rural Health at the UA.
In 1982, Arizona was the last state to start offering Medicaid coverage, which it did through the Arizona Health Care Cost Containment System, the agency known as AHCCCS. From the start, the plans were channeled through private insurers to encourage cost savings and improve quality of care, Derksen said. The strategy was rare at the time, but is much more common among states today, he said.
Private companies like UA Health Network bid for AHCCCS contracts, and the plans' success — and profitability — depend on a number of factors, including how many people enroll, Derksen said. The more enrollees, the easier it is for the insurer to spread risk across that population and generate enough premium income to cover expenses, he said.
Under the Affordable Care Act's new requirements for insurance companies, commercial health plan options in Arizona have constricted as private insurers opt-out of participating. But Derksen said AHCCCS enrollees will continue to have choice among plan options even without UA Health Plans offering in the county.
Especially in rural areas, the bigger challenge is ensuring those plans have a robust network of providers, including doctors, clinics and hospitals, Derksen said. AHCCCS insurers must meet requirements to have an adequate network of providers to care for those covered by AHCCCS, he said.