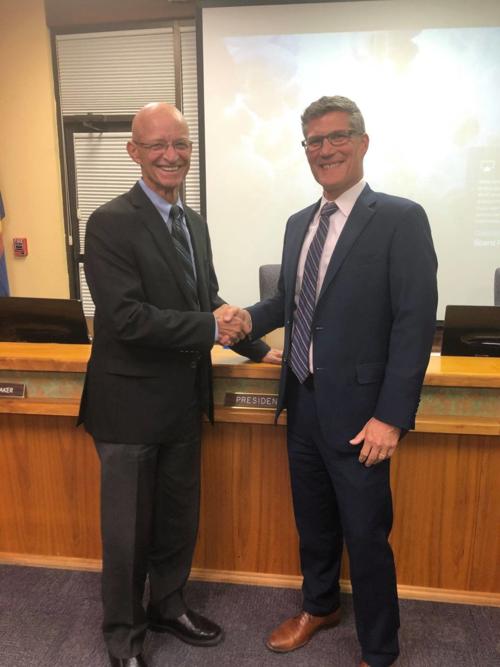 The leader of one of Tucson's top-performing school districts is stepping down several months after sharing that he was diagnosed with a rare form of cancer.
Calvin Baker announced Tuesday that he is retiring from the Vail School District and the governing board has tapped John Carruth to serve as the next superintendent, starting in January.
Carruth is returning to Vail after being called upon last year to serve as chief of staff for the Arizona Department of Education. Prior to that, Carruth worked in the Vail School District for over two decades. He's held the positions of teacher, assistant principal, director of special education and assistant/associate superintendent for 15 years.
Baker will remain on board through January, working with Carruth to ensure a smooth transition, before retiring on Feb. 1.
In March, Baker shared with Vail staff and community members that he had been diagnosed with multiple myeloma, which he described as an incurable but treatable form of cancer.
"I write about my struggles here primarily to provide assurance that the Vail School District is going to be just fine," he wrote to staff members at the time, adding that he was "very motivated to lead VSD into upcoming challenges and transitions" and that there was "a large group of exceptionally capable leaders" in the district who would step up in his absence.
In a letter to parents Tuesday evening, following the Governing Board's appointment of Carruth, the longtime school chief made no mention of his health.
"After almost 33 years it is almost impossible to imagine my life apart from the Vail School District, but that time has arrived," Baker wrote in the letter to parents. "When I accepted the position of superintendent in Vail, I had absolutely no idea that our 500 students in one school would one day become over 14,000 students in over 22 schools. I also had no idea that our obscure, controversy-plagued district would become a lighthouse of stability and performance."
Baker went on to share his pride in the school district's academic performance, crediting students and staff, but said he was most proud of "the special connection that our schools have with parents and our community."
"I encourage each of you to invest deeply in your child's education and our local schools," Baker said in the letter to parents on Tuesday. "It is that investment that is the 'secret sauce' of Vail's success."