Wallace Kinkade makes sure the fresh fruits and vegetables in crates are wheeled out behind the Food City parking lot where a dozen drivers are ready to pack their vehicles with the goods on two Saturdays a month.
Along with the purchased produce at the Food City on North Flowing Wells and Roger roads, the volunteers of Lend A Hand also load up donated baked goods from Beyond Bread to take to 120 seniors in 13 midtown and north-side neighborhoods. The volunteers deliver the food for free.
Kinkade and others in the neighborhood-based group have worked for years in the produce-delivery program that was founded in 2013. It is one of many things done to help older neighbors — age 60 and older — so they can remain healthy and live well in their homes, said Jane Hoffmann, a financial consultant who helps sort and bag bread for delivery.
The breads from Beyond Bread on North Campbell Avenue include French, marble rye, pumpernickel, cranberry and whole wheat. The breads are donated to Grace St. Paul's Episcopal Church, which gives the food to the neighborhood group for those in need.
Across the Tucson area there are 16 Lend A Hand programs, part of the Pima Council on Aging's Neighbors Care Alliance, which mobilizes more than 1,300 volunteers to help seniors in their neighborhoods.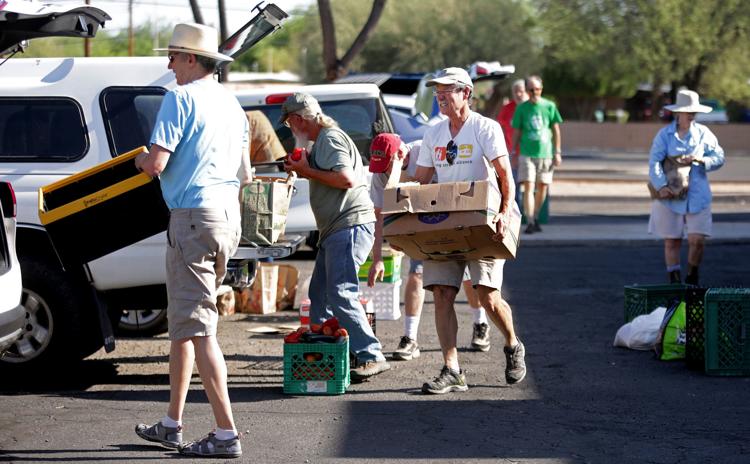 The nonprofit Lend A Hand program began in 2006 through volunteers helping older neighbors or those with disabilities who no longer drive. They take people to medical appointments and to the supermarket. They also help by doing yard work, minor home repairs and visit to make sure their neighbors are doing well and do not feel alone, said Bridget Roads, Neighbors Care Alliance coordinator.
Some volunteers, like Hoffmann, also cook and deliver meals to neighbors who are homebound.
The group of volunteers Kinkade works with realize the importance of fresh produce to maintain health and the need for seniors to stay well so they can live independently. Some of the seniors are enrolled in the Supplemental Nutrition Assistance Program, formerly food stamps. Some have physical limitations and cannot get around easily and are not able to routinely prepare their meals.
"We fundraise by having dinner parties in private homes and we host two yard sales to help raise money," said Kinkade, explaining how the produce is purchased. The produce program, which also is supported through grants and donations, costs $12,000 a year.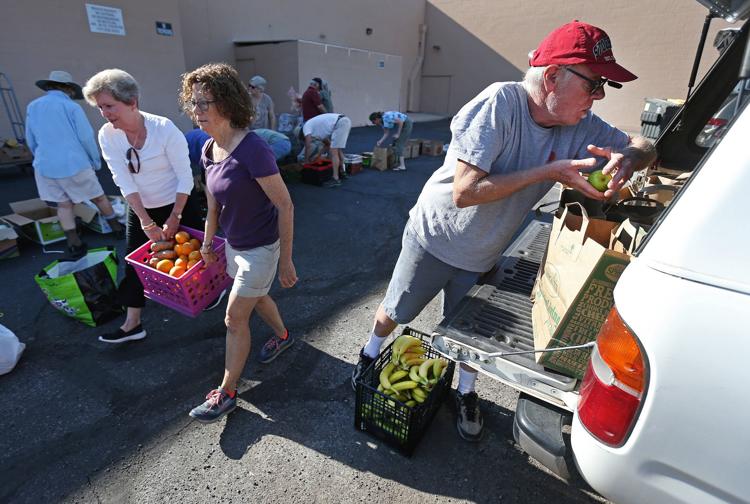 Kinkade, a retired translator who worked overseas, does the buying for the program and stretches the dollars to deliver 14 items to each home. Deliveries may include apples, bananas, mangoes, pears and kiwis, along with carrots, onions, bell peppers, potatoes, tomatoes, cucumbers and lettuce.
Limberlost Neighborhood resident Judy Jennings welcomes the produce and bread. "I am on disability and it is really becoming an important supplement to my food budget," said the 64-year-old, who worked for Sunflower and then Sprouts Farmers Market.
Jennings said she began receiving the produce and bread more than a year ago. "I have been surprised how important this has become to me. At first I thought 'how nice,' but now I really count on it," she said.