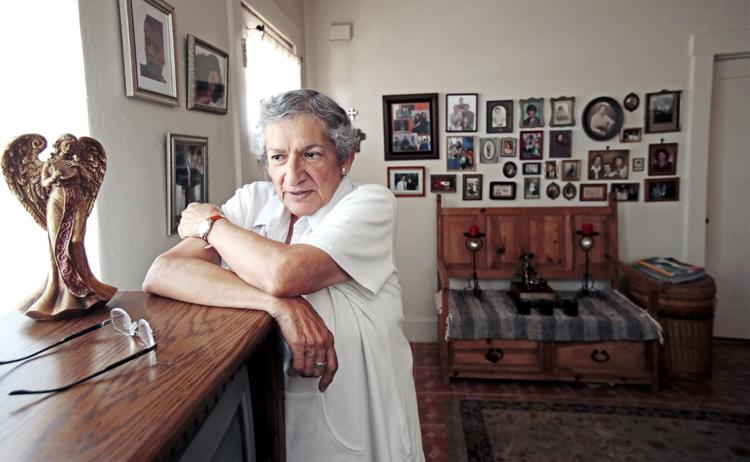 Lillian Lopez-Grant, who grew up in the Menlo Park neighborhood and advocated for west-side neighborhoods and minority communities, died Sunday, October 8, of liver cancer in hospice at home. She was 77.
She was surrounded by her family, said her daughter, Liza Grant.
Grant said among the important lessons that her mother taught her is "to be fair, kind and just."
Councilwoman Regina Romero described Lopez-Grant as a friend and leader who was a trailblazer championing the Menlo Park neighborhood. "I had her support from Day One," said Romero.
"She taught me a lot about being genuine, authentic and advocating for our community," said Romero, who recalled how Lopez-Grant was a lead organizer for years in El Día de San Juan festivities, which celebrate the feast of St. John the Baptist on June 24. It marks the informal start of the annual monsoon season.
The celebration west of downtown and south of West Congress Street was canceled earlier this year, but then was resurrected with community support, including from Lopez-Grant.
Nelba Chavez recalled Lopez-Grant as "a power figure." "We have lost a jewel. It is another chapter that is closing. She always wanted the best for her community, especially the west side. She fought for what she believed was right, especially for underserved communities," said Chavez, a mental-health activist who was former executive director of La Frontera and in 1994 was appointed by President Bill Clinton to head the Substance Abuse and Mental Health Services Administration.
Among the battles Lopez-Grant took on were preservation of the barrios, cultural issues, education for minority youth and health care, said Chavez. "She wanted to make sure people received the services they needed."
Community leader Alison Hughes recalled meeting Lopez-Grant in the early 1970s when Hughes was representing the Pima College in Model Cities antipoverty programs. "Lillian was very involved because she really wanted to see the west side get its fair share of economic development funds," said Hughes. Her advocacy work included construction of housing developments and the revitalization of neighborhoods with businesses.
"She spoke before business leaders, commissions and committees, and she made sure the west side was well-represented. Her work covered a span of up to four decades," Hughes said.
"We became friends and later Lillian served on the Tucson Women's Commission," said Hughes, who was a founder and executive director of the commission in the mid-1970s.
Dan Eckstrom, former South Tucson mayor and Pima County supervisor, said at one time Lopez-Grant worked in community development for South Tucson. "She was really good at working with people and relating to their problems. She formed relationships with people throughout the community and she was a veteran at making sure people needing services were taken care of," said Eckstrom, adding that she also was involved in labor issues with the United Steel Workers of America, promoting benefits for workers and their families.
"Lillian had a great soul. But, the one thing is, you never tried to cross her because she was tough and she could handle herself," said Eckstrom. "It is unfortunate that she left us. She will surely be missed, but I am sure she is organizing in heaven on the next project."
In the 1980s, Lopez-Grant left the Democratic Party and worked on the staff of Sen. John McCain's Tucson office through the 1990s. She also worked for former U.S. Rep. Jim Kolbe, also a Republican.
However, she returned to the Democratic Party about six years ago because she did not like the growing divisiveness within the Republican Party, said her daughter, Liza Grant.
Lopez-Grant's parents were from Nayarit, Mexico, and her father died before she was born in Nogales, Arizona. In 1945, her mother and Lopez-Grant, who was 5, moved into the Menlo Park neighborhood, according to a 2013 Star article. She grew up in the tight-knit neighborhood and had fond memories of her days at the Menlo Park Elementary School.
Lopez-Grant married young and had five children. She later divorced and raised her children as a single mother and taught them the importance of an education, said Chavez. Her three daughters attended college. One graduated from Yale, majoring in psychology; another from the University of Southern California, majoring in business; and the third from the University of Texas at Arlington, receiving a master's degree in geology.
Lopez-Grant is survived by four children and nine grandchildren.
A memorial Mass is set for 10:30 a.m. Oct. 28 at St. Augustine Cathedral, 192 S. Stone Ave.