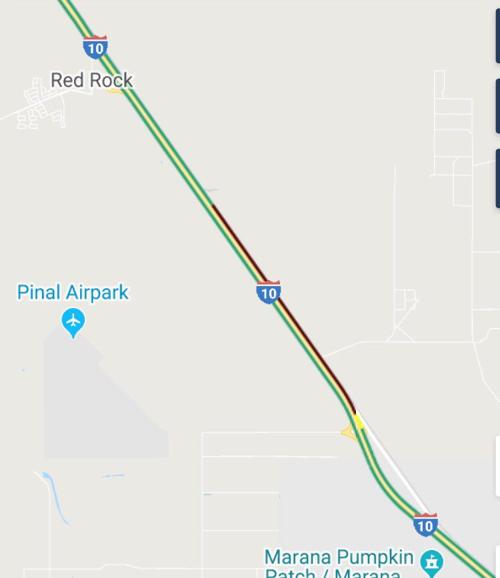 A man died in a three-vehicle collision on Interstate 10 north of Marana Saturday afternoon, officials said. 
Lawrence Sofaly, 74, of Hondo, Texas, was a passenger in a car that was struck by another car on westbound I-10 Saturday near milepost 230, about 2 miles east of Pinal Airpark Road, according to the Department of Public Safety. 
The crash closed westbound I-10 at West Tangerine Road for about eight hours on Saturday. 
A vehicle traveling eastbound on I-10 crossed over the median into oncoming traffic and hit the vehicle Sofaly was in and another vehicle, the department said. The department said it does not know why the vehicle crossed over into the westbound lanes although officials believe the driver may have been impaired. 
The driver of the vehicle that crossed into oncoming traffic and the driver of the vehicle Sofaly was in were transported to a hospital with injuries. The people in the third vehicle did not report any injuries, the department said.
About 30 minutes after the initial crash, a second collision occurred at milepost 236, the department said on Saturday. They did not provide any details on the second collision. 
Get local news delivered to your inbox!
Subscribe to our Daily Headlines newsletter.