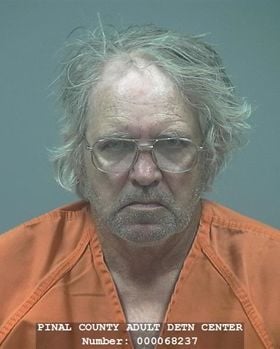 Pinal County authorities say a man has been arrested for allegedly starting a wildfire in the Dudleyville area earlier this month that burned nearly half a square mile and destroyed one home and 13 other structures.
Sheriff's officials say James Brumley was taken into custody Monday on suspicion of reckless burning and five counts of criminal damage.
Sheriff's officials say Brumley has denied starting the fire on July 7.
The blaze spread quickly and authorities evacuated the entire town of Dudleyville about 100 miles southeast of Phoenix.
Authorities say the wildfire caused nearly $1 million in damage and financial losses.
They say arson investigators from the Golder Ranch Fire District traced the fire back to Brumley's property, where a smoldering burn pile was discovered.