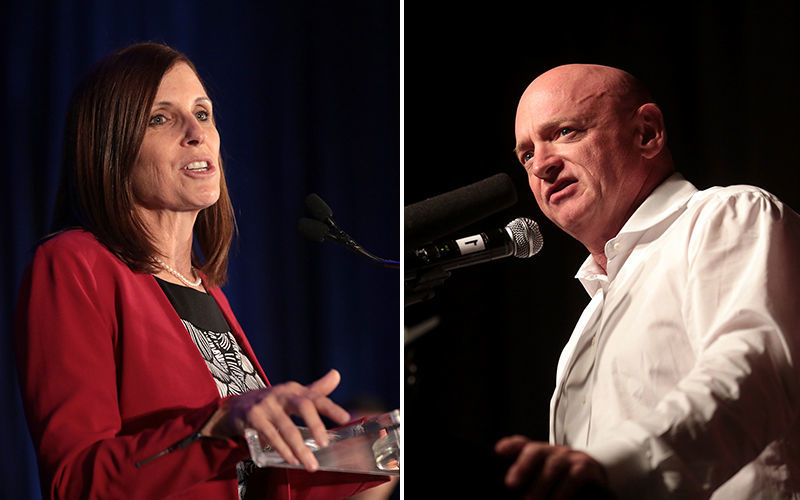 Democrat Mark Kelly hauled in nearly twice as much money as Republican incumbent Martha McSally did in the first quarter of the year, widening his fundraising lead in what figures to be one of the most expensive and hotly contested U.S. Senate races of 2020.
Figures released Tuesday by the Kelly campaign show the retired astronaut and first-time candidate raised $11 million to finish the quarter with $19.7 million in available cash.
McSally brought in $6.3 million over the same period for a total of $10.2 million in cash on hand, according to her campaign.
"That's an astonishing amount for him to beat her by," said Brendan Quinn, outreach manager for the Center for Responsive Politics. "I'm not surprised that he raised a lot, but I am surprised it was this much."
According to the nonpartisan center, which tracks money in U.S. politics through its website OpenSecrets.org, McSally has been one of the top fundraisers among sitting members of Congress this election cycle, and she just posted her best quarter yet.
So far, though, the former fighter pilot hasn't been able to keep pace with Kelly, who has consistently raised more money than her or any other congressional candidate in the country.
To date, Kelly has hauled in $31.1 million to McSally's $18.7 million.
If this keeps up, Quinn said, the Arizona Senate race could wind up as the costliest congressional contest not just of this cycle but of all time.
It has already set one record in Arizona. With a combined total of $49.8 million, the two campaigns have surpassed the amount raised during the entire 2018 Senate race between McSally and Democrat Kyrsten Sinema, which ranks as the state's most expensive political contest ever.
That race saw the two candidates raise $43.8 million and spend almost $45 million combined, with an additional $64 million in outside spending.
The McSally and Kelly campaigns have until Wednesday night to file reports with the Federal Election Commission detailing where their money came from during the first quarter.
Whoever wins in November will serve until January 2023, completing the Senate term John McCain won in 2016, two years before his death.
Gov. Doug Ducey appointed McSally to McCain's old seat in December 2018, a month after she lost her bid for Arizona's other Senate seat to Sinema.
In response to the ongoing pandemic, both McSally and Kelly have temporarily suspended some or all of their campaign activities and diverted resources to help those impacted by coronavirus.
Quinn said it is too soon to tell how the virus will impact political fundraising and spending in the coming weeks and months. He expects the first signs to crop up in any campaign disclosures for April and in the second quarter reports due to be filed with the FEC by July 15.
If distancing and other disruptions continue into the summer, things like attack ads and door-to-door canvassing might come across as distasteful or even dangerous. Quinn said the campaigns could be forced to wait until later in the year to start spending all that cash they've been racking up.
"You might just end up with a much bigger blitz in the fall," the Arlington, Virginia, resident said with a sympathetic laugh. "It makes me glad that I don't live in a swing state for the Senate anymore."
Contact reporter Henry Brean at hbrean@tucson.com or 520-573 4283. On Twitter: @RefriedBrean.
Get local news delivered to your inbox!
Subscribe to our Daily Headlines newsletter.