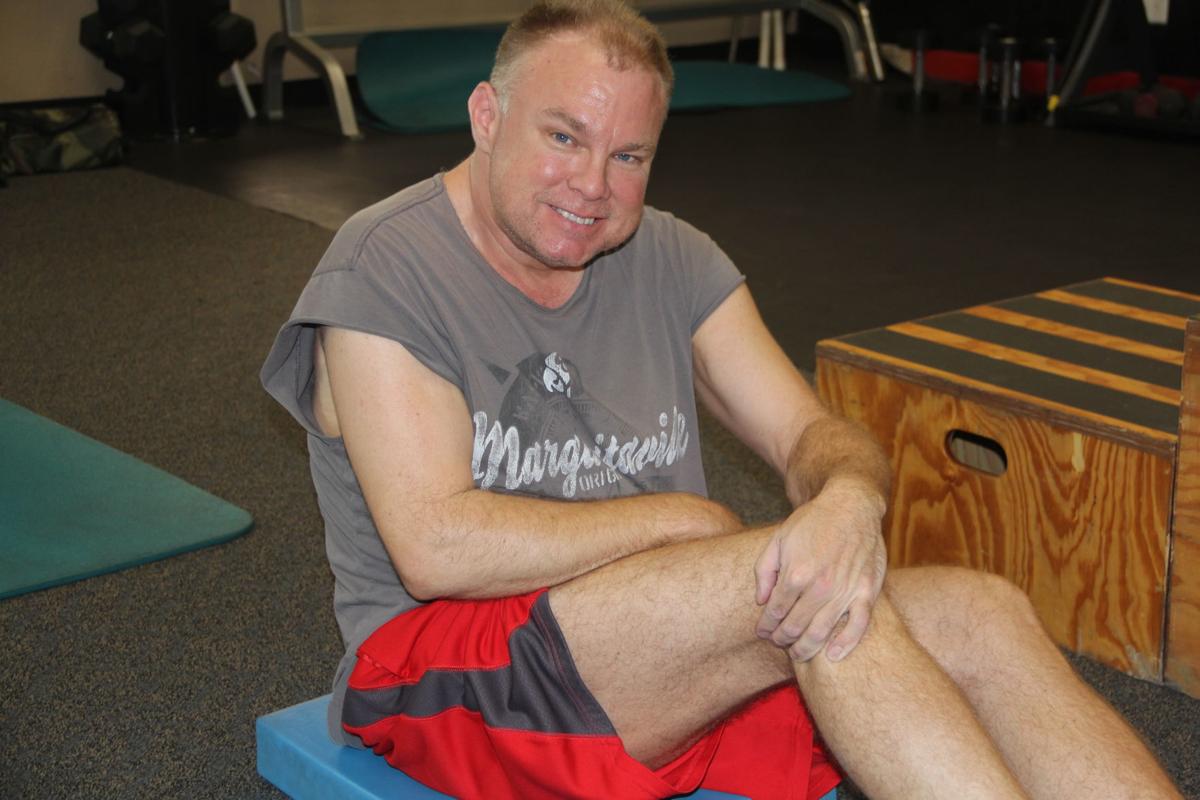 Tim Chiasson cannot explain why he is still alive after suffering a massive stroke at the age of 44.
The stroke occurred six years ago while he was living in Waterville, Maine. His medical team gave him "less than a 5 percent chance of getting through the first night," said the veterinarian, who is back working, driving, and now lives in Tucson.
Chiasson exercises regularly with Tresha Dunn, a personal trainer who specializes in medical and corrective exercises at Desert Sports & Fitness, 2480 N. Pantano Road, on Tucson's northeast side.
He joined the club in 2016 and began working a year later with Dunn on strength, endurance and overall functional movement to regain strength on his body's right side.
"He has such focus," said Darla Gentry, a senior adviser at the gym, which is celebrating American Heart Month. "He is unbelievable, mainly because he just puts one foot forward and keeps on going. He inspires everybody."
Gentry said gym members had a difficult time comprehending that Chiasson suffered a stroke because he was so young.
A stroke, which can happen to young people, including children, is a disease that affects the arteries leading to and within the brain, according to the American Heart Association. The organization also says that a stroke is the No. 5 cause of death in the United States, killing nearly 130,000 people a year.
To help residents determine their risk for a stroke, Tucson Medical Center is hosting a free stroke-prevention clinic on March 31. (See box.)
In order to help others realize the importance of discussing the signs of a stroke with a physician and how to control the risk factors, Chiasson was open to sharing his life-altering experience.
Chiasson said he was overweight at 225 pounds and 5 feet, 10 inches tall. He also had high blood pressure, like both his parents. "I didn't think it was that bad. I am a typical male. I thought it was OK," he said.
On the day he had the stroke, he left work and went home for lunch. "I started to get a numbness in my cheek, and I knew my blood pressure was creeping up. It worried me and I called for an ambulance." He remembers the ride to a hospital, where he underwent a CAT scan.
"During the CAT scan, I lost my memory and it was the last memory I had for about five months. I just don't remember," said Chiasson who learned he was transferred to a larger medical center in Portland, Maine, where doctors found a 2-inch hemorrhage in his brain.
"I have been told by nurses that the hemorrhage should have killed me. They don't know why I lived and am functional and OK," said Chiasson, whose determination to walk and talk again kept him moving forward.
He remained in a hospital for months with a feeding tube and a shunt in his brain. He could move only his left hand and left foot. He eventually was moved to a nursing home and then RiverRidge, a rehabilitation center , where he remained for more than a year.
He kept up with his physical therapy, pushing himself to regain movements and sensation in his body. He progressed from a wheelchair to a quad cane. "It took me half an hour to cross a room, but I built up my strength and began walking the grounds," he recalled.
"I was determined to become independent. My biggest fuel was to get back to see my daughter," explained Chiasson, who went through a divorce. His ex-wife and daughter moved to the Tucson area. He followed, permanently moving into an apartment here in 2015. He spends time with his 9-year-old daughter every week, he said.
Personal trainer Dunn, who began working with Chiasson in August, said he has made significant gains. She said she uses electrical stimulation to help the affected muscles on his right side move.
"He can pick up objects with his right hand and his gait has improved immensely. He has much better alignment when he walks and more strength in his posterior muscles," said Dunn.
"His sense of smell, taste, hearing and sight has improved. Everything is waking back up. He is feeling more and more on his right side," said Dunn. "All of this brings us tears of happiness."
Chiasson gives credit to his daughter. "She is the one who gives me the motivation to keep going and get better."
Contact reporter Carmen Duarte at cduarte@tucson.com or 573-4104. On Twitter: @cduartestar