First lady Melania Trump spoke with children and federal border officials at an immigration detention facility Thursday morning during a brief visit to Tucson.
Mrs. Trump spent about 90 minutes in Tucson and did not travel as anticipated to a shelter that houses immigrant children detained at the border and separated from their families. Protesters staged an event outside the shelter, in the 1600 block of North Oracle Road, but Trump did not travel there.
The plane carrying Mrs. Trump touched down at Davis-Monthan Air Force Base around 10 a.m. From across East Golf Links Road, a motorcade could be seen taking her to the Border Patrol station that is adjacent to the base and contains a short-term detention facility for illegal border crossers. After her visit, Mrs. Trump's plane left the base around 11:30 a.m. for Phoenix, where she toured a shelter for children.
Local news media were not allowed access to the visit, which was held entirely at the Border Patrol facility, but notes from pool reporters and video of the event shed some light on what happened:
Mrs. Trump met with officials from U.S. Customs and Border Protection and other federal agencies and a Southern Arizona rancher.
"I know how dangerous and difficult your daily jobs are," Mrs. Trump said to law enforcement gathered for a roundtable discussion. "So I really appreciate all you do on behalf of the country."
"I'm here to support you and give my help, whatever I can, for behalf of children and the families," Mrs. Trump said.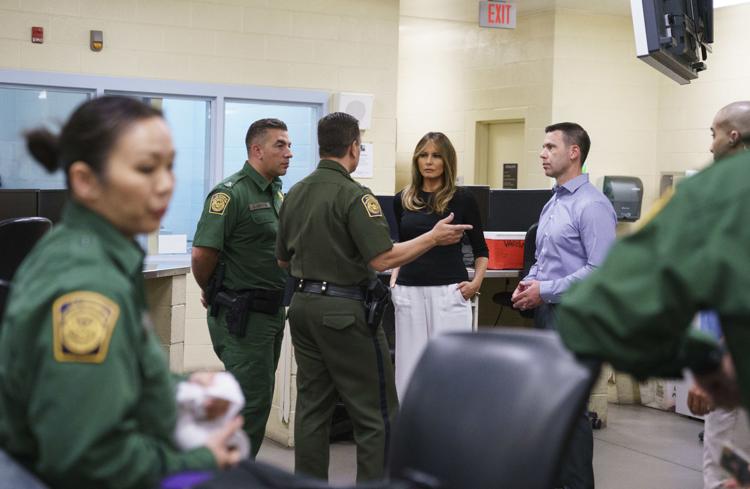 More than 2,300 children were separated from their parents after illegal border crossings in recent months. Some of them, along with children who crossed the border on their own, are housed at facilities in several states, including Arizona.
Last week, a prosecutor told a federal judge in Tucson that children were being held in the Border Patrol facility here. It was the first time since President Trump's zero-tolerance policy of criminally prosecuting all illegal border crossers went into effect that officials confirmed children were being held at the center. The administration last week reversed its decision of separating children from their parents at the border.
Rodolfo Karisch, chief patrol agent for the Border Patrol's Tucson Sector, told Mrs. Trump he was pleased she was making time to tour the facility and meet with personnel.
"This is a hard situation for the men and women of the Border Patrol," Karisch said about the work agents do along the border.
Illegal immigration must have "consequences," he said, and the issue isn't strictly a Border Patrol problem, it's a "whole-of-government problem that we need to try to fix."
Michael Humphries, assistant director of Field Operations for CBP's Tucson Field Office, said the family separations are "very short."
Karisch showed Mrs. Trump a photo of a 6-year-old boy found by agents crossing the desert with a soda bottle and a note.
"People also have to understand the danger of the desert, of the heat," Karisch said.
Southern Arizona rancher Dan Bell told Mrs. Trump how his family has ranched on land west of Nogales since 1938. He advocated for stronger border enforcement that includes "boots on the ground" and consequences for entering illegally. He also told Mrs. Trump about the importance of the ports of entry along the border that help facilitate trade with Mexico.
Mrs. Trump said she was interested in hearing from agents and others about the situation.
Border Patrol agent Joyce Silva told the first lady she loves her job. "As a mother, it hurts to see the children," Silva said. "They don't know what's going on."
Silva said her job is to get them to safety and give them food, water and toys.
CBP Commissioner Kevin McAleenan told Mrs. Trump that 1,600 people, including 539 traveling as families, tried to illegally cross the U.S.-Mexico border Wednesday.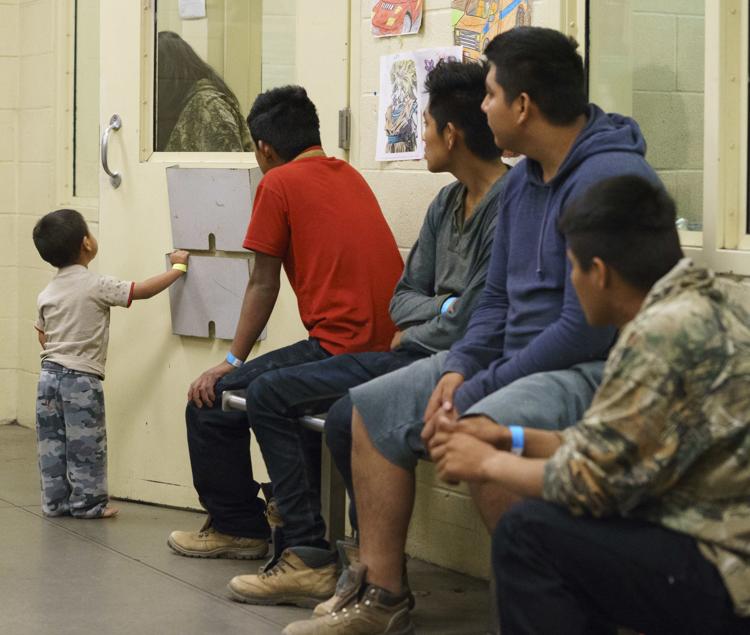 As Mrs. Trump toured the detention facility, she brightened up when a young boy darted out of a room and stared at her.
"How are you?" she said, smiling. The little boy later turned and looked at all the cameras before returning to the cell.
The part of the facility reporters were allowed to see included eight holding rooms, labeled "males," "juveniles," "families," and removable signs marked "processed" or "unprocessed." The maximum capacity of some of the rooms was from nine to 13 people. All the cell doors were open.
The facility held 10 boys, ages 14 to 17, all of whom were from Guatemala or Honduras. Six of them sat silently on a metal bench and on toddler-sized chairs outside one of the detention cells. They wore blue bands on their right wrists as they watched the movie "Ferdinand" on mute with Spanish-language subtitles.
Nearby, a cart was filled with apple juice boxes, peanut butter crackers, baby wipes, applesauce and boxed food for toddlers. A Mylar blanket was seen inside one of the holding cells. Another cell contained packaged wet towels for migrants to clean up during their stay. A wooden shelf intended for memos was also used to hold diapers.
One young woman inside a room labeled "families" was holding a young child.
This was Trump's second visit to the border region in a week. Last week, she traveled to McAllen, Texas, to meet with law enforcement and social services providers and tour a nonprofit center housing children detained under her husband's policy of prosecuting all illegal border-crossers.
That trip was overshadowed by a jacket she wore on the plane to and from Texas that said on the back: "I really don't care, do U?" In Tucson, Trump wore a plain black shirt with white pants.
After leaving Tucson, Mrs. Trump headed to Phoenix, where protesters gathered outside a shelter for migrant children. A giant balloonlike figure that resembled President Trump towered over the people gathered there. The first lady told shelter workers in Phoenix to "let me know what I can do to help you."