A microburst storm felled trees on Tucson's east side, causing a "massive eucalyptus" to collapse into an apartment complex Thursday afternoon.
There were reports of trees down and malfunctioning street lights throughout the metropolitan area.
No injuries were reported.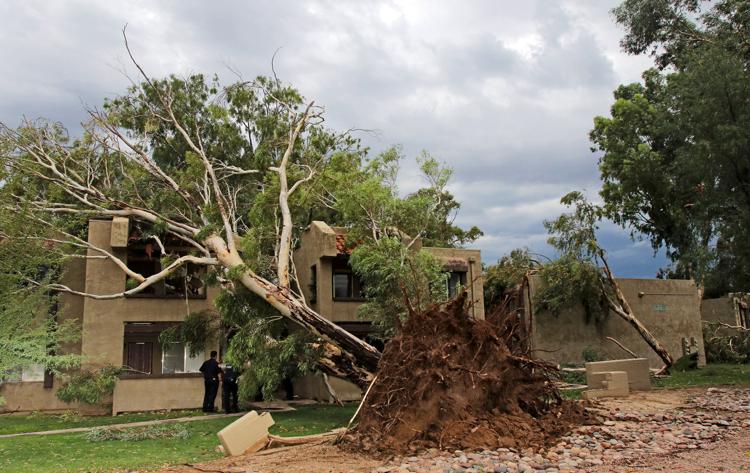 Tucson Fire Department crews were dispatched shortly after 4 p.m. to Woodridge Apartments, 8225 E. Speedway, near North Pantano Road where "five massive eucalyptus trees" collapsed, said fire Capt. Julian Herrera.
"One tree fell into an apartment building and two people were trapped in their apartments," said Herrera. "Firefighters rescued one person through a bedroom window and the other through a balcony," Herrera said.
"Some of those trees were in excess of 50 feet tall," said the fire captain. "City building safety inspectors will determine how many apartments will have to be vacated," said Herrera. He said the Southern Arizona Chapter of the American Red Cross will be available to help tenants in need.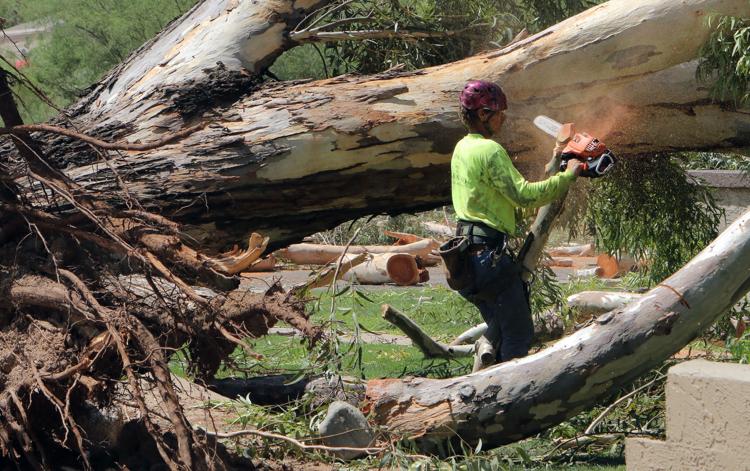 Crews remained at the scene for more than an hour to determine that all people in the complex were accounted for, authorities said.
"It looks like a war zone," said Elliott Hendricks, who is a tenant at the complex. "During the storm, it became dark and my dogs started going crazy. I opened the door to let them in and the rain was coming down sideways because of the wind. The trees around me were touching the ground," said Hendricks, describing 13-foot-tall mesquite trees that were bending over.
"I moved from the Midwest and the sky looked like a tornado-type storm because the clouds were turning an eerie green and the thunder came cracking around me. There was lots of lightning all around," said Hendricks, 40, who works as a cook at a pizza bistro.
He said he could not go to work because other trees fell in the parking lot and he could not leave the complex. Hendricks said a friend at the complex received minor flooding in her apartment from water entering under her door.
A retaining wall came crashing down during the storm at a housing development across the street from the complex, said Hendricks. "We were all baffled by all of this," he said of the storm's strength.
Fire crews remained at the scene for more than an hour to determine that all people in the complex were accounted for, authorities said.
The Aug. 10 storm caused a power outage leaving 7,000 customers without electricity on the east side. The outage is within Tanque Verde Road on the north to Golf Links Road on the south, and Kolb Road on the west to Harrison Road on the east.
Up to 0.25 of an inch of rain fell in portions of the east side, and storms caused trees to fall on the northwest side "with heavy rainfall that produced strong winds," said Rob Howlett, a meteorologist with the National Weather Service in Tucson.
"The storms were moving quickly," Howlett said.
He said 0.71 of an inch of rain was recorded at West Ruthrauff and North La Cholla roads. At the Rillito River and La Cholla, 0.63 of an inch of rain was measured, said Howlett. 
More storms accompanied by wind gusts were expected Thursday night from the Benson area, and those storms possibly could drop up to 0.50 of an inch of rain or more in isolated areas, Howlett said.
Monsoon storms are expected to hit the city this weekend.