Judy Gail Williams Harris was a Sun Tran bus driver for 42 years, making friends among her southwest-side passengers — many who sought her out for advice about life choices and problems.
They would call her at home in the evenings seeking her wisdom. They found comfort in her voice and uplifting spiritual messages. Some had moved out of state, but they still called "Miss Judy", as she was fondly referred to by bus riders, co-workers and friends.
For at least the last 25 years she drove Route 27. Her bus left Laos Transit Center on West Irvington Road, near South Sixth Avenue and traveled west making stops along South 12th Avenue and West Valencia Road, including stops at Pima Community College Desert Vista Campus, the Midvale Park subdivision, Drexel Heights and on to the Casino del Sol area before returning to Laos.
"She had a very big heart, and she really did want to help everybody. It didn't matter what a person's social class was or how much money they made," explained Judy's stepdaughter, Nicholle Harris, a University of Arizona law school graduate who practices public law in Phoenix.
"That is why I believe she continued working. She loved her job. "Driving a Sun Tran bus and helping people was her ministry," reflected Nicholle Harris, one of two daughters, two sons, two brothers, five sisters and numerous grandchildren, great-grandchildren and relatives who are survived by Judy.
At age 72, Miss Judy drove Route 27 for the last time in March. She was diagnosed with ovarian cancer last year, undergoing surgery, chemo and radiation treatments. However, the cancer spread to major organs.
"She was one tough lady. The doctors did all they could, and she wanted to come home and die in her own bed," said her 70-year-old husband, LeRoy Alvin Harris. The couple were friends for more than four decades and married in 1994.
Relatives cared for her around the clock while in hospice at her home on Tucson's southeast side. "I was holding her in my arms when she died," said LeRoy. "She gave me strength."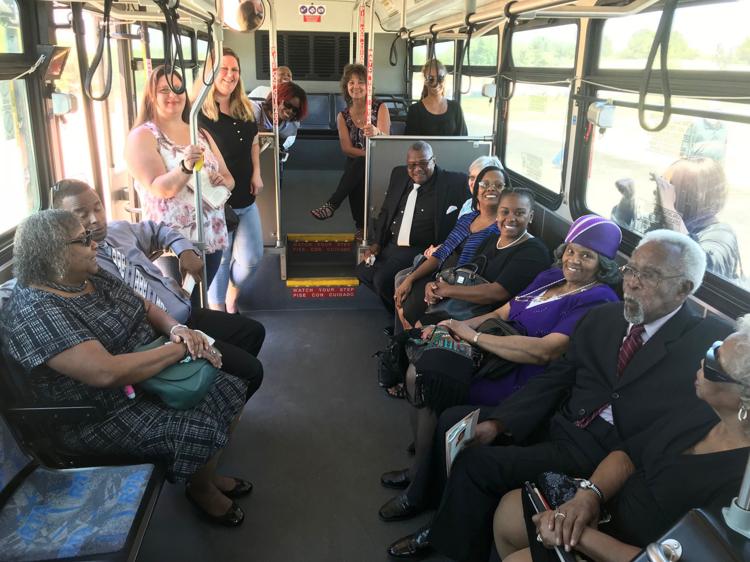 Miss Judy died April 25 and her funeral services were May 3 at East Lawn Palms Mortuary & Cemetery, 5801 E. Grant Road.
It was only fitting that her family, friends and co-workers traveled on the bus Miss Judy drove — a 2015 Gillig 35-foot-bus — to her service. They shared stories while on the bus and will keep sharing stories — keeping her memory alive — explained fellow bus driver Stephanie Braxton.
Braxton met Miss Judy in 2001 and their friendship and love for each other grew to the point that Miss Judy called Braxton daughter and Braxton called her "Ma."
"We talked every day on the phone, and that is the hardest part for me not being able to talk to her every day," said Braxton.
"She was always there for me and helped me learn to be mellow and let things go instead of getting upset," said Braxton with a chuckle. "She was famous for her sweet potato pie. I would get one every Christmas with a double crust and a box of See's candies."
In addition to baking pies, Miss Judy helped her elderly passengers with their groceries on and off the bus. "Many women would wait for her bus because they didn't want to go with any other driver," said Braxton.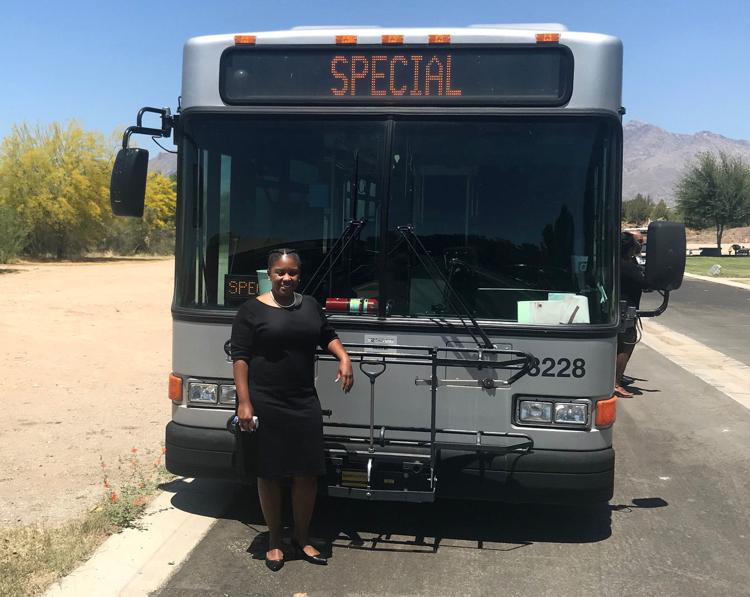 When she met passengers who were down on their luck, she would offer them a hand. She would cook a homemade meal for them, or buy them clothing or shoes, Braxton said.
"She was a great role model to all drivers because of her experience and attitude. She was very helpful to anyone who needed her," said Pat Richter, a Sun Tran spokesman who estimated that Miss Judy drove 1.2 million miles for the city's transit system. During her career, Miss Judy was in two minor traffic crashes that were not her fault, said Richter. "That is amazing," he said.
LeRoy Harris, a retired construction worker, had urged his wife to retire for years. They had both entered a phase in their life when it was time to relax and enjoy longer travels to visit family in their native Louisiana. Miss Judy was born in Pineville and moved to Tucson with her parents as a young girl. Harris was born in Cheneyville.
The couple also have relatives in Houston, and they held family reunions celebrating up to five generations at vacation spots, including a 2012 trip to Cozumel, a Mexican island in the Caribbean Sea, and a 2016 trip to Louisiana.
After the trips, Miss Judy always was ready to return to Sun Tran and to her passengers. "She loved people and her passengers loved her. Many believed they were going to have a good day if they rode her bus," said LeRoy Harris.
"She was very positive and would say a prayer with passengers, and tell them: 'Don't dwell on the negative.'"