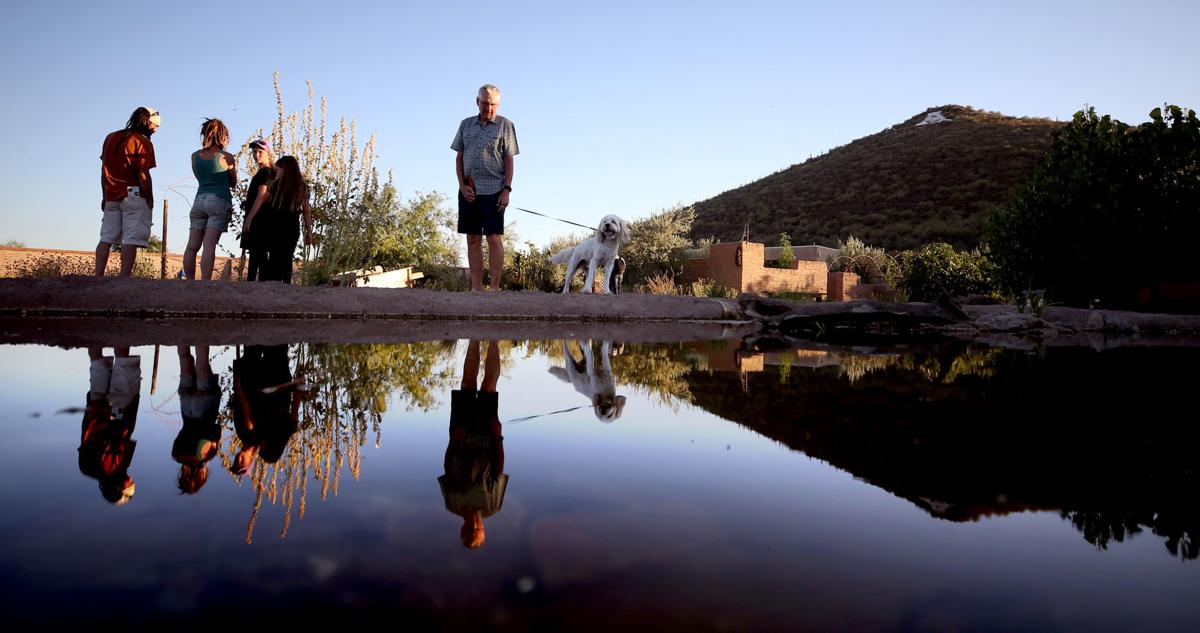 First came a blessing from Maegan Lopez, a young Tohono O'Odham woman, seeking God's help in protecting "fish, children and birds, wild things that live with us."
Then, biologists and others took turns pouring 500 inch-long minnows from plastic white buckets into a 400-foot-long concrete canal. It stands a few yards to the east of where everything from wild cushaw squash to chapalote corn to wild tobacco and cotton are planted, just as they were in this area hundreds to thousands of years ago.
So in a few minutes, Mission Garden, the 7-year-old, 4-acre downtown-area replica of how 4,000 years of agriculture developed around Tucson had been given a new purpose: a refuge for the endangered Gila topminnow.
Its release Thursday was the latest of several wildlife varieties to arrive at the garden since volunteers filled the newly built canal with city of Tucson water — recirculated through a pipe from the canal's lower end to its head point. The release was made possible with the help of the U.S. Fish and Wildlife Service and the Arizona Game and Fish Department, as well as Pima County government, which obtained the federal permit needed to bring the topminnows to the garden.
The garden lies on county-owned land, at the base of and just east of "A" Mountain, commonly known as Tucson's birthplace. Its canal was designed as a replica of the acequias and other canals that funneled Santa Cruz River water to the fields of prehistoric Indians, Hohokam, Akimiel O'Odham, Spanish, Mexican and early Anglo farmers.
Archaeological surveys have found remnants of several irrigation canals that crisscrossed the garden space, said Kendall Kroesen, community outreach coordinator for Friends of Tucson's Birthplace, which manages the garden.
But now, Mission Garden officials and volunteers see what's happening at this canal as a foreshadowing for what kind of wildlife will or could arrive in the Santa Cruz River in Tucson over the next few years now that it has what appears to be a long-term supply of water in the form of heavily treated sewage effluent.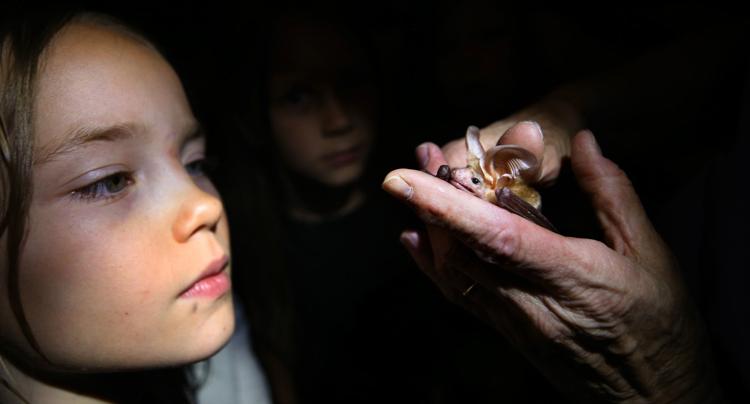 Over time, they also hope to put in the acequia more native fish and frog varieties, including the endangered desert pupfish, desert or Sonoran suckers and lowland leopard frogs, said Dennis Caldwell, a private consulting biologist who designed and helped build the canal. Some of those introductions will require federal and state permits, as did the topminnow effort this week.
Coincidentally, Tucson Water began releasing its reclaimed water into the river only three mornings before the topminnows were poured into the Mission Garden canal.
"Bless everything that walks in here -- everyone. The winged, the four legged, the two legged, the water creatures, the plants," Lopez told the gathering of maybe 25 people Thursday morning.
A step back in time
The walled Mission Garden is designed to be a step back in time. An orchard filled with fruit trees — pomegranates, figs, quince, peaches and plums, to name a few — greets visitors as they enter from the east. At the western edge lies a large array of vegetable gardens.
The garden was built to re-create the Spanish colonial walled garden from Tucson's historic San Agustin Mission. Its purpose has been expanded to display all forms of agriculture known to have existed over the last 4,100 years.
The canal was first planned, to not just look like one but to act like one, by demonstrating how historic flood irrigation worked, said Kroesen.
Eventually, garden officials decided "flood irrigation would be a waste of water," said Kroesen. Today, the plants are supplied with drip irrigation.
The canal has evolved into a replica of how irrigation used to work here, to help fulfill the garden's role as interpreting history. It was built over the past winter. Water arrived in April.
"Until now, everybody here focused on the history of agriculture. Now, we're bringing it to the reason why people are here, because the river was here," said Caldwell. "Now, with the river gone, the canal is going to symbolize the river and the original species here."
The canal is narrow at its north and south ends, with a broader, pondlike area in the middle. Its concrete structure has a rubber liner underneath and contains a rebar material along its edges to minimize the risk of cracking.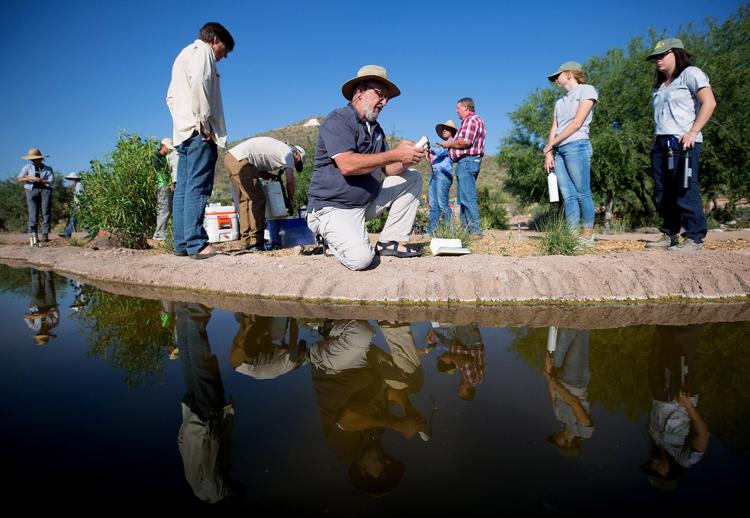 At the north end, it will look like an irrigation canal. At the south end, it will ultimately look more like one of this area's historic cienegas, as marshlike plants are ultimately going to be planted there.
It is being lined with plants — "to make it look like plants are taking advantage of this water, but they're not," Caldwell said.
Among the plants now lining the canal are several specimens of the endangered Huachuca water umbel, of which two more arrived Thursday.
The canal's water is no more than 3 feet deep in any spot, in accordance with Pima County rules aimed at preventing drowning. While those rules don't apply in fenced areas — which the garden is — "We decided to cover our bases," Caldwell said.
To give fish in the canal a refuge from summer heat, Caldwell designed a false bottom of rocks in the canal's upper end, covering an 11-foot-long area, where the water is actually 7 feet deep. Plastic crates were put underneath to provide space for canal water — and fish.
"It's the fish basement," he said.
Wildlife follows water
The water's arrival was soon followed by a couple of common shorebirds known as killdeer, with two black stripes under their necks. Cliff swallows came next, to drink from the water.
Insects — water striders, wasps, boatmen insects, dragonflies and caddisflies, honeybees and others — quickly showed up. Lesser nighthawks began to swoop in for a drink.
Bats were the most prominent arrivals. Shortly before water went into the canal, a California leaf-nosed bat was photographed and videoed there. Shortly after, someone found a weird-looking substance on a stucco wall of the exhibit hall at the garden's entrance that turned out to be caterpillar skin. "It looked like green vermicelli, sticking on the wall," said Chuck Graf, a volunteer who photographed the bats.
In April after the water came, private bat consulting biologist Debbie Buecher used a recording device placed near the acequia to detect 500 calls of five bat species.
Besides the California leaf-nosed, they include cave myotis bats, Western canyon bats, big brown bats and Mexican freetail bats.
Federal research has shown that most of Arizona and western New Mexico have the country's largest diversity of bat species, with 28 known to occur just in Arizona, Buecher said. The Mission Garden canal's water, particularly its 10-foot-wide pond, makes the area an ideal bat spot, she said.
"If the water is only running down something a foot wide, making it harder for a bat to get a drink," Buecher said.
"This is a nice, calm, water surface. Plus it's wide, with more room to come in."
By early June, a pair of Sonoran Desert toads were found in the acequia. Tadpoles followed by mid-June.
help for topminnows
One reason the topminnows were introduced — besides the garden operators' desire to replicate history — was that the endangered species helped the garden raise part of the $85,000 needed to build the canal, Caldwell said. The money came from the U.S. Fish and Wildlife Service's Partners for Fish and Wildlife Program, and the Southwestern Foundation for Education and Historical Preservation.
The garden now contains one of 20 "captive" reintroduced topminnow populations in urban areas. There are also 11 natural topminnow populations and 50 other wild populations that were reintroduced, said Doug Duncan, a wildlife service fish biologist.
This site's main value to the topminnow is that it's secure and has what appears to be a perpetual water source, Duncan said. Its high visibility serves the service's desire to educate the public about the value of imperiled species, he said.
"When people know more about rare and endangered species, they are more likely to support the conservation of them and the habitats they depend upon," Duncan said.
Get local news delivered to your inbox!
Subscribe to our Daily Headlines newsletter.