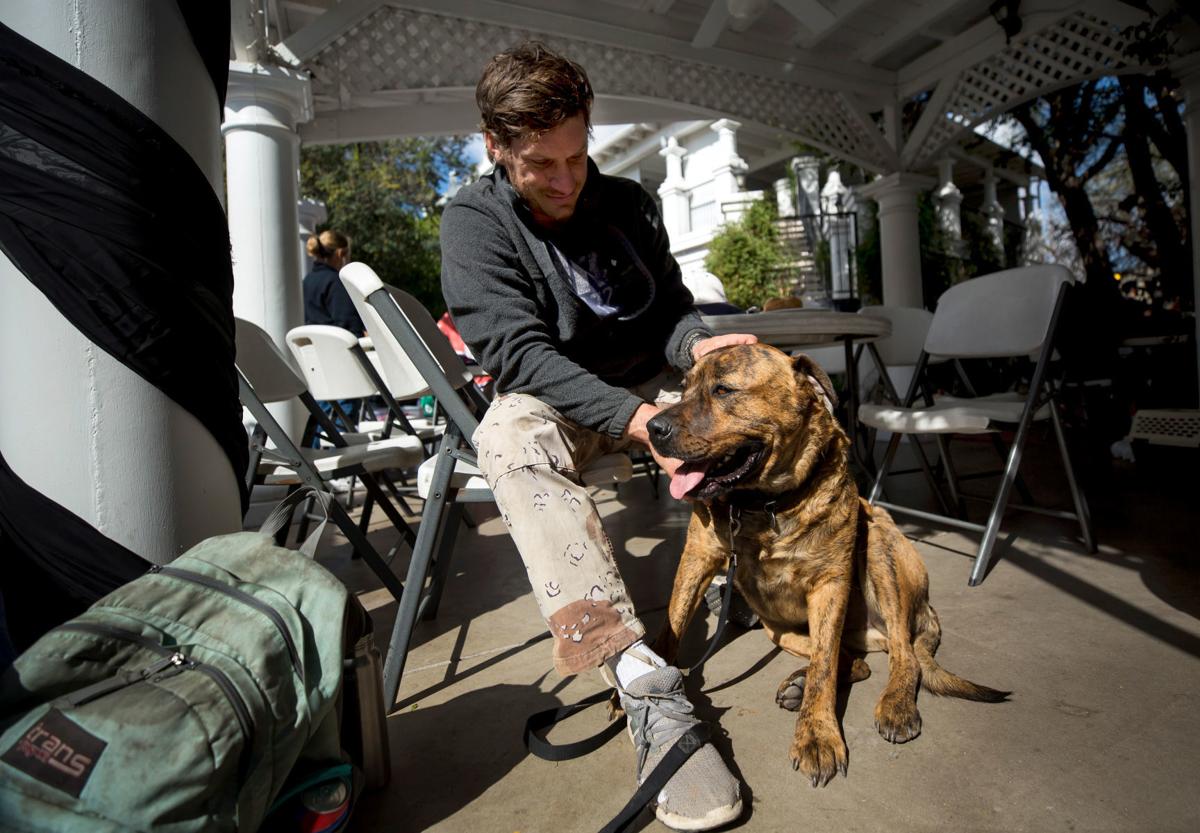 David Messina lives outside in a makeshift camp near Swan Road and 29th Street, but he doesn't worry much about security.
That's Rolo's department.
Messina's 3-year-old watchdog is a 120-pound mastiff mix with a wiry, brindle coat and a head the size of a basketball. When he barks, people think twice about getting too close to Messina and his stuff.
But Rolo was quiet — maybe even a little shy — two Sundays ago when Messina brought him in for a check-up during Pima Animal Care Center's mobile veterinary clinic for homeless people's pets.
The downtown clinic provides examinations, vaccinations and microchips injected under the skin to help identify animals that might wander off — more than $100 worth of services given out for free through PACC and its community partners.
Once their shots are up to date, the pets are also licensed during the clinic, so their owners can avoid possible citations they might not be able to pay.
"These guys are great. They're unsung heroes," Messina said. "When I get a more stable situation, I'll definitely be volunteering."
Most animals seen by clinic healthy, happy
The outreach event is held once a month at Z Mansion, the historic estate turned wedding venue on Church Avenue that hosts brunch and other services for needy people every Sunday.
About two dozen dogs and cats were treated during the Feb. 23 clinic, which is part of PACC's broader Pup in Boots program for pet owners facing homelessness. Most of the patients were lap dogs. One woman loaded her terrier into an old bird cage and wheeled it in on a luggage cart.
"People who don't have money don't love their pets any less than people who do," said veterinarian Erin O'Donnell, who has been volunteering with the clinic for the past year. "The human-animal bond is really important for the health of the human, not just for the benefit of the pet. Financial barriers shouldn't be a reason for people not to be able to have a pet."
She said the animals she sees at Z Mansion are generally healthy, happy and well-bonded with their owners. "You just kind of know they're members of the family," said O'Donnell, co-owner and medical director of Northwest Pet Clinic, an 11-year-old practice in Tucson and Oro Valley.
D.J. Piche came to the mansion with his 16-year-old cat Princess Pei Pei and a chew-happy, 3-month-old puppy he found on Valentine's Day and named Val Kilmer.
"He found me, actually," Piche said.
He had already picked up a donated sweater and collar for the terrier-chihuahua mix. Now Piche was waiting in line to get the pup vaccinated, licensed and microchipped.
"It makes being able to have a pet possible when you're on a low income," he said of the clinic. "To have this available for free means a pair of socks I will be able to afford."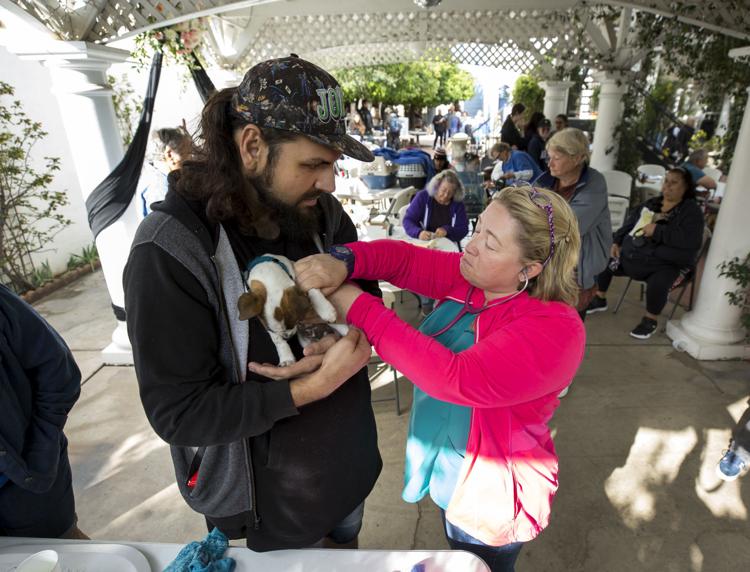 Piche and his pets have an apartment now, but they weren't always so lucky. He said he and Princess Pei Pei spent about four months living in his compact car while he was working an overnight job in Southern California.
"That was an experience," Piche said.
Having his cat there with him helped make it bearable.
"It can be lonely," Piche said, as he cradled his wiggly puppy.
Pets can complicate or complement life on the streets
Bennett Simonsen is PACC's community programs manager.
He said a pet isn't an accessory or a luxury for someone who is living on the streets. "For many people who are dealing with a crisis like homelessness, a pet is their grounding connection," Simonsen said.
But it can also complicate efforts to find housing. Shelters often don't allow dogs, and some apartments won't rent to people with pets — or if they do, they require the animals to be licensed and have their shots up to date.
PACC's free vet clinic and other outreach efforts are not meant to encourage pet adoptions by people without stable housing. Simonsen said the services are designed to help the sort of people who would rather stay on the street, "against their own welfare," than give up or abandon their pets.
On clinic days and other Sundays at Z Mansion, volunteers also pass out bags of donated food, leashes, collars, sweaters, beds, carriers, collapsible water bowls and booties to protect paws from the hot pavement in summer.
"That's been a huge part of the evolution — just hearing what people need," Simonsen said.
It was Marion Lambert's idea to bring in vet services to go along with the pet supplies already being offered during Z Mansion's weekly charitable event. She's been volunteering with that effort for the past eight years.
Every Sunday, she helps distribute 200 gallon-sized bags of pet food donated by the local charity Cody's Friends. She said providing free vaccines and microchips for homeless people's pets was the next logical step.
"People will say 'they shouldn't have a pet, they can't even take care of themselves'. I don't believe that at all," Lambert said. "This is their best friend. It's all they've got. And they take such good care of them."
That includes knowing when to ask for help.
Lambert recalled two occasions when someone showed up to Sunday brunch at the mansion with a dog they could no longer care for, including one in need of expensive rehabilitation care after being hit by a car.
Both of those dogs now live with her.
Devoted to their pets, whether they have homes or not
PACC's free monthly vet clinic for the homeless served roughly 200 pet owners last year.
Volunteer Steve Woolridge said it's not all cute puppies. One of the clinic's regulars is a man with an old dog with cancer and sores all over its skin.
"A lot of people would give up on that dog and have him put down. He'll love that dog until the day it dies, and that's just the way it is," said Woolridge, as he filled syringes with vaccines for rabies, distemper and parvo. "The connection between them is awesome."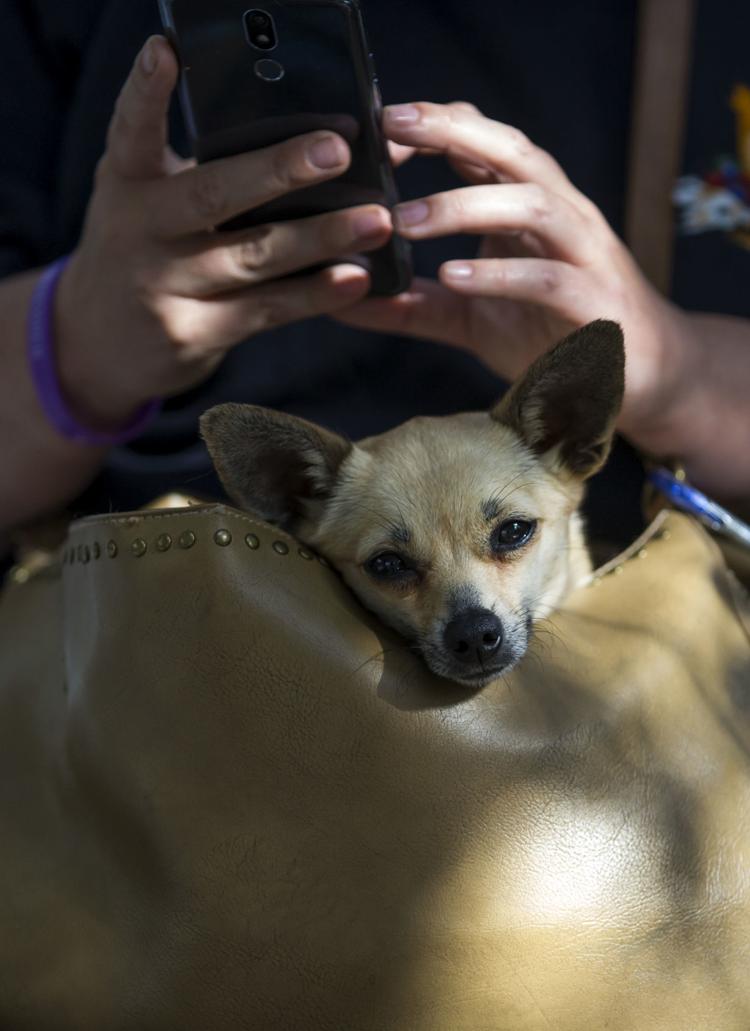 Messina usually comes to the monthly vet clinic with Rolo and his other dog, Chubs. Right now, though, the older Australian shepherd mix is staying with a "foster family" while he recuperates from surgery to remove an eye stricken with valley fever.
Messina said O'Donnell and company diagnosed and treated Chubs for the fungal infection, then arranged to have the eye removed once it became clear that it couldn't be saved.
"They really helped me. I can't imagine what that surgery would have cost me," he said.
PACC also helped reunite him with the dog once after it got lost and ended up at the animal shelter.
"They personally brought Chubs back to me," he said. "I consider them friends."
Though he has no permanent home of his own, Messina said his dogs never go without.
"They eat even if I don't. They get water," he said.
In the summer, he finds someplace shady to stay, then picks up a cheap, plastic kiddie pool for the dogs to splash around in. And once a month or so, he brings them to the mansion downtown for a check-up.
"A responsible pet owner is a responsible pet owner," Messina said, "even in this situation."
Contact reporter Henry Brean at hbrean@tucson.com or 520-573 4283. On Twitter: @RefriedBrean.