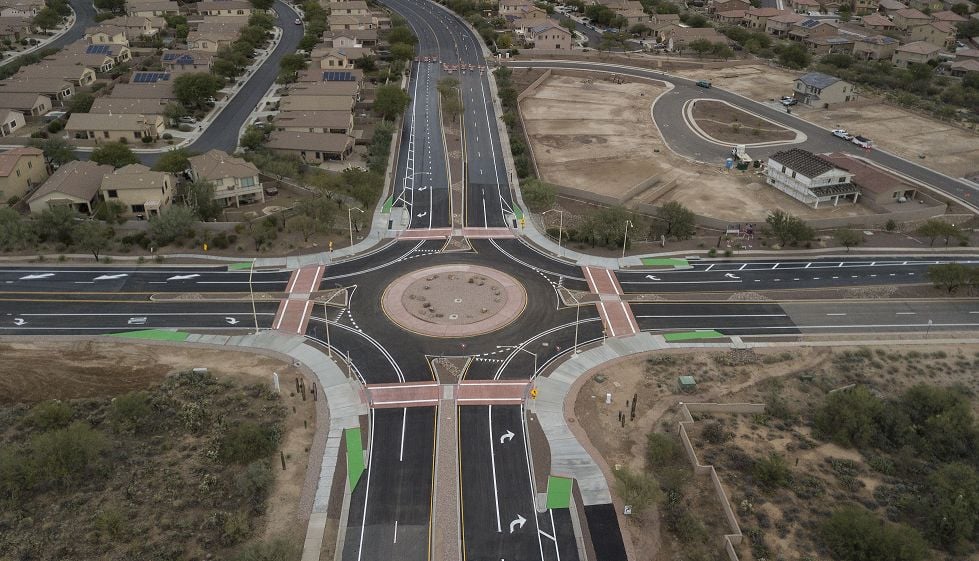 The Town of Oro Valley has opened their second roundabout at Moore Road and La Cañada Drive Tuesday after heavy rain caused a week delay.
Motorists should observe the speed limit and yield to pedestrians and other vehicles traveling in the roundabout.
Before opening its second roundabout, Oro Valley officials say they are hopeful a three-week…
The roundabout now takes motorists using the outside lane to an immediate right turn. Drivers using the inside lane go in and out of the roundabout without crossing traffic.
Motorists should follow these basic rules for safe roundabout use, officials say.
Do:
Slow down.
Remember that vehicles already in the roundabout have the right of way. Yield to traffic approaching from the left. Wait for a gap, then carefully proceed.
Look out for pedestrians and bicyclists.
Obey the one-way signs.
Don't:
Come to a stop when there's no traffic at the roundabout.
Try to cut in front, or merge with traffic.
Stop inside the roundabout.
Switch lanes while in the roundabout.
Need additional help?
Town officials produced a short video detailing all of the different scenarios motorists may find themselves in.
Contact Star reporter Shaq Davis at 573-4218 or sdavis@tucson.com
On Twitter: @ShaqDavis1