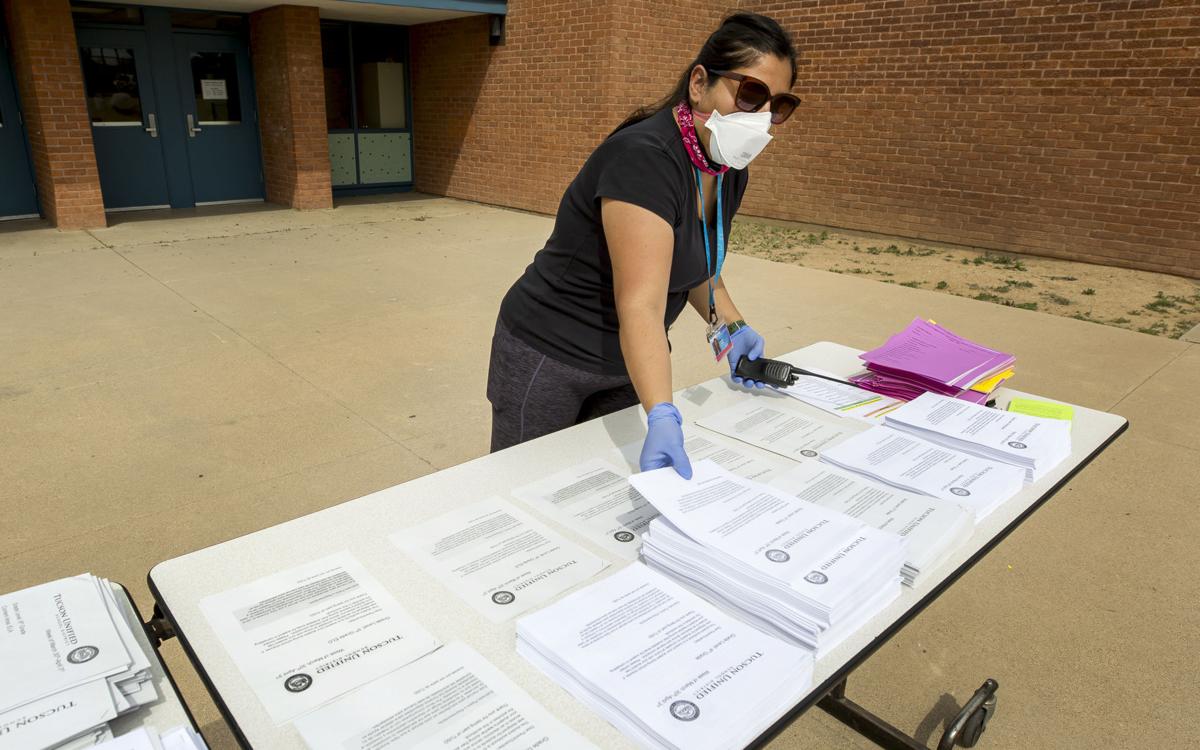 School employees in Tucson should be able to start getting the COVID-19 vaccine next week, but because of limited supply, schools and districts will have to prioritize who goes first.
Tucson Unified will prioritize 3,100 employees who are already working in person, including in-person special-education teachers and staff workers, custodians, bus drivers, food service employees and staffers in the Early Learning Centers.
Of that group, the district will prioritize 970 in-person employees who are ages 65 and over. They will get access to an appointment for the vaccine in order of age starting with the oldest.
"These employees, more than any other employee in our district, have answered that call of being physically present on our campuses and providing direct services to students in our classrooms, in our cafeterias and our buses and in our front offices," said Superintendent Gabriel Trujillo. "I just think that there is no better way for us to acknowledge that hard work and that sacrifice than moving them to the front of the line."
Tucson's largest school district will get 780 vaccines next week for employees getting vaccinated from Jan. 20-24. That is nearly 10% of TUSD's 8,000 employees.
Trujillo says he'll get the vaccine after all his employees who want it have had the opportunity.
"It's important that every single teacher, every single custodian, every single principal, every single employee that we have working on our campuses or set to return at some point to our campuses — they need to be taken care of first," he said. "So, when I see that our workforce has had the opportunity, I'll definitely get the vaccine — last."
Sunnyside, with around 1,700 employees, will prioritize those required to come to work in person every day, followed by educators who will teach hybrid classrooms once schools reopen in a limited capacity. The district will get 140 vaccines next week.
There should be a larger allocation of vaccines in Pima County the following week, and the number of school workers getting vaccinated each week will increase accordingly, says school liaison for the county Health Department Brian Eller.
The number of vaccines being allocated to each school district is proportionate to their number of employees. The allocation for districts and schools next week is as follows:
Amphitheater — 190
Catalina Foothills — 80
Flowing Wells — 80
Marana — 180
Sahuarita — 90
Sunnyside — 140
Tanque Verde — 40
TUSD — 780
Vail — 210
Pima JTED Career and Technical Education District — 15
Private and parochial schools — 172
Charter schools — 256
Both K-12 and higher education institutions are sending the Pima County Health Department lists of workers prioritized by who will get the vaccine first. Employees can expect to get an email with a link to register for the vaccine when it is their turn.
School workers across the county will be getting vaccinated at a drive-thru super-site at the University of Arizona. Tucson Unified, which isn't mandating the vaccine, will allow employees to get the shot during work hours. Employees not with TUSD should check with their school or district to see if this applies.
All school workers and those who work in child care are at the front of priority group 1B along with people 75 and older and those working in protective services including police, firefighters and emergency responders.
Pima County has not received as much vaccine as it had anticipated, prolonging the rollout to that 1B group, although some parts of the state have started to vaccinate school personnel, including in Maricopa County.
Pima County is receiving 12,000 vaccines from the state next week to cover portions of each of the 1B priority groups. School workers alone account for about 53,000 people in Pima County.
The week of Jan. 25, the state has said it will give the county more than 12,000 vaccines, according to Pima County spokesman Mark Evans.
How many educators a week can get vaccinated is dependent on how many vaccines the county gets but also dependent on the throughput at the UA site.
Another option for educators is to make an appointment at one of the 24-hour state sites in the Phoenix area.
The State Farm Stadium in Glendale opened Jan. 11 and is open to all Arizonans in that priority 1B group, according to Governor's Office spokesman Ben Peterson. All the appointments there for January have been booked, but registration for appointments in February will open Jan. 19 at 9 a.m.
TUSD Food Services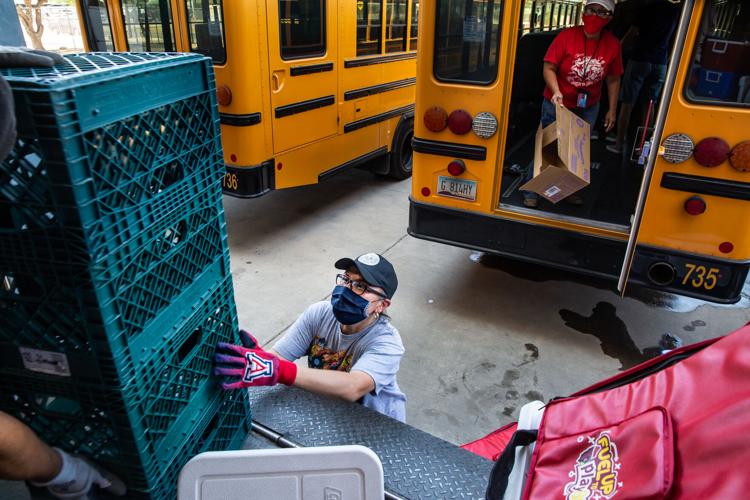 TUSD Food Services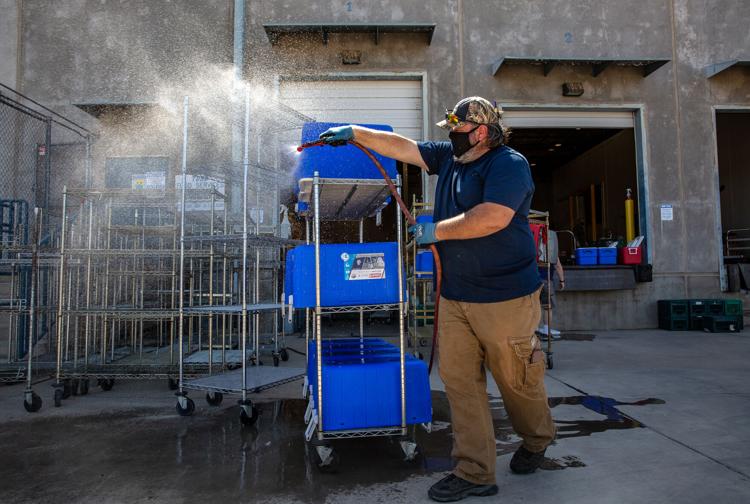 TUSD Food Services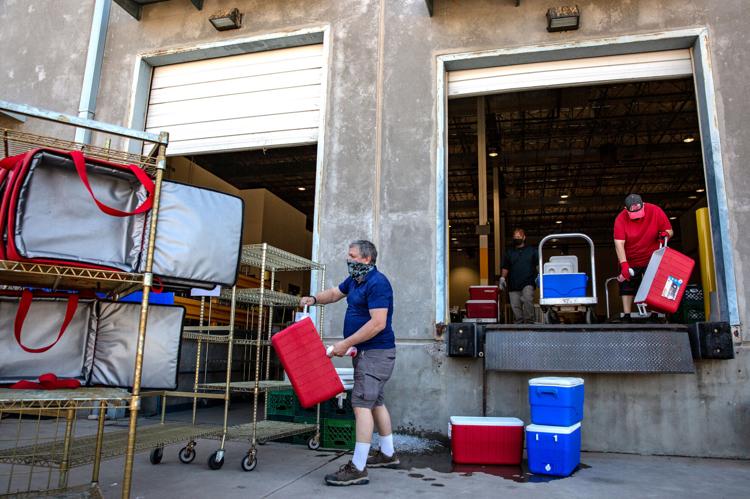 TUSD Food Services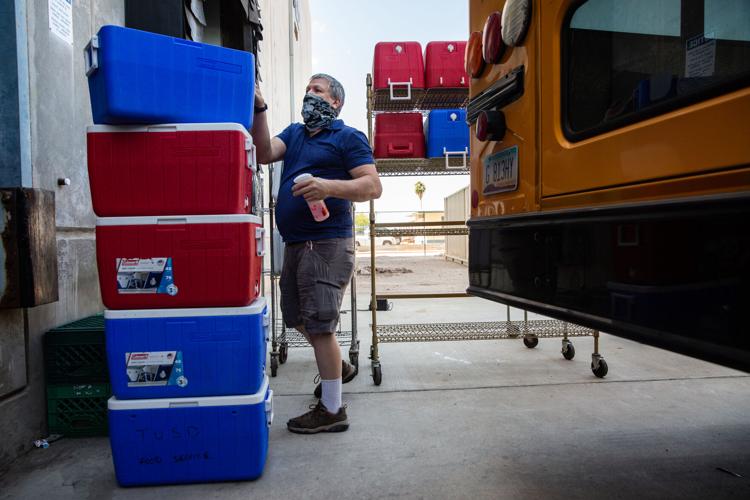 TUSD Food Services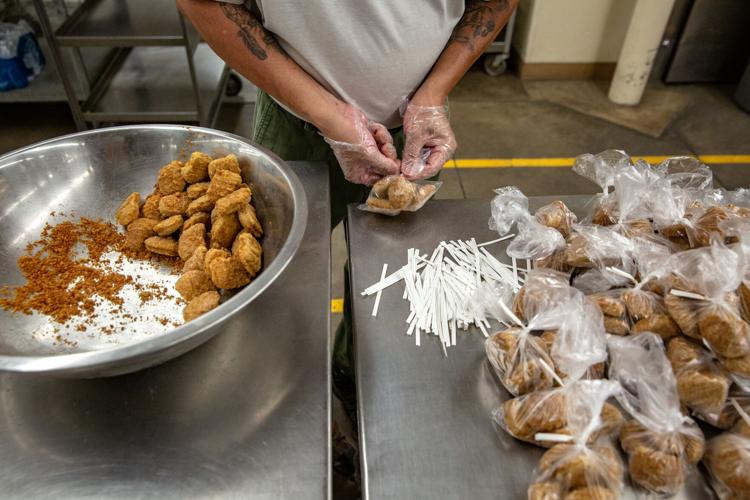 TUSD Food Services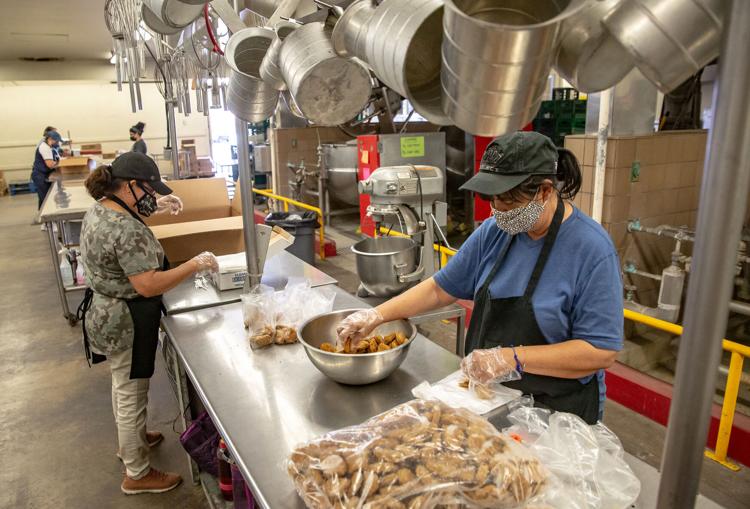 TUSD Food Services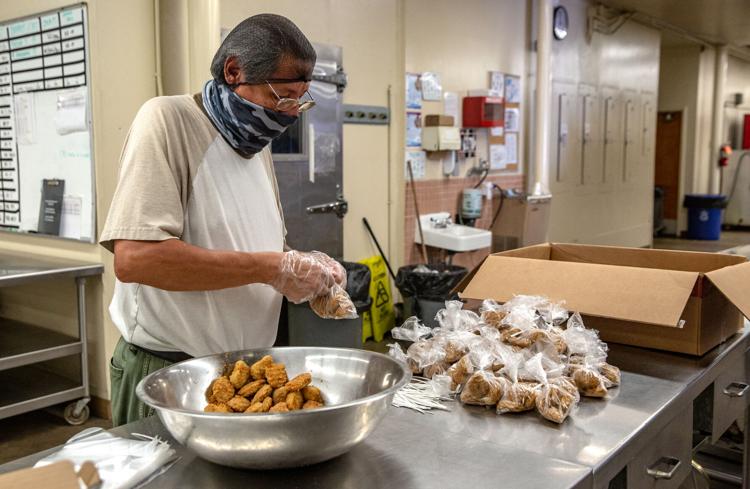 TUSD Food Services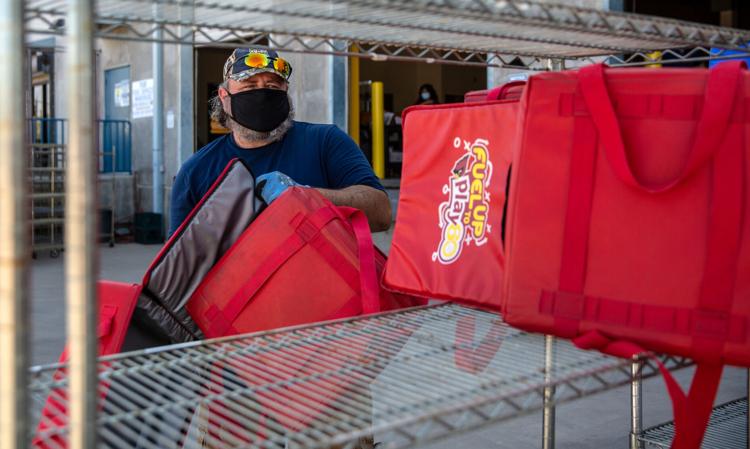 TUSD Food Services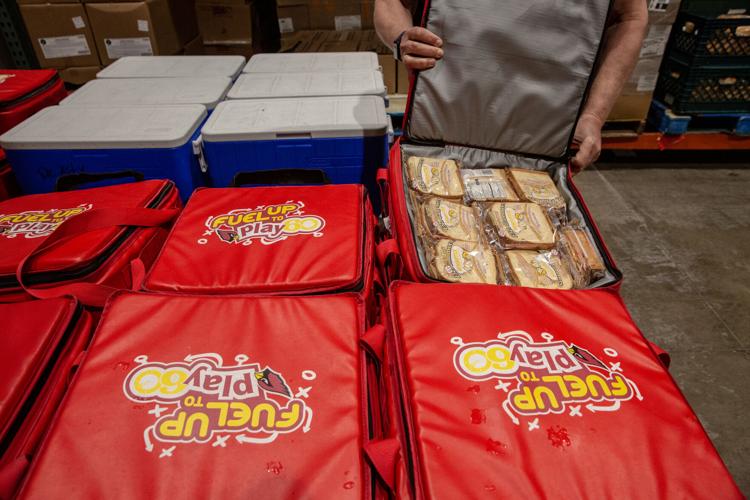 TUSD Food Services
TUSD Food Services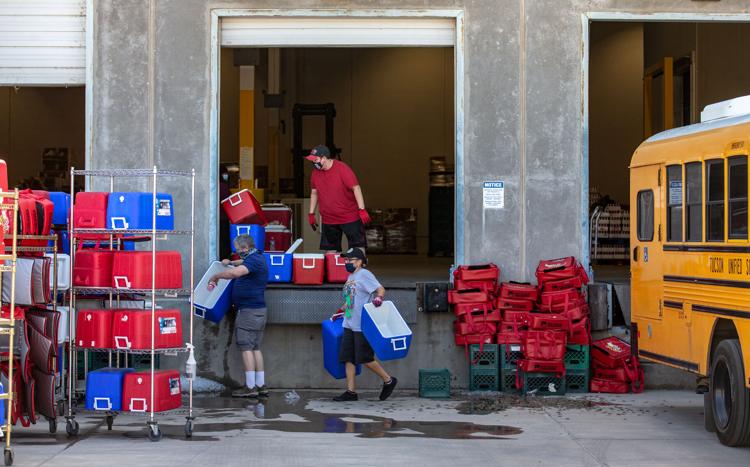 Luna Rose, Shaw and Grivois-Shah projected to win seats on the TUSD Governing Board
Natalie Luna Rose, Sadie Shaw and Ravi Grivois-Shah are leading the race to win seats to the TUSD Governing Board, beating out four other candidates.
As of Wednesday afternoon, Pima County still had thousands of votes to count.
The Governing Board for Southern Arizona's largest school district, Tucson Unified, makes decisions that control a $500 million budget and affects the lives of about 42,500 children and their families.
The three newcomers, to be seated in January for the volunteer positions on the five-person board, will be responsible for seeing the district through educating students during the COVID-19 pandemic, an enrollment loss upwards of 2,500 students, a possible $15 million budget shortfall, a continuing statewide teacher shortage and TUSD's ongoing desegregation order, already in place for more than 40 years.
Board President Kristel Foster and board members Rachael Sedgwick and Bruce Burke all declined to run for reelection, leaving three seats open. Luna Rose, Shaw and Grivois-Shah would join board members Adelita Grijalva and Leila Counts.
Luna Rose, who got more votes than any other candidate, is a TUSD parent and founding member of Tucson Unified Parent Advocacy Council.
She works as community and outreach manager at the Arizona Center for Disability Law. She has been doing grassroots organizing for almost 20 years, participating in the public process at all levels.
Luna Rose says her win signals a change for the community, "as we now have the most diverse group of school board members to ever truly represent the district."
"Come January, the Governing Board will face some intense challenges with the budget, declining enrollment and an infrastructure that needs massive repair, not to mention issues surrounding COVID-19," she said. "The work will begin on Day 1. We have a lot of work ahead of us but I am ready to fight hard for Tucson families and help shape TUSD's future."
In our most unique candidate session of the 2020 election season, candidates for one of three vacant seats on the Tucson Unified School Distri…
Shaw is an artist, art educator and community advocate. She volunteers in TUSD schools, currently as part of an art program at Catalina High School.
She serves on the Diversity Equity and Inclusion Committee for both the Arts Foundation for Tucson and Southern Arizona as well as the League of Women Voters of Greater Tucson, where she is the education program co-chair.
"This win is for Sugar Hill and all the neighborhood schools that got closed down," Shaw said in a post on Facebook. "This win is for the students who underperform and the parents who feel powerless. This win is for the employees that dedicate their lives to the district but aren't paid a living wage. This win is for my daughter and everyone at Manzo Elementary. We've got a lot of work ahead of us to improve the conditions in TUSD but I'm excited for the challenge and humbled by the opportunity."
Grivois-Shah is a TUSD parent and involved member of the Tucson Unified community. He is a parent member of the TUSD Audit Committee, and last year he served on the district's Family Life Curriculum Committee to revise the sex education curricula.
He has been a family physician for the last 15 years, and he recently became CEO of the Southern Arizona AIDS Foundation.
"I'm honored and grateful that the TUSD community voted to put their trust in a physician and parent who will put the needs of Tucson students and families first," Grivois-Shah said in a prepared statement.
"Voters responded to our positive message that focused on ensuring a sound response to the COVID pandemic in our schools, financial sustainability and accountability, and addressing disparities and inequities throughout TUSD. We have a clear mandate to meet these expectations."
The three winners are projected to beat candidates Adam Ragan, Cindy Winston, Nick Pierson and write in candidate Cristina Mennella.
OTHER TUCSON SCHOOL BOARD RACES
• Amphitheater School District Governing Board members Scott Baker, Deanna M. Day and Vicki Cox Golder were on track for reelection as of Wednesday, defeating newcomer Nathan Davis, an educator.
• Vail board members Callie Tippett and Allison Pratt and newcomer Chris King were on track for election as of Wednesday to the Vail Unified School District Governing Board, leading over newcomer Andre Mixon.
• Sunnyside School District Governing Board member Rebecca "Beki" Quintero won reelection alongside two new candidates, Matthew Taylor and Lisette Nuñez. While a fourth candidate, Joaquin Nuñez, came in third place, he had already withdrawn his candidacy.
The Tucson Unified School District Food Services Department has continued to provide services for students and families throughout the Coronav…
Educational Enrichment Foundation awards nearly $60K for student projects in TUSD
The Educational Enrichment Foundation is awarding 66 classroom grants to Tucson Unified educators totaling $56,973, to support student projects.
The grants will provide teachers with funding to purchase supplies, materials and equipment for virtual classroom projects. The 66 recipients will use their awards to buy new books, virtual reality glasses, yoga mats and mindfulness activities, sculpting clay, Edison Robots for Scratch Coding, 3D Printers, iPads and more.
"EEF is thrilled to be able to provide this funding for teachers to enhance and expand student learning in TUSD," said executive director Dawn Bell. "Even with the challenges of online learning during the pandemic, teachers continue to impress us with creative projects that can be accomplished with their students remotely."
Educational Enrichment Foundation awards classroom grants based on the review and recommendation of a committee of Tucson community members.
Tanque Verde psychologist joins prestigious board
The lead school psychologist in the Tanque Verde School District, Ivonne Olivas, was appointed to the executive board of the Arizona Association of School Psychologists.
Olivas will engage school psychologists with "high-quality professional development, promote visionary leadership and advocate for ethically, culturally competent and socially just practices to empower school psychologists in the vital role of supporting the well-being of Arizona's children and youth," a news release said.
Olivas is in her 13th year as a school psychologist and in her second year in Tanque Verde schools.
Pueblo receives $35,000 grant for computer science program
Pueblo High School is receiving a $35,000 STEM grant for creating a computer science program.
The grant will "help students from underrepresented backgrounds, interested, prepared and on their way to a possible career in computer science/cybersecurity," said Roberto Cruze, the school counselor who will oversee the grant.
Pueblo will work on creating a sustainable program over the next year for students to advance their understanding of computers and the computer science field, Cruze said.
The school will work to create a 10-day introductory computer science summer program in which incoming freshmen will be able to get a jump start on their high school career.
The Tucson Unified School District Food Services Department has continued to provide services for students and families throughout the Coronav…
Federal prison on Tucson's southeast side COVID-19 hot spot
The federal prison complex on Tucson's southeast side has become a COVID-19 hot spot, and widespread testing is urgently needed to prevent hundreds of employees from spreading the disease beyond the prison gates, a report to the Pima County Board of Supervisors said.
To date, about 500 of 1,300 inmates at the facility at 8901 S. Wilmot Road have been infected with coronavirus, and until last week, the prison was not offering on-site testing for its 600 or so employees, said the report from County Administrator Chuck Huckelberry.
Rather, employees who wanted to be tested were directed to see their doctor or seek out a free clinic. Relatively few did so — only about one-quarter of the workforce, the Nov. 17 report said.
"We believe the facility needs to provide comprehensive COVID-19 testing for all staff," it said.
In the meantime, the County Health Department, with the blessing of the federal Bureau of Prisons, is sending mobile testing units to the prison.
More than 90 employees were tested on site and the mobile unit will be back Tuesday for another session, said an email from the county's epidemiological team, which is helping prison officials address the situation.
Parents, students, teachers and other concerned citizens protest in support of in-person teaching outside the Pima County Administrator's Offi…
Huckelberry's report said such testing "is critical to protecting both the detainees and the larger community." The Health Department has asked for a list of all prison employees and will be cross-checking the names with the county's coronavirus contact-tracing database, it said.
The report also said some prison employees have been careless about wearing masks and other protective items when transporting prisoners or handling them in a hospital setting.
About two-dozen infected prisoners were sick enough to go a hospital for admission or evaluation, and during that time "significant lapses in basic mask and PPE use have been noted among correctional staff," the report said.
Bureau of Prisons spokesman Justin Long said the facility has adopted numerous precautions since the pandemic began, including temperature checks, limiting prisoner transfers and suspending in-person visitation.
"We cannot require that staff members be tested for COVID-19," although they are "highly encouraged," to do so, Long said in an email from agency headquarters in Virginia.
Prison officials are closely monitoring the situation, he said.
"We are deeply concerned for the health and welfare of those inmates who are entrusted to our care, and for our staff, their families and the communities we live and work in," Long said.
The Tucson Unified School District Food Services Department has continued to provide services for students and families throughout the Coronav…
Contact reporter Danyelle Khmara at dkhmara@tucson.com or 573-4223. On Twitter: @DanyelleKhmara