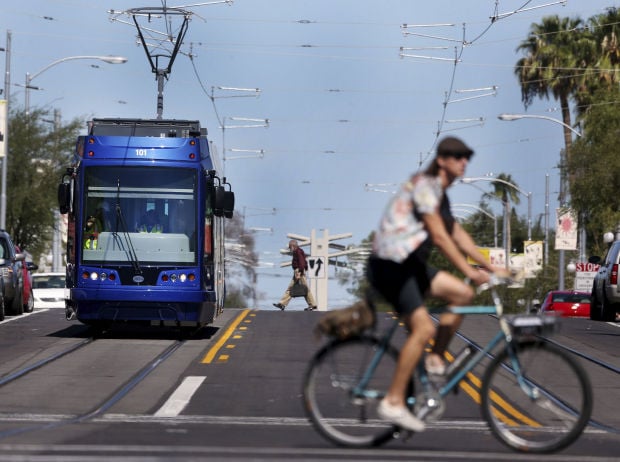 It didn't take Laura Balis long to understand the risk of riding her bike along Tucson's modern streetcar tracks.
Balis was pedaling along East University Boulevard near the University of Arizona with a friend in January when a car suddenly stopped in front of them, forcing the two bicyclists to veer around the vehicle and cross the tracks at an odd angle.
She made it across the first track, but couldn't traverse the second one, which caught her tire. She fell, and severely injured her elbow.
"It was the first time I had ridden that way," she said. "I've avoided the area since then."
Balis' incident is one of 86 crashes documented on a survey compiled by the Living Streets Alliance, which promotes making streets more friendly to bicyclists and walkers. The crashes reported on the survey – which began August 2012 – occurred as cyclists tried to ride alongside or cross the tracks.
The nonscientific, self-reported survey includes the cause and location of each crash, the severity of injuries, and the experience level of the bicyclist.
Living Streets Alliance officials say their database likely reflects a small fraction of actual bike crashes along the streetcar route. Most people don't report their injuries or falls, especially if they're minor, said Ian Johnson, an Alliance board member.
The city doesn't track streetcar-related bicycle crashes, which led the Alliance to create the survey. The group hopes it serves as a tool to help the city identify and fix hazardous areas along the route, as well as bring this issue to the public's attention, Johnson said.
The issue has already sparked a debate regarding whether cars, bikes and the streetcar can coexist along the route, especially in the North Fourth Avenue shopping district, where bikes have to compete with parked cars and delivery trucks.
"This is the most heavily used corridor in the city," Johnson said. "Bikes have always been here and will always be here."
crash statistics
Most of the crashes tracked in the survey occurred near three areas: the Fourth Avenue underpass at Toole Avenue, Fourth Avenue and University Boulevard, and the Main Gate Square area outside of the University of Arizona.
More than 40 percent of riders crossed the tracks at a bad angle and almost 30 percent encountered an obstacle in the lane, ranging from stopped cars and pedestrians to construction fences.
Other crashes were caused by evasive maneuvers to avoid sudden hazards, such as a car stopping abruptly or a person darting into the street. A small percentage of crashes were caused by wet tracks and bike riders not noticing artificial traffic devices such as chicanes.
Only 4 percent of those who crashed their bicycles emerged unscathed. About 65 percent of the injuries reported were minor scrapes and bruises, while 26 percent were broken bones and other major injuries. Injuries ranged from chipped teeth and gashes on riders' arms and legs, to broken wrists and collarbones.
Balis, a triathlete, broke her elbow and had to wear a sling for a couple of weeks.
City officials have taken certain measures to ensure the safety of bicyclists, especially on Fourth Avenue and University. They built streetcar stops in the center of the street to prevent congestion, painted green street markings to guide cyclists over the tracks, put up signs warning bike riders of the tracks and mounted a safety education campaign.
The city is also training streetcar operators to not pass bicyclists, said streetcar Project Manager Shellie Ginn.
Ginn said the city will continue to make changes as needed.
"It's a new mode of travel in a dense area," she said. "Everyone has to function differently."
can they coexist?
Some groups, including the Living Streets Alliance, believe more needs to be done: either remove bike riders or parking spots from Fourth Avenue and other trouble spots.
A recent study from the Urban Land Institute said bikes and streetcar tracks don't mix and suggested prohibiting bicyclists from riding anywhere along the route. But the city, with input from a citizens panel, pegged the area as a bike route during the early streetcar planning stages and started looking at designs that would allow bikes to ride along the route.
Emily Yetman, executive director of Living Streets Alliance, said the city should place buffers at high accident points and get rid of parking on Fourth Avenue.
"Right design invites right use," Yetman said.
The city has no plans to remove all on-street parking at any part of the route, but officials might take away spots in trouble areas, Ginn said.
Other cities with streetcar lines have taken various approaches to address bicycle safety along busy streetcar routes.
In Washington, D.C., officials have encouraged bicyclists to use streets adjacent to the streetcar line, which runs along a heavily congested, popular retail and restaurant corridor, said Cherie Gibson, spokeswoman for the D.C. Streetcar.
Portland, Oregon, has taken a variety of approaches, especially along newer portions of its streetcar system, said Dan Bower, executive director of the Portland Streetcar. In certain areas, Portland's streetcar runs down the left side of its one-way streets and down the center of other streets, away from the bike lanes. Bike lanes were designed to guide bicyclists across the tracks at the correct angles, Bower said.
It comes down to this, he said: Bicyclists shouldn't have to share space with streetcar tracks.
"Having bikes run parallel to the streetcar is not ideal," he said.