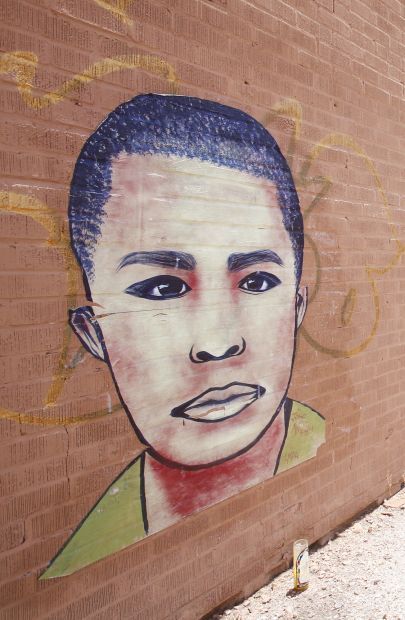 More than a year ago, Taidé Elena could still hug her grandson.
Even though José Antonio Elena-Rodríguez was 16 and wanted to be a soldier, she used to call him "mi niño" — my boy.
Now, Elena said, she can only vicariously touch her grandson via photographs of him. And more than a year after his death, his family is still seeking answers to what happened on the night he was killed.
He was shot on a Nogales, Sonora, street where steel bars topped by barbed wire separate the Mexican city from Nogales, Ariz.
The 40-caliber bullets that killed Elena-Rodríguez came from the U.S. side, from Border Patrol agents who were responding to rock throwers, according to the agency.
More than a year after the incident, the Border Patrol remains quiet about the issue. A Star request to comment on the case and the ongoing investigation was referred to the FBI, which did not respond to requests for comment.
The shooting occurred around 11:30 p.m. on Oct. 10, 2012. According to the Border Patrol, the officers were defending themselves against rocks while some men were trying to sneak into the U.S. carrying drug packs strapped to their bodies.
So far the Border Patrol has not revealed the identity of the agent or agents who fired the shots.
"He was a teen, but he was my boy," Elena said between tears on a recent Saturday at her trailer home in Nogales, Ariz.
Sonoran investigators who did a ballistics and crime scene re-creation of the events say that Elena-Rodríguez was shot twice in the head, once in his arm and five times in the back. These last five bullets entered the body after the boy was lying on the ground, they said.
The family has filed civil lawsuits over the death.
A native of Mexico, Elena divides her time between both nations. She lives with her husband in Nogales, Ariz., where to help make ends meet she baby-sits children. She visits her home in Nogales, Sonora — located in a gritty, working-class neighborhood just a few blocks from the border — where her grandson used to live with his mother, a brother and other relatives.
Recently, Elena found a photograph taken a few weeks before he was killed, where Elena-Rodríguez was with his older brother, Diego. Since his death, his older brother has plunged into a depression, Elena said.
Elena-Rodríguez's dreams were to join the Mexican army, Elena recalls. He played sports, worked out and made friends with active-duty soldiers to prepare him for boot camp and life in the military.
The grandmother insisted her grandson never got into trouble. She added he could not have been hurling rocks at the agents.
Isidro Álvarez, 36, a Nogales, Sonora, resident, said during a news conference in April that he was walking about 20 feet behind Elena-Rodríguez when he saw two men running away from the scene.
Álvarez, who appeared as a witness about six months later claiming that he feared for his life, said he heard shots and saw the youth fall to the ground.
"He didn't even know he was going to be killed; he didn't even look toward the borderline," Elena said. "How can it be that the boy was on the ground and they kept firing? He was dead and they still kept firing."
Mike Fisher, chief of the Border Patrol, told The Associated Press last month that the agency will not prohibit agents from using lethal force in cases when they are attacked by rock throwers, despite the recommendations from outside organizations.
"We shouldn't have carve-outs in our policy and say, except for this, except for that," Fisher told the AP. "Just to say that you shouldn't shoot at rock-throwers or vehicles for us, in our environment, was very problematic and could potentially put Border Patrol agents in danger."
Elena said she prays the civil lawsuit sheds new light about the case. She vowed to fight for answers so the family can eventually have closure.
She said: "I will climb that mountain. No matter how long it takes, but we will climb … with God's help."