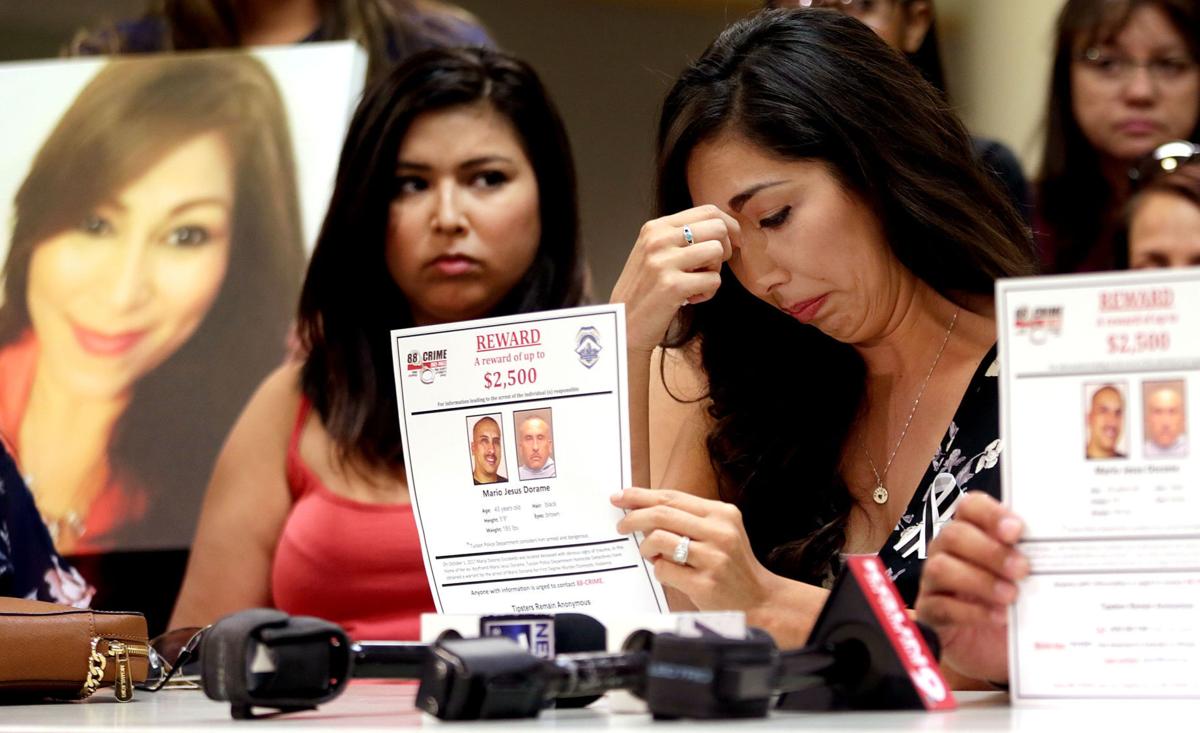 The mystery of why Maria Dolores Escobedo was violently killed, her body found in her ex-boyfriend's house, keeps her family awake at night.
About two dozen relatives attended a news conference Tuesday organized by Homicide Survivors at the downtown Joel D. Valdez Main Library, where family members shared memories about their loved one.
They also shared frustration and said they are seeking justice in Escobedo's slaying. The family urged anyone who knows the whereabouts of Escobedo's former boyfriend, Mario Jesus Dorame, 43, to call 911 or 88-CRIME, an anonymous-tip hotline.
An arrest warrant for Dorame on suspicion of first-degree murder was obtained by Tucson police homicide detectives after they discovered Escobedo's body on Oct. 1 inside Dorame's house in the 5500 block of South Tyndall Avenue.
A search warrant return states that detectives seized knives and scissors from Dorame's home, along with shoes, undergarments and a bath towel.
"It is so important to get this man off the street," said Escobedo's brother, Jose Tellez, a captain with the Tohono O'odham Nation Fire Department in the San Xavier District. He told Dorame, if he watches or reads media reports, to turn himself in.
Family members said they could not explain how or why Escobedo, 52, had a relationship with Dorame. They mentioned she invited him to some family gatherings, and some now wonder about their safety.
Escobedo's relatives shared details of her life and what made her special.
At a young age, Escobedo, with a maternal instinct, helped care for her younger siblings while her parents and brothers worked in Marana's fields.
She was the cook who made mouths water with her Mexican dishes of tacos and red chile con carne and homemade tortillas. Her soups, including caldo de queso and albondigas, brought smiles, said her daughter, Jessica Escobedo, 31, a volunteer for Tucson Meet Yourself. Her daughter said her mother planned to help her this year at the annual food fest.
"She was taken from us too soon," she said of her mother, who was named Woman of the Year in 2003 by the Marana Chamber of Commerce for her work at the town's food bank. She was the office manager, but did much more by helping those in need by raising funds so people would not go hungry.
She later worked for Marana's WIC program, which serves women, infants and children with nutritional needs, said Jessica Escobedo. She also was a caregiver at a nursing home, and most recently worked as a health-care worker caring for the elderly in their homes.
"She touched so many lives. Her smile would light up a room. When we heard her laugh, we may not have known what the joke was, but we would laugh along with her," Tellez said of his sister.
The family is still trying to face that she is gone. They find comfort in the loving memories their daughter, sister, mother, grandmother and aunt left behind. They find solace in one an other.
Jessica Escobedo recalled her mother's teachings about forgiving others who hurt you and her faith and love for St. Christopher's Catholic Church in Marana. The family plans to continue raising money for the church in Escobedo's memory and to raise awareness about domestic violence in the community.
Contact reporter Carmen Duarte at cduarte@tucson.com or 573-4104. On Twitter: @cduartestar