They were 16-year-old boys when they enlisted to be soldiers in different wars, a decade apart.
Walter Ram was a radio operator on a B-17 when he was shot down and captured in Germany during World War II.
Raymond "Doc" Frazier was a U.S. Army combat medic when his unit was overwhelmed in Korea.
Despite serving their country during different wars, Ram and Frazier are united by a common struggle to survive in brutal conditions that shaped the men who made it home.
Today is National POW/MIA Recognition Day, when the nation honors the sacrifice and service of soldiers like Ram and Frazier.
Walter Ram
The twisted, rusty piece of barbed wire that Walter Ram keeps at his Tucson home could define him — but he won't let it.
It is a reminder of a dark time that took place many decades ago at Stalag 17B, a German prisoner of war camp in Austria, during World War II.
Ram, 94, a Nogales, Arizona, native, was on his sixth B-17 mission when the plane was shot down over Kiel, Germany, on June 13, 1943.
Just a couple of weeks before, on May 21,1943, his crew's first ship, the Helno-Gal, was shot up and barely made it back, crash landing in England at the end of its mission.
This time, neither the crew nor the plane were so lucky.
Flying at 25,000 feet and with its crew on oxygen, the new Helno-Gal was hit and caught fire.
Ram continued to fire his gun even after getting knocked down and forgetting to replace his oxygen mask. With a broken nose and serious facial burns he stayed at his post until he blacked out.
The ball turret gunner, Chuck Lewis, saved his life by getting him out of the plane. Lewis did not survive.
"On the way down, I managed to open my chute." He was in and out of consciousness, and remembers little of being captured by civilians.
Ram was first held at a hospital in Kiel and treated for the severe burns on his face.
"I had my face wrapped in bandages, with an opening for one eye and barely an opening for my mouth," he said.
He was taken to Frankfurt, Germany, where he was interrogated. When he didn't answer any questions, the interrogator put a pistol to his head and threatened to kill him. By then, Ram says, he didn't care anymore.
Frustrated, the interrogator walked out of the room.
In October 1943, Ram and other POWs were transferred to Stalag 17B in northern Austria.
The treatment and conditions during his time in captivity were dire. The overcrowded wooden barracks lacked insulation and big window openings had no glass, exposing the prisoners to the elements.
Once, he was placed in solitary confinement and was sent to a 6-by-8 room with no windows for two weeks with only bread and water.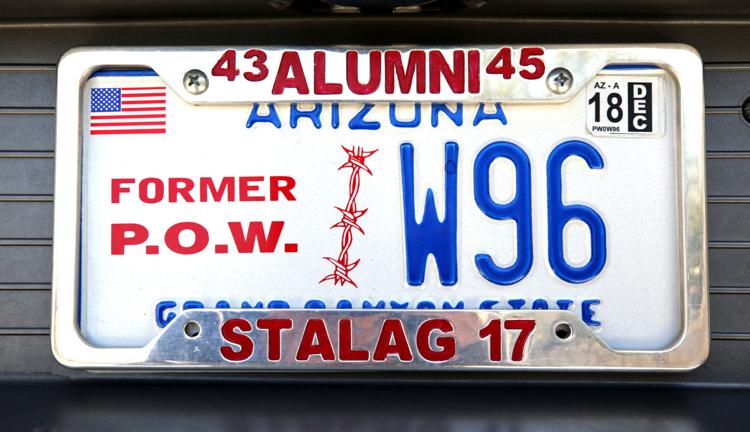 Food was scarce and the Red Cross packages that arrived were pilfered. Rutabaga soup was a common meal, as were the maggots. "We started to eat the maggots because they were our only source of protein."
They ate bread that was made from rye grain, sawdust, crushed straw, leaves and beets, he said. At the time of his captivity in 1943, Ram weighed 160 pounds. By 1945, he weighed 97 pounds.
As the Russian army approached, the Germans evacuated more than 4,000 POWs, marching them west in rain and snow toward American troops.
They were overtaken by part of Gen. George Patton's Third Army on May 8, 1945 near Braunau, Austria, Adolf Hitler's hometown.
Now liberated, the former POWs found themselves standing in front of Hitler's birthplace. "We did the only thing we could think of, we pissed on it," Ram said. "The anger was like a ball inside us."
After Ram's return home, the anger did not go away.
One day he drove his car as fast as he could between Nogales and Patagonia. He pulled over and started to cry.
Ram says the first time he went to eat at the café at Tohono Chul, he asked to be moved to the patio because the tight space reminded him too much of being in solitary confinement.
He says his mother reminded him of his promise to finish high school in exchange for her letting him join the Army underage. That helped him avoid becoming an alcoholic, he says. "Working and school kept me busy, so drinking was not a problem," he said.
Ram left for California to finish high school and earn a college degree. He returned to Nogales and became an independent trucker. Later, he operated his own business, the Ram Produce Co.
Despite such success, nightmares plagued Ram. In one, he found himself with a group in a big hotel, but he could not find a way out. In another, he was in a church, again with no way to get out, and the ceiling started to close in on him.
"Group therapy slowly helped me open up to people and I began sharing my experiences," he said.
It helped his anger go away, too. Now, Ram says he can talk about it freely.
In 2014, he returned to Stalag 17B with his son Walter. He brought back a strand of the dark, rusted barbed wire he found near the site that had been used to keep him confined.
In life, he says, "It is important to never lose hope, never give up, and know how to be honest."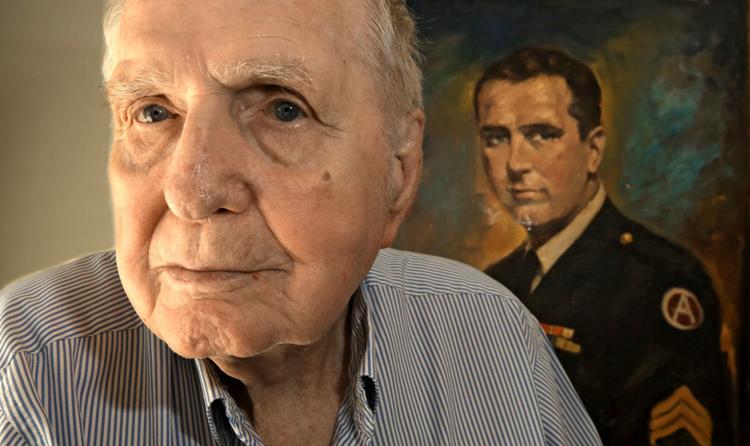 Raymond "Doc" Frazier
"Doc" Frazier had one more act of defiance for his captors, just as he was being released from a prison camp in Korea.
On Sept. 3, 1953, his liberation imminent, the Korean War POW stripped naked, casting aside the uniform his captors provided him and grabbing instead a towel supplied by the Red Cross. He wrapped it around his waist as he walked to freedom.
Frazier soon had some explaining to do to Gen. Maxwell Taylor, a U.S. commander in Korea and future adviser to U.S. presidents, as he crossed into South Korea.
"I immediately apologized for being out of uniform," Frazier said. Taylor replied: "Don't apologize soldier; if I'd been there with you, I'd do the same thing."
Frazier saluted, trying to keep the towel from falling to the ground, and went on his way.
For the Tennessee native it marked the end of his captivity that began at 5:15 a.m. on May 19, 1951. He remembers the time of his capture because with his hands raised he glanced at his watch, just as it was ripped from his wrist.
Frazier, a medic, was one of seven survivors from a company of 128 men.
Rounded up with 750 other soldiers, he walked more than 1,400 miles over four months, arriving at a Communist-run prison camp at Kaesong, North Korea, in October. Frazier was one of 185 captured troops who survived, he says.
In two years of captivity Frazier escaped six times unsuccessfully.
In one of his escapes, he managed to get his hands on a Russian uniform.
"By that time, I spoke enough Chinese and explained that I was a Russian soldier," he said. It worked until he encountered a real Russian soldier.
Whenever he was caught, Frazier faced indoctrination and brainwashing attempts.
Sometimes Frazier was put in front of a firing squad.
"You would be lined up in front of the firing squad and all you'd hear was the click of their rifles."
Food was mostly boiled sorghum seed twice a day. To supplement it he had to be creative. Through another prisoner, he discovered the guards had pigs in the camp so on occasion they would cut the tails or ears off and cook them.
Food was also used as a means to reward those prisoners who collaborated with the Communists, he says.
"We knew they were being bribed with food," Frazier said. "The Chinese were always trying to get the prisoners to inform on each other." But they paid a price: The other prisoners' solution was "to beat the hell out of those guys."
Frazier's medical skills came in handy, especially the ones he learned from his grandmother, who was half Cherokee. "She had a remedy for everything."
Using the sharpened edge of his metal dog tags he lanced boils and cysts and even amputated the toes of a soldier with gangrene, which may have saved his life, he says. "I used six men to hold him down in place of anesthesia."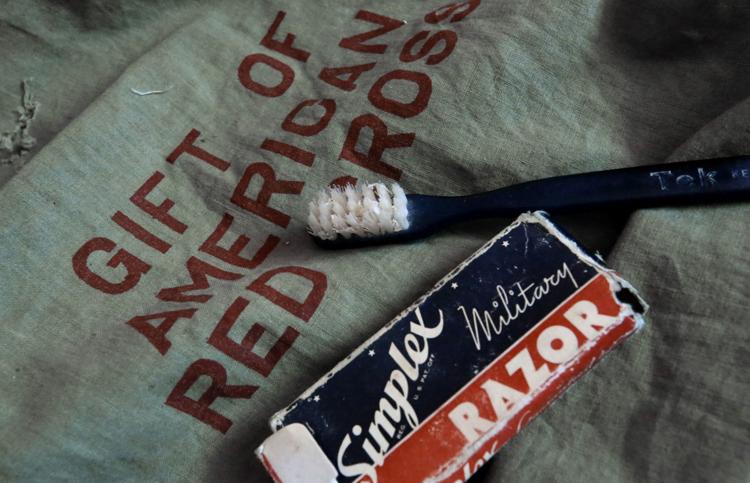 He treated worms using hot peppers. He used charcoal to treat diarrhea.
An important act of defiance, Frazier says, was the establishment of a prison resistance group called the Dead Don't Collaborate. The group had 29 members, 23 Americans and six British soldiers.
The group rounded up collaborators and beat them up to keep them in line.
They communicated with other camps, made maps of the area and even made a compass from the magnets taken from a stolen PA system.
Punishment at the camp was cruel.
Frazier spent seven months in "the box" after refusing to falsely confess to beating a guard and raping women during one of his escapes. "It was 60 inches long, 24 inches wide and 30 inches tall."
To keep his sanity, Frazier says he kept a pet black widow spider named "Bertha" for company.
After his release, he was sent to various camps.
By then the armistice was signed and prisoners were being released. Before his capture he was 185 pounds. He dropped to 126 pounds by the time he was freed.
Frazier stayed in the military, completing two tours in Vietnam and retiring after 22 years as a first sergeant.
His time as a prisoner had its consequences.
A doctor told him to smoke cigarettes to calm his nerves. Before he stopped 30 years later, he was smoking three packs and drinking a quart of vodka a day.
Nightmares were common. "I found it hard to sleep because I was afraid I would wake up and be back in prison."
Now 86, Frazier says he has his life under control.
His time as a prisoner also had some positive effects on him, he says.
He had a second-grade education when he entered the Army.
He learned as a captive that he was smarter than he thought.
"I learned to get along with everyone, even those of another race, the color of a person's skin means nothing. It's not important," Frazier said. "It taught me to be a better person."