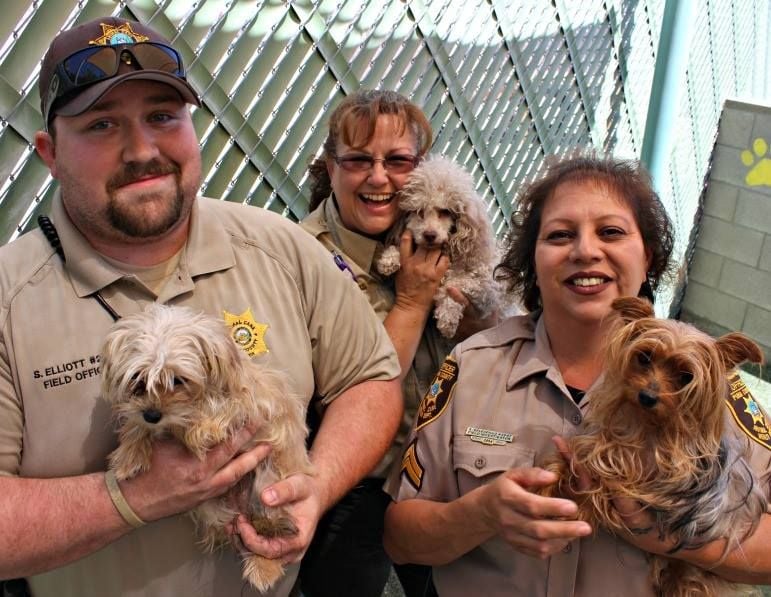 Nearly 100 cats and dogs were rescued from Tucson hoarding homes by Pima Animal Care officers this month, officials said.
The latest rescue was Tuesday when officers saved 28 dogs and puppies from a puppy mill run from a private home, according to a post on Pima Animal Care Center's Facebook page.
The dogs, including Yorkshire terriers, poodles and Maltese mixes, were rescued from a house near South Swan Road and East 26th Street.
Pima Animal Care investigators said "these dogs were being bred and sold for commercial profit." Authorities said a small number were puppies and the rest were between 2 and 8 years old.
The rescue April 1 of 48 cats and kittens that were abandoned in a home after the owner was evicted.
The rescue of more than 20 cats April 12-19 from a home near South Kolb Road and East 22nd Street after the owner also was evicted.
Each case remains under investigation, said officials.
"We're proud to be there to help our community's neediest pets, but we are increasingly crowded," said Justin Gallick, the center's director of community engagement.
"We really need the community to help our pets by adopting, or by making a donation if they can't adopt," said Gallick in the post.
The animals are receiving medical care and getting readied for adoption.
The animal care center is caring for more than 700 pets between its shelter at 4000 N. Silverbell Road, its four PetSmart locations and through its network of volunteer foster homes, officials said.
Pet adoption fees were reduced to $20 through April 30 for all pets six months or older. The fee includes spay or neuter surgery, vaccinations, microchip and license.
However, puppy and kitten adoption fees will remain $50, plus applicable license fees, officials said.