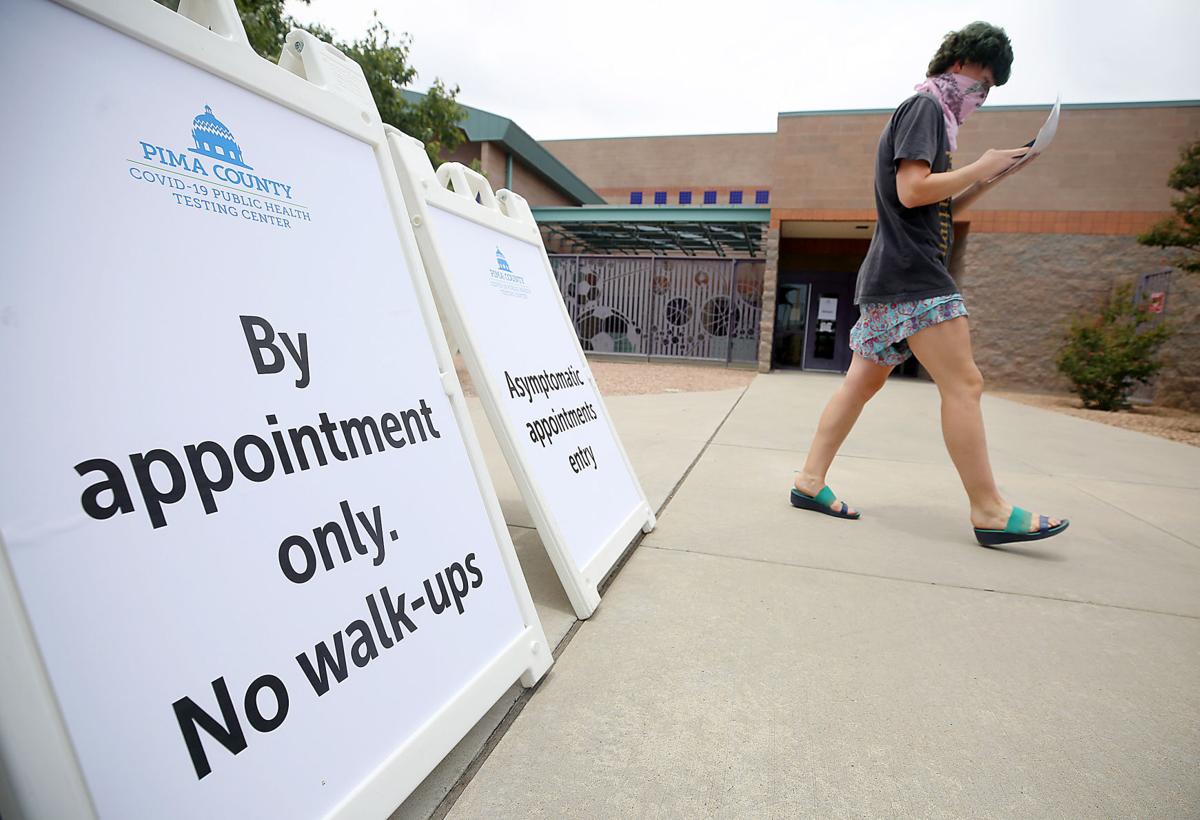 With a number of public testing sites now available in Pima County, nearly 15% of residents have been tested for COVID-19.
As of Friday, more than 166,000 county residents had undergone COVID-19 testing, representing over 12% of the total tests performed throughout the state. More than 80% have been diagnosed using PCR tests, which are used to detect an active infection.
"We are at about 15% of county residents being tested, which is remarkable," said Pima County's Chief Medical Officer Francisco Garcia. "But as long as positivity and cases remain high we need to continue to push this intervention."
The percentage of positive PCR tests has declined over the last several weeks, likely in part because of the broader range of people being tested. After peaking in April at 16% and June at 15%, the positivity rate declined to 7% last week. But with nearly 8,000 positive cases in July alone, more than the previous months combined, Garcia said the need for testing is still dramatically clear.
"Aside from mitigation measures, testing for COVID-19 remains one of the most important interventions that the county can support in order to control the pandemic," said Pima County Administrator Chuck Huckelberry. "Our efforts in this area have been nothing short of Herculean and have resulted in some of the highest per-capita test coverage in the state. We continue to refine this strategy and push our laboratory partners to deliver timely actionable results."
In the past month, the Pima County Health Department has opened three testing centers — Kino Events Center, Ellie Towne Center and Morris K. Udall Center — and nine mobile sites, testing more than 1,500 people a day. These sites offer free testing, by appointment, for anyone who is experiencing symptoms of COVID-19 or who may have been exposed.
As the longest running site, the Kino Events Center has administered nearly 13,000 tests so far, up to 15% of which have come back positive.
According to Huckelberry, the county has spent up to $12 million of CARES Act funding on testing and another $10 million to increase contact tracing. And there's no sign of slowing down.
"In four weeks of testing, we've gone through nearly $3 million in tests," he said. "We are going to need all the testing sites we can get plus more over the next three months."
The county has reserved a total of $60 million for testing and contact tracing efforts. It's likely that it will establish an additional testing site at or near the El Pueblo Community Center.
In addition to setting up testing sites, the county is working to partner with community and faith-based organizations to test hard to reach low-income, minority and homeless individuals while also assessing their other needs, which may include transportation, food and housing assistance. They've already begun working with the Pima Interfaith Council and have tested over 235 individuals.
As community members continue to take advantage of testing, officials at the Health Department are working to ensure the effort is not squandered by high processing times.
"Test processing time continues to be a problem across the state and country. That is beyond our ability to control," Garcia said. "Labs are generally overwhelmed with the volume of testing. Our contractors are generally turning around testing in about 48 hours, which is much better than the major commercial labs. The bottom line is testing makes sense when patients and public health get the info quickly enough to take action."
Huckleberry agreed, saying some labs are still taking anywhere from five to 10 days to process a test, which can negatively impact the county's ability to perform contact tracing effectively. He said the goal is to get that number down to 24 hours.
"We've begun to significantly increase staffing for contact tracing, but it needs to be coupled with the timely results to basically isolate people who might have been exposed so that they don't further spread the infection," he said.
In the past several weeks, the county has hired more than 130 people to conduct case investigations. Ideally, they will make contact with an individual within four days of testing, provide them with information on how to keep themselves and others safe and also trace their contacts.
"Successful case investigation and contact tracing is dependent upon trusting relationships with the community, since positive cases are the source of epidemiological information about their own exposures as well as the names of their contacts," Huckleberry said.
As the county continues to ramp up testing and contact tracing efforts, Huckleberry said the next step will be to focus on surveillance testing for the members of the work force, including first responders, health-care workers, grocery store workers or anyone else who might be exposed to the virus on a repetitive basis.
Concerned about COVID-19?
Sign up now to get the most recent coronavirus headlines and other important local and national news sent to your email inbox daily.