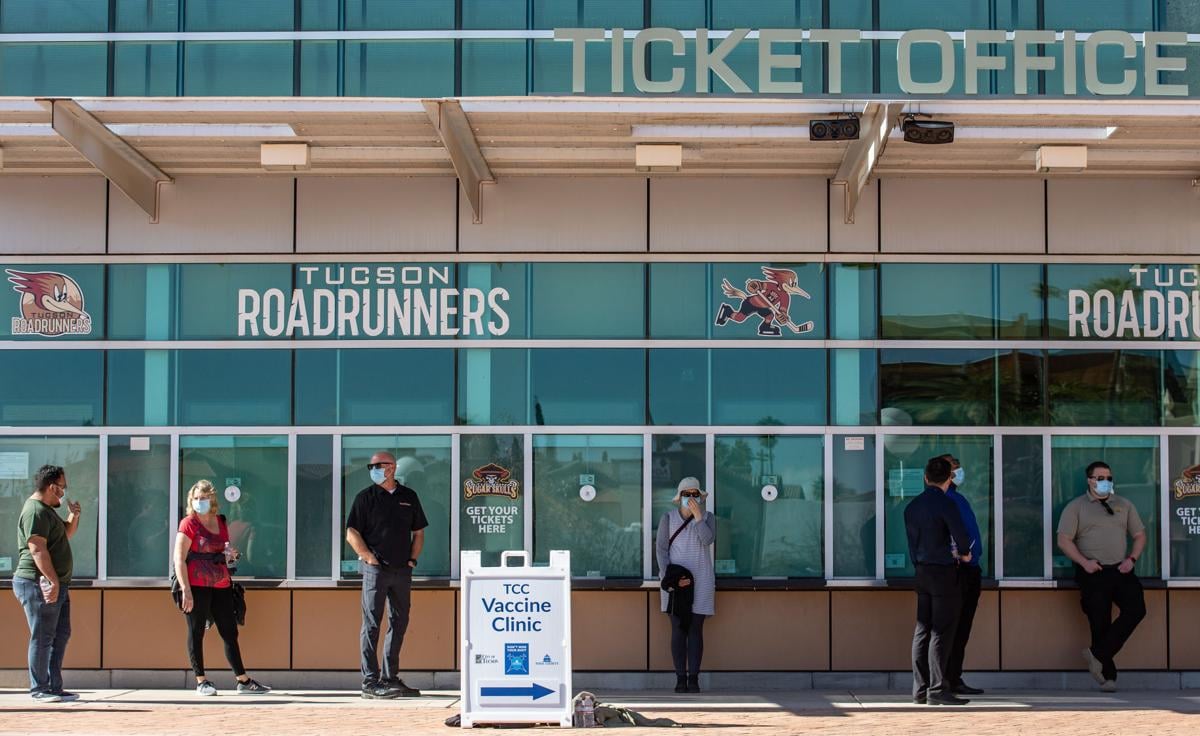 About 7,000 K-12 educators and staff in Tucson have gotten a first dose of the COVID-19 vaccine in the last couple of weeks.
The Pima County Health Department estimates that is close to a third of K-12 staff in the county.
Based on the current pace of vaccinations at the University of Arizona and other vaccination pods in Tucson, another 7,000 to 10,000 K-12 staff could be vaccinated by the end of Friday, Feb. 5.
The county has changed the way it is allotting vaccines to school staff. Rather than the original plan of allotting a certain amount to each school district or school for prioritized staff, all school staff can make an appointment through the Pima County website, as appointments become available, for both the UA pod and the vaccination center at the Tucson Convention Center, says Dr. Francisco Garcia, Pima County's health director and chief medical officer.
School staff should be able to make both their initial appointment and appointment for the second dose at the same time.
Any school staff who were waiting for their school district to submit their names for a vaccine appointment should go ahead and make an appointment through the county website if they have not yet received an email to make one, Garcia says.
Additionally, school staff can make appointments to get vaccinated through Banner Health, which is vaccinating school staff, first responders and people over 75.
A vaccine rollout that's been slower than expected and the continued surge in COVID-19 cases is causing some Tucson school districts to push back their dates to resume in-person learning.
Tucson Unified has yet to set a date to begin in-person instruction.
The district is considering a staggered return once the COVID-19 numbers are better, with the possibility of preschool through third-grade, as well as sixth-grade and 12th-grade coming back first, though the district will be surveying all high school parents to gauge the interest level in starting hybrid for all the high school grades.
Sunnyside, Tucson's second-largest district, will resume hybrid in-person learning on March 1, if the local public health data supports a safe return at that time.
Vail and Marana school districts both resumed in-person hybrid school this week.
Vail is doing a staggered return, with the lower grades resuming earlier this week, and high school scheduled to return on Feb. 8.
Both Amphitheater and Flowing Wells pushed their return date back to Feb. 15, citing the high coronavirus numbers in the region.
Sahuarita Unified is planning a phased return to hybrid, with elementary grades starting on Feb. 1, middle schools on Feb. 8 and high schools on Feb. 15.
Tanque Verde plans to have grades K-6 return to hybrid on Feb. 8, and the upper grades return on Feb. 15.
Catalina Foothill is still offering in-person classes, the only local unified school district that never returned to remote after winter break despite the Pima County Health Department recommending schools do so.
School staff can make an appointment to get vaccinated at the county-run UA site or the TCC at tucne.ws/c19reg.
Contact reporter Danyelle Khmara at dkhmara@tucson.com or 573-4223. On Twitter: @DanyelleKhmara