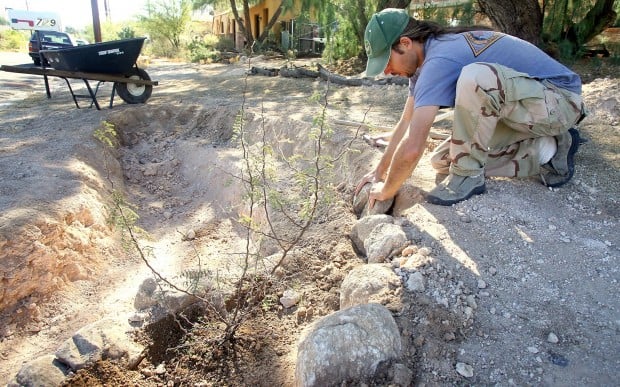 Public art, a community garden and bright murals make Dunbar/Spring stand out as one of Tucson's most colorful old neighborhoods.
But the central neighborhood is unique for another reason, too - its trees.
Mesquite, palo verde, acacia, hackberry, ironwood and desert willow trees line the neighborhood's streets, thanks to an annual tree-planting program that's been around for 15 years. Since 1996, more than 1,200 trees have been planted in Dunbar/Spring, which includes about 900 residents.
The neighborhood is bordered by Speedway to the north, Stone Avenue to the east, Sixth Street to the south and the Union Pacific railroad and Main Avenue to the west.
The idea behind the tree project is achieving what's called a living cool-island-effect - the opposite of an exposed and over-paved heat-island-effect, Dunbar/Spring residents say.
"Everyone can get down with trees," said neighborhood resident Jaime Chandler, who organized this year's annual planting on Saturday.
"It's a no-brainer. They are affordable; they build community; and it's something to look forward to because you can watch trees grow over time."
The trees, which are purchased in 5-gallon tubs for $8 each, come from Trees for Tucson, a local nonprofit program. Dunbar/Spring organizers encourage planters to create a water-harvesting basin around the trees they plant, so rain collects around the tree and infiltrates its roots.
The neighborhood's goal is to provide more natural air conditioning by providing shade, explained Chandler, a massage therapist who has lived in Dunbar/Spring for five years. Saturday's annual tree-planting resulted in 20 new trees for the neighborhood.
Longtime Dunbar/Spring resident Brad Lancaster started the program in 1996.
"At the time it was fairly bleak," Lancaster, a teacher, consultant and designer of sustainable environmental systems, said of the neighborhood. "It's always been great people, but at the time there were very few street trees. The streets didn't feel that safe - people weren't talking that much."
Lancaster says having trees shade up to 75 percent of a street's surface can cool summer neighborhood temperatures by up to 10 degrees Fahrenheit.
Annual tree-plantings also proved to be a bonding experience for the neighbors, he said. And the new trees attracted more wildlife, including cactus wrens, three types of hawks, cardinals and Gila woodpeckers.
"Just last night when I was using the outdoor shower, I saw a great horned owl," Lancaster said.
More Dunbar/Spring improvements followed - wildflowers, smaller plants, and community events to eat things such as pancakes made from the trees' mesquite pods.
The tree project also inspired Lancaster to co-found Desert Harvesters, a local nonprofit group that aims to promote and enhance local food security and production. Using grant money, Desert Harvesters bought a hammer mill that is able to quickly grind mesquite pods into flour and is now used at community "milling" events.
"Nothing with Desert Harvesters would have been possible if we didn't start this effort in Dunbar/ Spring," Lancaster said.
The difference between 1996 and now is tremendous, he said of the neighborhood. Not only does it look better, he believes it is much more of a community, too.
"Every neighborhood can be this and so much more. This was not happening when we moved here. All it took was some neighbors getting together, envisioning what they wanted to see and taking the first steps to make it happen," he said.
"If people in every neighborhood do that, this will be one hell of an amazing city because every neighborhood will be a unique gem."
Trees for Tucson is an urban forestry program of the nonprofit Tucson Clean & Beautiful, and is sponsored by Tucson Electric Power. More information about the program is available at tucsoncleanandbeautiful.org/
The name Dunbar/Spring is derived from the famous black poet Paul Lawrence Dunbar and John Spring, who was one of Tucson's first teachers.