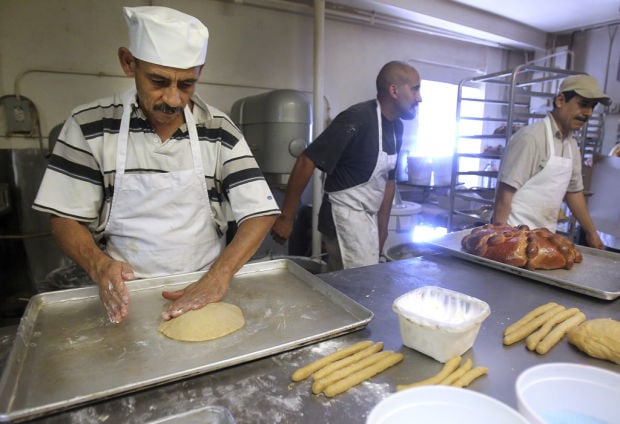 It is not every day that a documentary is made about a local bakery. But for La Estrella Bakery that day has come.
The popular south-side Mexican bakery is a subject of a new video looking at its history and the cultural role it plays in Tucson.
Aptly titled "Dulce Tucson," Spanish for sweet Tucson, the video is the collaborative effort of local filmmakers Heather Gray and Gabriela Durán, who also is a professor of arts in Mexico now studying at the University of Arizona.
The artists and the bakery will hold a free screening party at 7:30 p.m. Friday at the panadería, 5266 S. 12th Ave. The video will be projected on the bakery's north-side wall.
The showing is intended to be a community celebration of not just the business but the traditions a Mexican bakery represents.
"Both of us are interested in projects where people can share it together," said Gray.
Antonio and Martha Franco opened their bakery in 1986. In the years since the family-run operation has grown, employing various family members, producing a variety of pastries and cakes. In addition to the array of traditional pan dulce, La Estrella also produces tortillas and menudo.
Behind La Estrella's cuernitos, empanadas, orejas de elefante and cochinitos, lies the tradition and history of Mexican bakeries and the creative people they employ, said Durán, a professor at the Autonomous University of Ciudad Juárez, across the border from El Paso.
In Mexico, at one time, bakers were revered in their neighborhoods and communities, said Durán, a daughter of a Mexican panadero.
Her father was a baker for about 70 years, starting when he was 10 years old, she said. His status as a baker made him well known. He also was a member of the bakers' union, which at one time played a critical social role in Mexico, she said.
Panaderías, whether in small towns or large cities, were social centers where neighbors gathered to swap stories or share news.
Bread itself was a cultural focal point in tortilla-dominated Mexico, Durán said. It represented Mexico's European face because bread, unlike the indigenous corn tortilla, was introduced by European colonizers. In some aspects of Mexican life, society still is divided by wheat and bread, and corn and flour tortillas.
But "Dulce Tucson" is about community and sharing, Gray said.
"It brings attention to a local business which continues local cultural traditions," she said.
Growing up in Tucson, I remember going to Ronquillo's Bakery downtown, which was demolished during urban renewal, or buying pan de huevo, or egg bread, at El Rio Bakery, which is still operating on North Grande Avenue in Barrio Hollywood.
Many Mexican bakeries in Tucson have remained popular over the years.
LeCave's Bakery on South Sixth Avenue across from Santa Cruz Catholic Church, is known for its doughnuts. El Triunfo Bakery, on South Nogales Highway near East Valencia Road, makes tortilla chips in addition to pan dulce.
Tucson's Mexican bakeries have loyal customers and have adapted over the years to meet changing tastes. At their core, however, is pan dulce.
"If you're not familiar with pan dulce," Gray said, "you're going to learn something new."
• What: Free screening of "Dulce Tucson," a documentary about Tucson's La Estrella Bakery
• When: Friday, 7:30 p.m.
• Where: On the north wall of La Estrella Bakery, 5266 S. 12th Ave.
Ernesto "Neto" Portillo Jr. is editor of La Estrella de Tucsón. He can be reached at 573-4187 or at netopjr@azstarnet.com