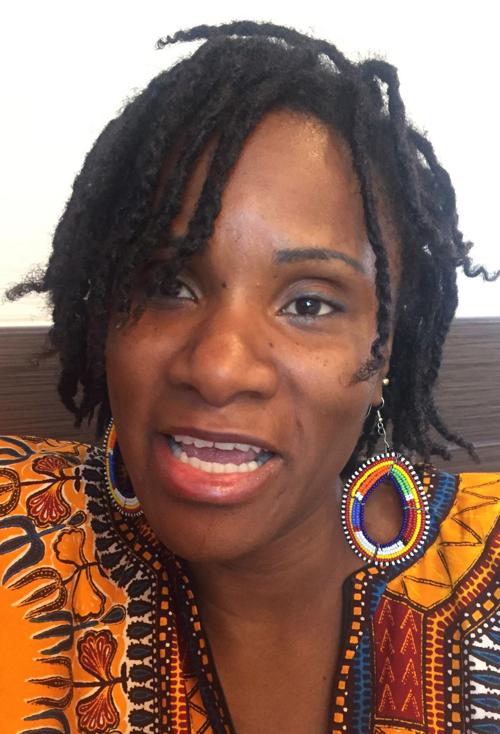 For several years, Randiesia Fletcher has helped refugees create new lives for themselves in Tucson. She co-founded the nonprofit Refugee Resource Center in El Rio Neighborhood Center on West Speedway. Many of the center's clients have escaped war, poverty and deprivation.
Fletcher grew up in Los Angeles, the daughter of crack-addicted parents surrounded by violence. She was raped as a child and later raped while serving in the military.
She has post-traumatic stress disorder and lives with the effects of the trauma but believes it's not her past that matters, but today and, more importantly, tomorrow. Her work is not about her. Rather, her focus, her commitment is centered on the people whom she serves, whom she works with and her three young children and her partner, and not necessarily in that order.
"I work on my functionality every day," said Fletcher, whom I met over coffee on the east side near her family's home.
Her words flow effortlessly, eagerly. There's urgency in her voice about the needs that people have, the political and social obstacles that refugees and people of color face. Fletcher has much to share not so much about her past struggles but her work in the community and the importance of treating everyone with respect and humanity.
"As long as I teach them that, I teach myself that," said Fletcher.
In addition to working with Tucson's refugees, she is a motivational speaker who travels to national and international conferences.
Before co-founding the refugee center in 2014, Fletcher created the nonprofit I Can Do All Things, which focused on teaching sustainability to alleviate poverty and was a 2017-2018 Tucson Public Voices Fellow, a collaboration between the Women's Foundation of Southern Arizona, the University of Arizona and the Op-Ed Project, which aims to expand the reach of women in leadership roles.
Through the OpEd Project, Fletcher, who earned an undergraduate degree in writing and anthropology at the UA and a master's in education from the University of Phoenix, has written several essays and editorials for various publications, including the Arizona Daily Star.
She's open about the despair and ugliness that enveloped her as a child growing up in L.A.'s Skid Row, about being surrounded by addicts, some of whom abused her. She wrote about her young life in a book, "Scratches, Needles, and the Glass Pipe: Coping with Rejection, Hurt, and Abandonment from Drug Addicted Parents."
Physically abused and broken, she managed to graduate from high school and escaped the prison of poverty by joining the U.S. Marine Corps. "I left by any means necessary," she said.
The military provided her with medical services and a job opportunity, she said, but she couldn't escape the sexual violence and racism. She was raped twice in the 12 years she served, she said. And during her time in the military, Fletcher suffered a nervous breakdown.
She wasn't alone. "I knew so many women who were raped," she added.
Despite the pain of the past, her passion propelled her forward. She earned her undergrad degree and after leaving the Marine Corps she began teaching high school while she earned her graduate degree.
While teaching was satisfying, the greater needs of her students and families left her wanting to do more. That's when she moved to creating her nonprofit to help families and individuals overcome barriers. "Advocacy is education and education is advocacy," is her mantra.
She applies her mantra in her work with refugees and with her congregation at Agape Christian Church International in the Elvira neighborhood on South 12th Avenue near West Valencia Road. The resource center, which depends on donations, assists refugees in adjusting and finding jobs that pay living, not minimum, wages, she said.
Many refugees who arrive here have professional degrees and education or have technical training, she said. They may not know English or may have limited English-speaking skills, but Fletcher said many refugees have assets they can use to make a difference for themselves and their families.
Fletcher's fire burns to help find solutions for the community. It's fueled by her past and her belief that she and everyone around have much to give.
"I am a king and I am valuable," she said. "You got to teach people that."
Ernesto Portillo Jr. is editor of La Estrella de Tucsón. He can be reached at 573-4187 or netopjr@tucson.com. On Twitter: @netopjr