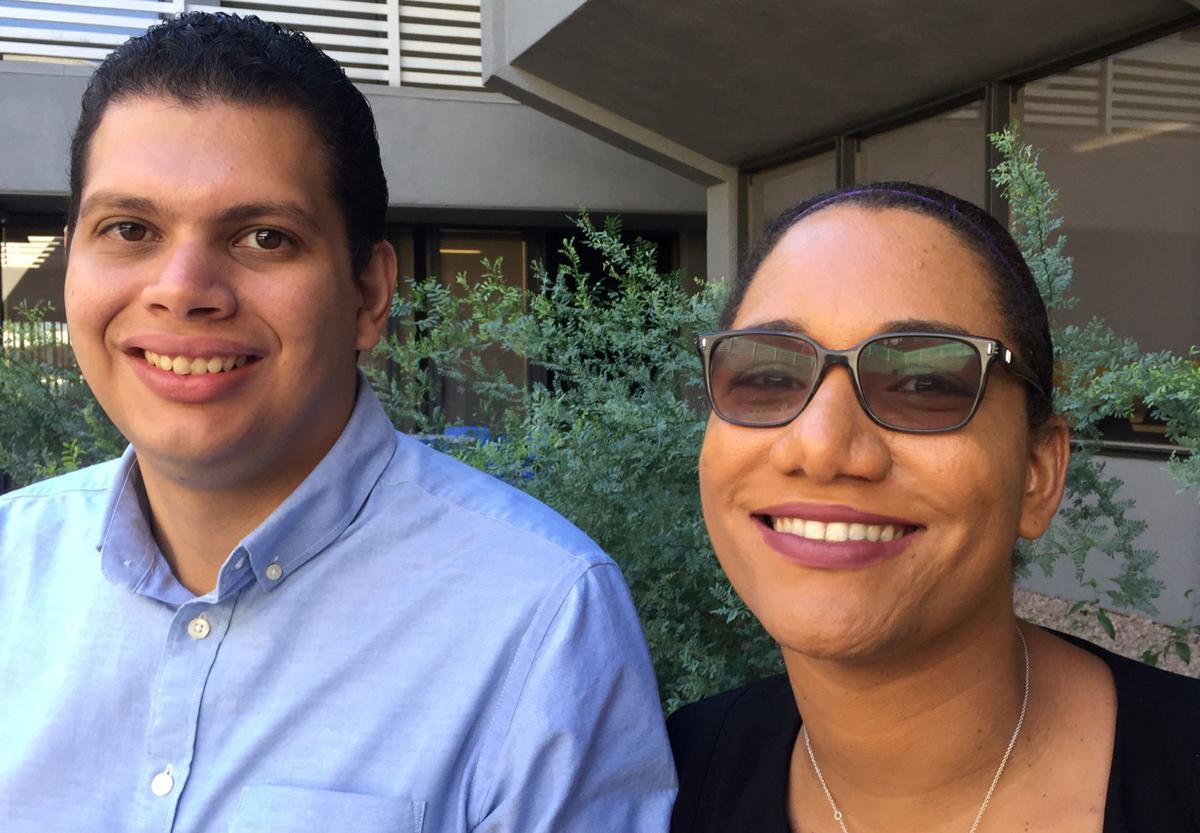 "We didn't come to Tucson. Maria brought us here."
That's how Myrelis Diaz Martinez introduced herself to a small group of us at Las Milpitas de Cottonwood, a community garden on the west bank of the Santa Cruz River where my wife and I have a plot.
Diaz, who works for the Center for Biological Diversity, had come to talk to us, to thank us for working in the sustainable garden and to encourage us to treat our environment more gently and smartly.
After her talk, she introduced herself and her husband, Jose Bermudez. They arrived in Tucson about 10 months ago, having left Puerto Rico, which was devastated by two hurricanes last year.
"I still can't describe it. It gives me the chills," said Diaz in an interview, along with her husband, Wednesday night downtown.
Climate change is not a myth. It is changing how we live, how we grow our crops and produce food, and it is causing a greater flow of people fleeing areas adversely affected by droughts, floods and other damaging weather phenomena. Diaz and Bermudez are witnesses.
"We are refugees in our own country," Diaz said.
Both were born in Caguas, in mountainous, east-central Puerto Rico, where they met in high school. "She was my crush," Bermudez said of Diaz.
Like hundreds of thousands of their fellow island residents, Bermudez and Diaz left their home for the mainland U.S. He could no longer continue his studies in pharmacy and she in a master's in environmental studies, both at the University of Puerto Rico. Diaz also lost her job with AmeriCorps.
"No one plans for what happened to us in Puerto Rico," Diaz said.
They didn't want to leave Puerto Rico. It is their home and their families are still there, coping, surviving. But for Diaz and Bermudez to survive, they became climate-change "refugees."
When the hurricane arrived, they were in their third-floor apartment in their San Juan neighborhood of Rio Piedras, surrounded by other university students and families. The meteorological warnings were growing louder and more ominous as the Category 5 hurricane aimed for the island.
"We were nervous. Remember, another hurricane, Irma, had hit us two weeks earlier," said Bermudez. That hurricane did substantial damage to the island.
Maria would be far more destructive, finishing off what Irma had started. An estimated 3,000 people died during and after the violent hurricane's raking of Puerto Rico.
They were left without electricity and water. Hospitals were not functioning. Food was difficult to find. Prices of food, gas and water skyrocketed. When they could find water, they had to pay more than $30 for a gallon. Gas for cars was nearly nonexistent. Family members were isolated on other parts of Puerto Rico. Diaz and Bermudez were in the dark.
"It was no man's land," she said.
Although the island was in a near-complete blackout, a single radio station remained on the air, transmitting urgent pleas. "That was a coping mechanism," Diaz, 27, said of the solitary radio station.
After the shock had worn off, they helped organize a cooperative feeding program for their fellow apartment residents. They also were able to fill their car with a tank of gas and made the treacherous drive to another part of the island to check on Bermudez's father.
After several months of desperation, they searched for a place to move. Tucson showed up in Diaz's job search. She applied for a job with AmeriCorps and got it. But that job ended soon after they arrived, and since May, Diaz is the Latino engagement coordinator for the Tucson-based Center for Biological Diversity, a national environmental advocacy organization.
By sheer coincidence, Bermudez had lived in Tucson for four years as an undergrad student at the University of Arizona, graduating in 2016. He had friends here who helped them make the transition. Today, Bermudez, 24, works in health sciences at the university and is considering studying medicine, rather than finishing in pharmacology.
Although they are making a new home in the desert, they remain unsure if they will return to Puerto Rico. Whether they return or not, what will continue is climate change, until there is greater public consciousness to change environmental policies and reduce the emission of greenhouse gases, they said.
The increasing force of hurricanes is the direct result of rising global temperatures, they said. As we increase the pressure on the earth's environment, the greater the repercussions, they said.
"I don't wish this on anyone, what happened to us," said Diaz. "Maria forced us to move. We are displaced U.S. citizens."
Ernesto Portillo Jr. is editor of La Estrella de Tucsón. He can be reached at 573-4187 or netopjr@tucson.com. On Twitter: @netopjr