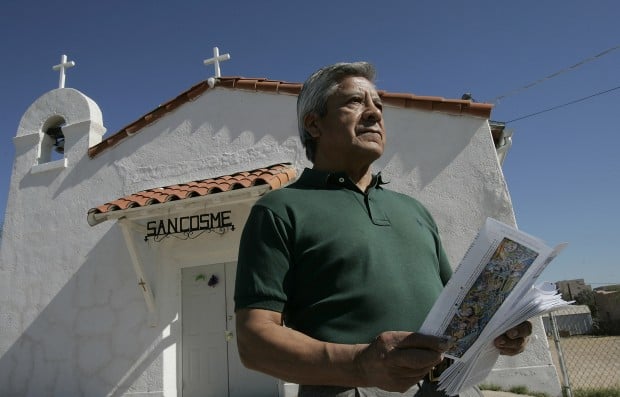 Stroll or drive by the Tucson Fire Department's headquarters and you can't help but notice her - a woman holding a little boy's hand.
Look a little closer, and you'll see tears on her cheeks.
The woman, with images of the Aztec serpent-god Quetzalcoatl and the Roman Catholic Virgen de Guadalupe on her skirt, stands with the boy on top of a stark slab of concrete. They are pointing toward the Tucson Convention Center.
"She seems to be saying, 'Our homes were there,' " says Feliciano L. Léon, a longtime Tucson resident who was so inspired by the bronze woman-and-child statue that he recently completed a grass-roots project to complement it.
The six-sided self-funded brochure Léon spent three months writing and fact-checking details a piece of history many Tucson residents do not know.
It tells the story of an old neighborhood that during the 1960s was decimated by city officials seeking progress.
Léon, 70, a semi-retired geologist, looked at archival material to write his pamphlet. More than written material, however, Léon relied on people who lived and worked in downtown Tucson during the 1960s as his sources. He especially wanted to ensure the history was written from a Hispanic point of view.
The brochure describes the history of not only the old barrio, but also a tiny 1931 Roman Catholic chapel that escaped the bulldozers - the Capillita San Cosme (little chapel of San Cosme), 460 W. Simpson St.
"This was a very low and sad point in the history of Capillita San Cosme and Tucson's Latino community," Léon writes in the brochure. "Our communities then vowed to organize and fight all future destructive intrusions."
Léon wants to translate the brochure into Spanish. So far he's printed and distributed 40 copies and says more are in the works.
For many, the razing of homes and businesses and the accompanying displacement of 725 people to build the Convention Center left a legacy of bitterness that has been passed through generations.
"I'd like young people to be aware of the history of this neighborhood," Léon says. "It's a lesson on how to react should something similar happen."
Those he interviewed remembered old adobe homes in a mostly Hispanic covey of streets called "El Hoyo" - the hole - so named because it was built in a low spot. Some viewed El Hoyo's destruction as government taking advantage of poor, uneducated people who were afraid to stand up for themselves.
Residents of nearby Barrio Viejo and Barrio Santa Rosa learned their lesson from the razing, Léon notes.
In the early 1970s, they fought off state plans to build a freeway called the Butterfield Expressway, which would have taken another chunk out of the barrio.
"It's very interesting history," he says.
Léon himself does not remember El Hoyo. He's a native of Peru who moved to Tucson in 1967 to attend the University of Arizona. But his wife, Barbara Léon, has many family members who lived through the "urban renewal" of downtown. Her family's roots here are deep, going back to when Tucson was part of Mexico.
Barbara's father, the late Gilbert Araneta, lived in the downtown area when El Hoyo was flattened, and Léon had heard his stories about it over the years.
But until he saw the artwork, Léon says, he had not truly understood.
Léon's neighbor is Luis Mena, the local artist who created the bronze statue. Mena also painted a colorful mural that sits adjacent to San Cosme and just south of the recently completed Fire Central - the Tucson Fire Department's headquarters at 300 S. Fire Central Place, southwest of the Convention Center.
The mural is in a park area known as "El Parque de San Cosme."
A dedication ceremony for El Parque de San Cosme, the mural and the statue was held Nov. 14.
Shortly after, Léon and his wife began attending monthly masses at Capillita San Cosme. That's also where he's been handing out his pamphlets.
"It's very touching because he writes about us, and we all had a lot of input," says Pedro Gonzales, chairman of the Barrio Viejo Neighborhood Association, and one of those displaced during the 1960s.
"It's something we can never forget. The Convention Center will always represent something bad for me, for a lot of us."