As dozens of utility poles sprout up around Tucson to support new cellular networks, residents are pushing back with concerns about everything from property values to public safety.
But one Tucson neighborhood has a complaint unlike any other: Putting up the poles could disturb the bones of those buried beneath its streets and homes.
Grave desecration is one of several objections being raised to a so-called "small cell pole" that AT&T wants to build in the historic Dunbar Spring Neighborhood, which was developed directly on top of one of Tucson's first cemeteries.
"The city already allowed the desecration of the cemetery 100 years ago," said longtime Dunbar Spring resident Bradford Trojan. "It's pretty simple: Don't disturb the dead."
The Court Street Cemetery opened in 1875 and eventually grew to cover about eight city blocks from Second Street to Speedway and from Main to Stone.
It closed in 1909 — replaced by what is now the Evergreen and Holy Hope burial plots — but fewer than half the graves were moved before homes and businesses were constructed in the area.
Homer Thiel is a research archaeologist with extensive knowledge of the old cemetery and its history. Desert Archaeology, the consulting firm where he works, has been involved in processing about 25 old graves that were unearthed in the neighborhood by chance or during past utility projects.
He said AT&T's cell pole site on Ninth Avenue between First and Second streets is in the old Catholic section of the cemetery, where roughly 6,000 people were buried and each residential lot now sits atop between 90 and 100 graves.
"They have to be very careful with how they dig the hole" for the pole, Thiel said. "There's a high chance they could strike a grave."
AT&T's permit with the city requires the company to have an archaeological monitor on site and halt the work at the first sign of historical relics.
The Dunbar Spring Neighborhood Association and the Dunbar Coalition have sent letters to the city opposing what would be the first cell pole to be built there.
The coalition is overseeing the development of the Dunbar Pavilion, an African American center for art and culture on the campus of what was, until 1951, the segregated, all-black Dunbar School at Main Avenue and Second Street.
The coalition's March 17 letter references the abandoned cemetery and what came after it.
"This tower, and other towers being installed in predominantly or historically African American and Hispanic neighborhoods, are a threat to public safety, privacy, property values, and quality of life," the letter states.
AT&T's cell pole is slated to go in just a few steps from the front gate of the house Trojan and his partner, Amanda, have shared for the past 20 years or so.
"It's pretty much where the mailbox is," Trojan said.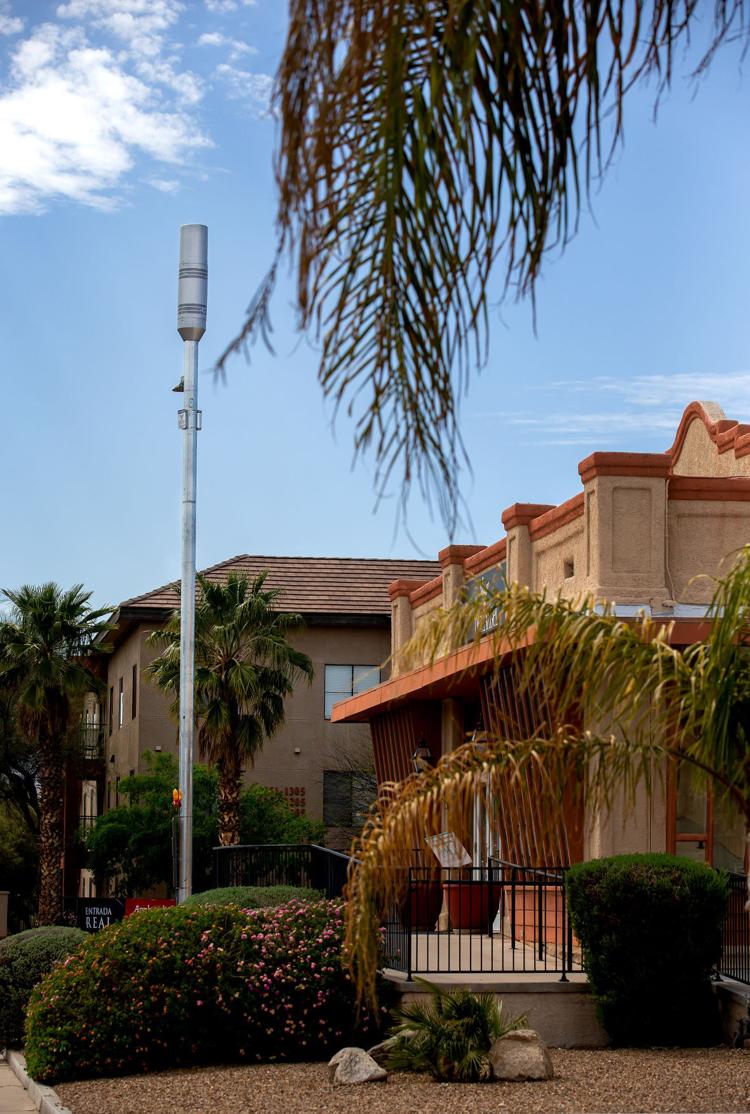 The city issued a permit for the pole in 2019. The specifications call for it to be 35 feet tall and designed to double as a street light someday, though city officials said there are no immediate plans to install and activate the light.
Trojan doesn't really want a streetlight in front of his house, either, but he's most upset about having cellular equipment so close to his front door. He doesn't trust the technology or those responsible for regulating its safety.
"I don't feel comfortable living 20 or 30 feet from a cell tower," he said. "Pretty much nobody wants that."
He is also worried about cybersecurity, privacy and what the pole might do to their property value. "I'm aware that HUD classifies (cell towers) as a hazard and a nuisance," said Trojan, who is, ironically, an AT&T customer — at least for the moment.
AT&T spokesman Dale Ingram couldn't offer any details about the specific project in question, but he said in general the company's "small cell deployments" are designed to "alleviate network congestion in high-traffic areas."
Sites are chosen based on "several factors, including the capacity needs of our customers and the availability of suitable structures to place the antennas," Ingram said.
Unfortunately, said Ward 6 City Councilman Steve Kozachik, Dunbar Spring isn't the only Tucson neighborhood impacted by the small-cell proliferation, and there's not much the city can do about it.
Last month, the council adopted an ordinance requiring telecommunication providers to demonstrate that they've exhausted all other possible locations before moving forward with installing a new cell pole.
Ultimately, though, Kozachik and other city officials insist they can't really stop the poles from going up.
A state law passed by the Legislature in 2017 effectively requires municipal governments to approve such installations in public rights of way and prohibits any meaningful local regulation.
Kozachik expects thousands of the poles to be built throughout the community in the coming years.
According to city records, some 549 permit applications for small-cell facilities have been filed since 2017, most of them from AT&T and Verizon.
More than 300 of the poles have already been built — or are in the midst of construction — across Tucson.
"These things are just ruining the aesthetics of the city," Kozachik said.
He added that his efforts so far to get the new cell equipment "co-located" on existing utility towers, light poles or sign posts have been largely ignored or derailed by bureaucratic nonsense.
Of the small-cell facilities permitted so far, none has been installed on one of Tucson Electric Power's poles, city records show.
"The utilities and the telecoms are running the show. And why? Because the state gave them the ability to do it," Kozachik said. "The whole thing is completely screwed up. The collateral damage is the neighborhoods that are seeing these things popping out of the ground with no say in it."
Contact reporter Henry Brean at hbrean@tucson.com or 520-573 4283. On Twitter: @RefriedBrean