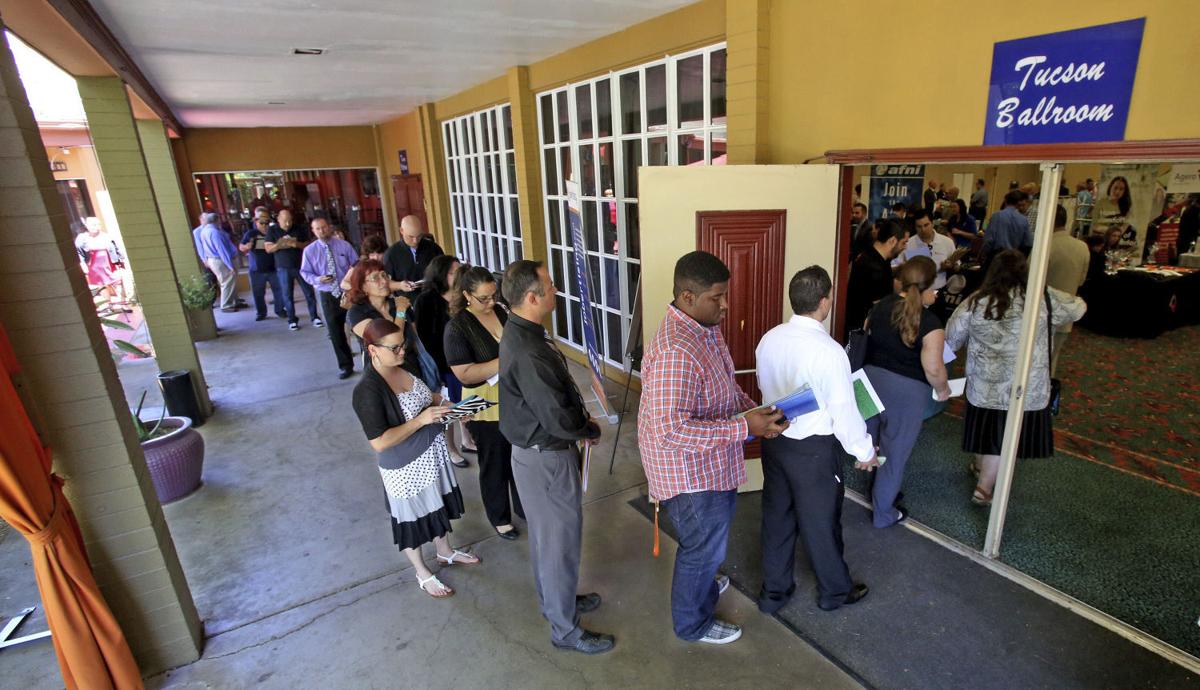 PHOENIX — Arizonans who don't take pretty much any job after being out of work for at least four weeks will lose their unemployment benefits.
The change in law takes effect Aug. 3 in the state, which has the second-lowest unemployment benefits in the country.
Under current law, someone collecting benefits must accept "suitable" work. But the Department of Economic Security is required to consider various factors, including the "risk involved to the individual's health, safety and morals."
Other considerations include physical fitness for the work, experience, prior earnings and how long the person has been unemployed. The DES also has to figure in the prospects of the person being able to secure local work in the individual's customary occupation as well as the distance to the new job.
The new law signed by Republican Gov. Doug Ducey on Wednesday makes those considerations legally irrelevant after someone has been collecting benefits for four weeks. At that point the person would have to take any job where the employer is offering to pay at least 20 percent more than they are collecting in benefits.
Under Arizona law, individuals who are laid off or fired through no fault of their own are entitled to collect payments equal to one-half of what they were earning for up to 26 weeks. The money comes out of a special fund financed through premiums paid by employers.
But Arizona law limits benefits to $240 a week, no matter how much the person was earning. Only Mississippi has a lower cap.
That means someone would have to take any work that pays at least $288 a week, the equivalent of about $15,000 a year, no matter how much she or he was earning before.
Ducey provided no explanation for his decision to sign the measure, which was approved by the Republican-controlled Legislature without a single Democrat's vote.
But his press aide Daniel Scarpinato called it "common-sense reform."
"It's a job that the individual's been offered, and it pays," he noted, adding that Ducey supports the idea of people finding employment "who are getting off of benefits and finding value in work."
"That's the kind of action that we want to reward rather than somehow disincentivizing," Scarpinato said.
Sen. Steve Smith, R-Maricopa, who championed the bill, said he is not concerned that people will be forced to accept unsuitable work.
The solution is simple, he said: Don't apply for such jobs in the first place. If there's no offer on the table, he said, someone collecting benefits can't be accused of refusing to take it.
But during legislative debate on the measure, DES lobbyist Kathy Ber pointed out that existing Arizona law requires those on unemployment insurance to engage in "a systematic and sustained effort to obtain work during at least four days of the week." The same law mandates the person make at least one job contact per day on each of those four days.
Smith wasn't concerned about the possibility that someone who has been collecting benefits for at least four weeks could be forced to take a job that, until now, DES has considered unsuitable.
"You're supposed to go out and look for a job," he said, adding that the benefits are provided as a financial bridge while people are doing that.
"We shouldn't say, 'Pretty please, here's a job, would you please take it?' " Smith said. "If you're offered a job that pays you more than your benefit, you should take it."
That is also the position of Rep. Jeff Weninger, R-Chandler, part-owner of a firm that runs Dilly's Deli sandwich shops as well as Floridino's Pizza and Pasta.
Like all employers, Weninger pays into the account that funds unemployment benefits. Premiums range from less than 1 percent of the worker's first $7,000 of wages to nearly 13 percent, with the actual rate dependent on how often a company lays off or fires a worker without cause.
Weninger said he has close to 100 employees. "I've paid a ton of money into this," he said, blasting "this notion that the government or employers or everybody has to take care of someone cradle to the grave."
The new law will have no immediate impact on how much employers pay. But DES officials said if fewer people overall are collecting benefits, that leaves more money in the special account, opening the door for future rate decreases.
The unemployment rate for March was 4.9 percent, with the April figures due to be announced Thursday.