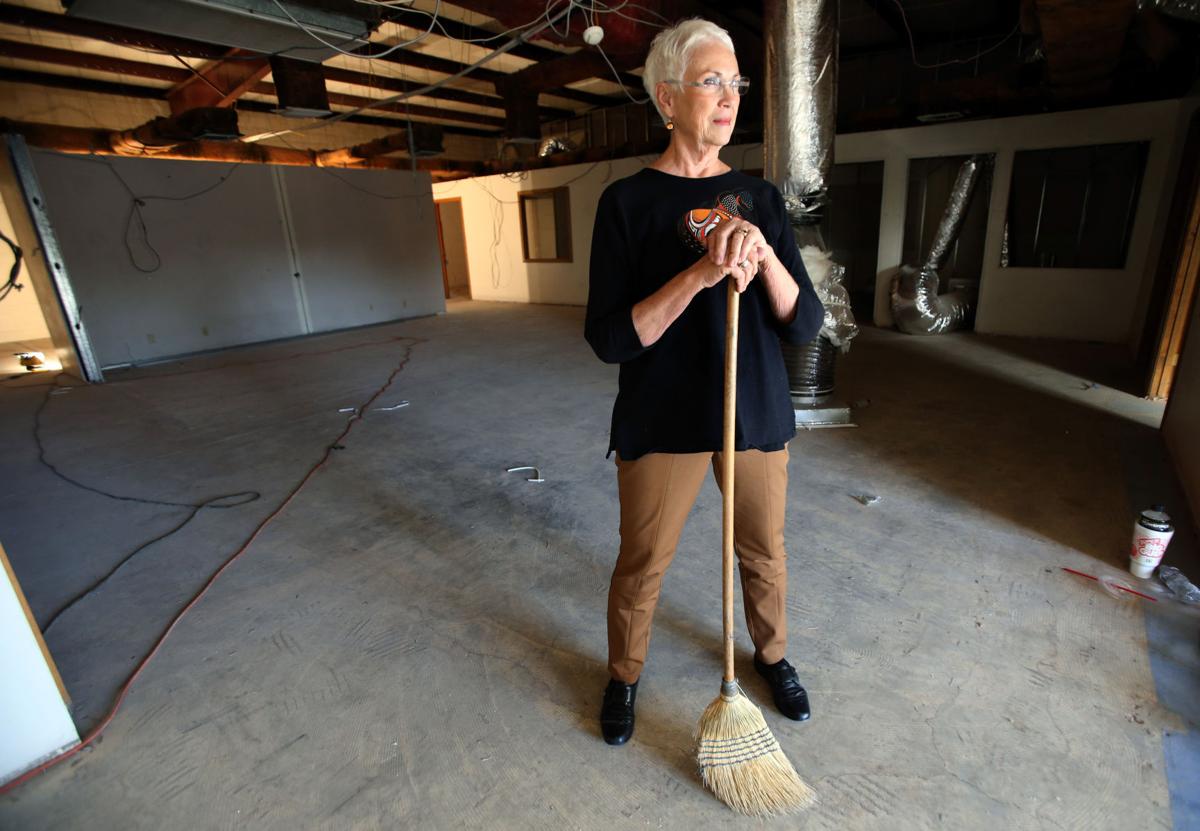 Jean Fedigan walks into the empty building that will eventually house Sister Jose Women's Center and sweeps an arm forward.
"Welcome to my mansion," jokes Fedigan, executive director of the center.
Now just a shell of a building, the facility is roughly 9,000 square feet, she says. Compare that to the 750-square-foot house the women's center currently rents at 18 W. 18th St.
The center, a 501(c)(3), provides a safe space for homeless women during the day and up to 11 cots during winter nights. The new facility at 1050 S. Park Ave., north of East 22nd Street, will up that to as many as 35 cots.
"If you stop and rest out there, you become vulnerable," Fedigan says, adding that homeless women often walk through the night, using a confident stride to deter any antagonists. "(The center) is a safe harbor and trust is built, and out of trust comes programs to help them find a sustainable life."
The new building is so much more than space to sprawl. Breathing room means community agencies have a place to set up shop.
Intermountain Centers for Human Development, for example, will license a room as an outpatient clinic, says director of adult services Melissa Zimmerman.
The nonprofit behavioral health agency will be able to offer services such as individual and group counseling and telemedicine sessions with a psychiatrist.
Veterans First, Ltd. is another partner that will use the space, Fedigan says.
"This new space allows us to provide these services to these women and bring the services to them instead of asking them to come to us, which can be a barrier," Zimmerman says.
Rosi Andrade, an associate research professor at the University of Arizona's Southwest Institute for Research on Women, is also working with the center to survey the women about their life experiences and needs. That information will help the center better serve and engage these women who often become invisible, she says.
Construction will begin after the center receives permits from the city. Fedigan hopes to see the shelter open in mid-February.
She has the community to thank.
Since choosing not to move into a property in the West University area, Fedigan has seen an outpouring of support from community and faith organizations and individuals donating their resources and skills.
Behr is donating paint. The Jewish Federation of Southern Arizona has plans for an outdoor area out back. The center is receiving help with the commercial kitchen, the plumbing, the demolition.
The decision to move to the 18th Street location rather than the other neighborhood came after opposition from neighbors in the West University area. Although the zoning examiner approved the move with conditions — accepted by the center — it didn't feel right to Fedigan.
"In the course of public hearings, it became evident that the neighbors were uncomfortable with us being there, and we needed to honor that," she says, adding that "when God closes a door, he opens a window."
When Sister Jose closed on the new property for $485,000 in August, the 2½-year search for a bigger space ended.
"It's a miracle of love and care and goodwill from people across the religious divide and across the political divide," says Monsignor Tom Cahalane, pastor at Our Mother of Sorrows Parish and president of the center's board of directors. "It's a wonderful example of what a community can do when there's a focus towards reaching out to the least among us."
When Fedigan first dreamed up a shelter meant to serve homeless women, she enlisted help at Our Mother of Sorrows. She worked with about two dozen women to transform an Assemblies of God church into a refuge on winter nights. At the end of the season, it was hard to say goodbye. In 2012, they moved into their current property.
The center is named for the late Sister Jose Hobday, a Franciscan nun, friend of Fedigan and local advocate for the poor.
Since its early years, the center has become an "ecumenical, interfaith and citywide project," Cahalane says.
They always need women to volunteer, especially as the numbers of those served increase. "Sisters helping sisters," as their motto says.
As Fedigan gives the tour of the empty building, it's all up to the imagination for now. She envisions a meeting room with tables at the entrance (a space bigger than the current house), a commercial kitchen further back, a library and TV room and place to nap off to the side. Then come bathrooms, storage, laundry and a huge space for cots.
If she really dreams big, she sees a garden area for women to relax outside.
All of it intended to give homeless women a place to get a shower, do some laundry, eat a meal, get some rest. A place to feel human again.
"If you're never off of survival level, you can't think about getting a job," Fedigan says. "With dignity, respect and compassion, for those we can help, we extend a hand."
Contact reporter Johanna Willett at jwillett@tucson.com or 573-4357. On Twitter: @JohannaWillett
Get local news delivered to your inbox!
Subscribe to our Daily Headlines newsletter.