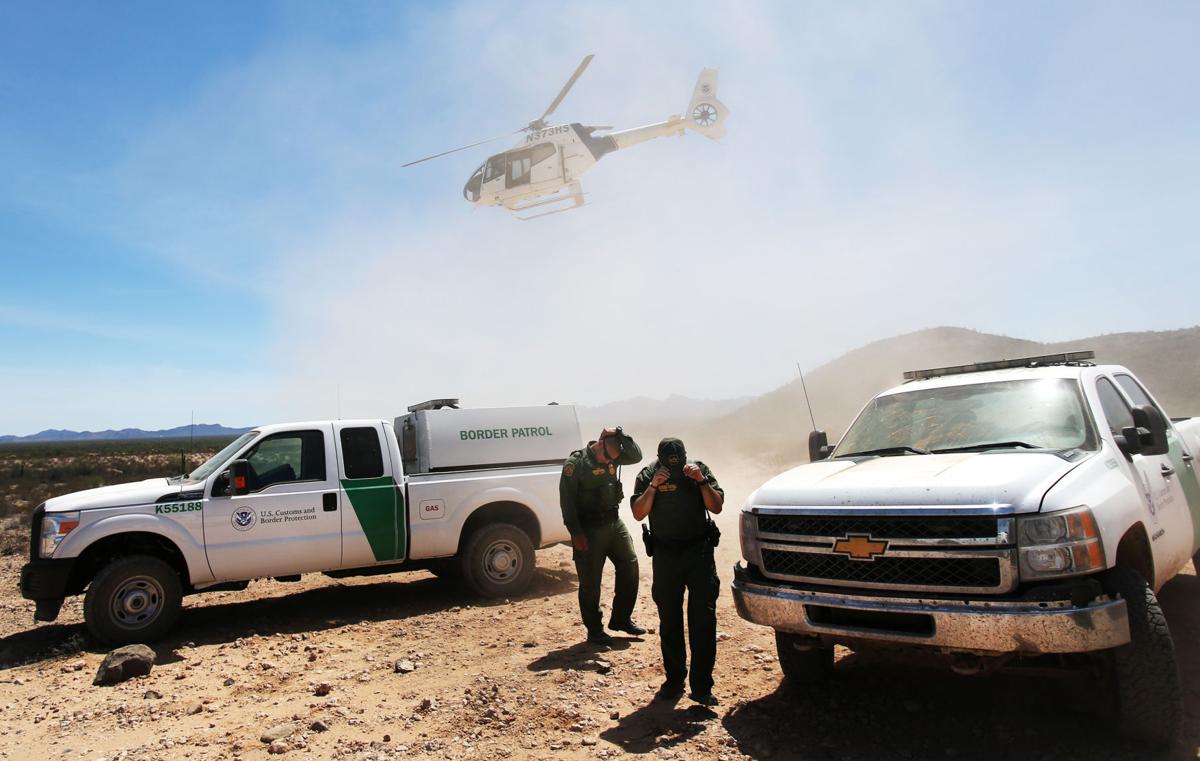 Arrests of illegal border crossers in Southern Arizona fell by 40 percent last fiscal year, just-released statistics show.
Border Patrol agents working in the Tucson Sector made about 38,700 apprehensions in fiscal 2017, down from 64,900 in fiscal 2016, according to statistics released Tuesday by U.S. Customs and Border Protection.
The fiscal 2017 total for the Tucson Sector is the lowest since 36,000 border crossing arrests in fiscal 1983. Those arrests have fallen relatively steadily since a peak of 616,000 in fiscal 2000.
In the Yuma Sector, Border Patrol arrests fell to 12,800 in fiscal 2017, from 14,200 in fiscal 2016. However, that dip followed a jump from 7,100 in fiscal 2015.
Border Patrol arrests on the entire U.S.-Mexico border fell from 409,000 in fiscal 2016 to 304,000 in fiscal 2017, the lowest total since 264,000 arrests in fiscal 1971.
The statistics released by CBP and by U.S. Immigration and Customs Enforcement show fewer arrests at the U.S.-Mexico border, more arrests for immigration violations in the interior of the United States, and slightly fewer deportations.
The numbers released provide the most complete statistical snapshot of immigration enforcement under President Trump. And they show that deportation officers are taking his call for an immigration crackdown to heart, even without the funding increase that the president has sought from Congress for more hiring.
In Nogales, Sonora, many of the deportees who were eating breakfast Monday at a dining room run by a nonprofit group had been picked up in the United States far from the border.
"We are seeing a lot of people now who have long-established ties in the United States," Joanna Foote Williams, the Kino Border Initiative's director of education and advocacy, told The Associated Press as about 40 men and a few women ate .
The reason for the decline in Border Patrol arrests is unclear, but they dropped precipitously following Trump's Jan. 20 inauguration, which administration officials said shows the effectiveness of his hard-line stance on immigration.
The federal fiscal year starts Oct. 1, meaning nearly four months of fiscal 2017 unfolded under the Obama administration. Those months were marked by unusually high numbers of apprehensions at the border.
In the Tucson Sector, agency spokesman Chris Sullivan said that in recent years, the sector has become an undesirable place to cross the border because of improved infrastructure and the 3,700 agents who work there.
With about 38,700 apprehensions last fiscal year, that comes to an average of about 10 arrests per agent in the Tucson Sector in fiscal 2017, or less than one arrest per month per agent.
Sullivan said agents have more duties than arresting illegal border crossers, such as searching for drug smugglers, many of whom are U.S. citizens. They also must continue to patrol areas where illegal crossings have diminished, but could resume if left unwatched.
At ports of entry on the U.S.-Mexico border, customs officers determined 111,300 people were inadmissible in fiscal 2017, down from 150,800 in fiscal 2016.
A person is usually deemed inadmissible as a result of not having the proper paperwork, according to CBP, but the decision also can based on previous immigration violations, a criminal history or for national-security reasons.
While customs officers work at ports of entry on the border and Border Patrol agents work between those ports, ICE officers deport people arrested at the border and administratively arrest people for immigration violations in the interior of the United States.
"The president made it clear in his executive orders: There's no population off the table," Thomas Homan, ICE's acting director, told reporters in Washington, D.C., according to the AP. "If you're in this country illegally, we're looking for you and we're going to look to apprehend you."
Nationwide, ICE made 143,500 administrative arrests in fiscal 2017, up from 110,100 in fiscal 2016.
In Arizona, ICE made 6,500 administrative arrests in fiscal 2017, up from 5,400 in fiscal 2016, according to statistics provided in response to a request from the Arizona Daily Star.
While arrests at the border fell, "interior removals," an ICE term for deporting people who were arrested away from the border, rose 25 percent in fiscal 2017 to 81,600, the AP reported.
Although ICE arrests increased in fiscal 2017, deportations dipped slightly, due in part to a 650,000-case backlog in immigration courts.
Nationwide, ICE removed 226,000 people in fiscal 2017, down from 240,000 in fiscal 2016. In Arizona, ICE removed 20,800 people in fiscal 2017, down from 22,000 in fiscal 2016.