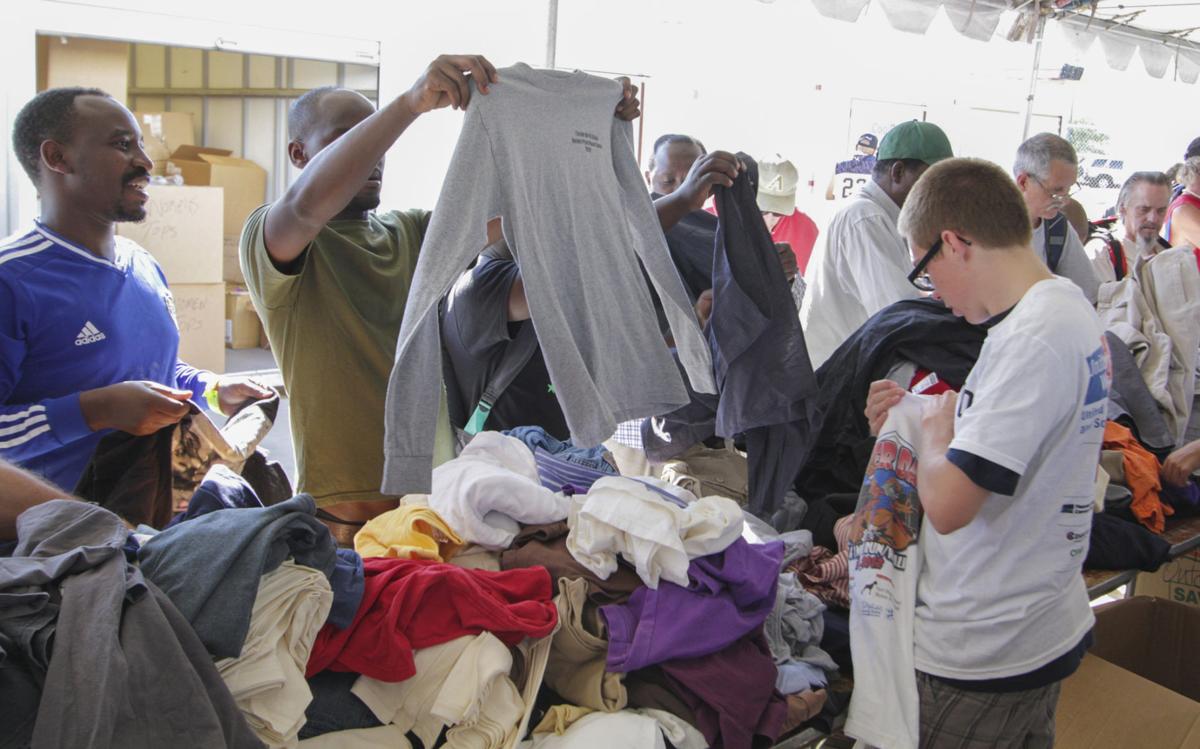 A free community event for Tucsonans struggling to make ends meet will be held Saturday, but the venue has changed and no dental care will be offered.
Hope Fest 2017 will be held from 9 a.m. to 2 p.m. at the Tucson Convention Center, 260 S. Church Ave.
The event, which offers free haircuts, groceries and medical services, among other things, regularly attracts 10,000 to 15,000 people.
For the past 13 years, Hope Fest has been held at Kino Veterans Memorial Stadium.
Organizers are trying to get the word out about the change of location to the TCC, and also about the loss of free dental services this year.
"The event actually started at the TCC parking lot and has been at TCC a couple times in years prior to Kino. So, we're glad to be back," said Lisa Chastain, executive director of the event, which is operated by the non-profit Hope Network Inc.
No dental
Chastain said free dental care has traditionally been offered by private dentists in the community who volunteered their skills, but those resources won't be available this year. She said Hope Fest leaders are determined to bring the service back in 2018.
"The dentists needed a break this year," she said. "It may return in a different way."
The dental service was so in demand in recent years that organizers had to limit it to the first few hundred people to arrive at the event, and people routinely camped overnight.
Hope Fest has long prohibited overnight camping — and it's a rule again this year — but people desperate for dental care in the past have often done it anyway. The most popular dental services performed in past years were tooth extractions and denture fittings.
Arizona does not cover comprehensive dental care as part of its Medicaid health insurance program for low-income adults over age 21. One in four Pima County residents is enrolled in Medicaid.
The benefit doesn't cover preventive services like teeth cleaning. Rather, it's for dental services related to pain and infection, such as root canals and crown replacement to eliminate pain due to a tooth fracture.
People with advanced gum disease and other serious dental problems are vulnerable to heart and kidney disease, diabetes, high blood pressure and even premature death.
Those most vulnerable to dental problems are people living in poverty. At nearly 19 percent, Pima County's poverty rate is higher than both the state and national averages.
Pregnancy, HIV testing
This year's 25th annual event will offer clean, gently used clothing, bottled water, personal care and hygiene items, canned food, diapers and stuffed animals.
Volunteer doctors, nurse practitioners and nurses will be on site to check vital signs, measure blood pressure and glucose levels, provide HIV and pregnancy testing, and to perform basic eye and hearing tests. Organizers are also hoping to offer flu shots.
An added offering at this year's event will be an employment area where attendees will be able to network with employers, register for job readiness services, and get help with basic computer skills, job searches, job applications and résumés.
A "Pack the Parking Lot" donation drive is scheduled for Friday, also at the convention center, from 7 a.m. to 7 p.m. Additional drop-off locations will be at Sam Levitz Furniture, at its West Orange Grove and North Thornydale roads and East Broadway and North Pantano Road locations.
Organizers are looking for donations of gently used clothing, shoes, accessories, canned food, bottled water, stuffed animals, and personal care items such as shampoo, soap and toiletries.