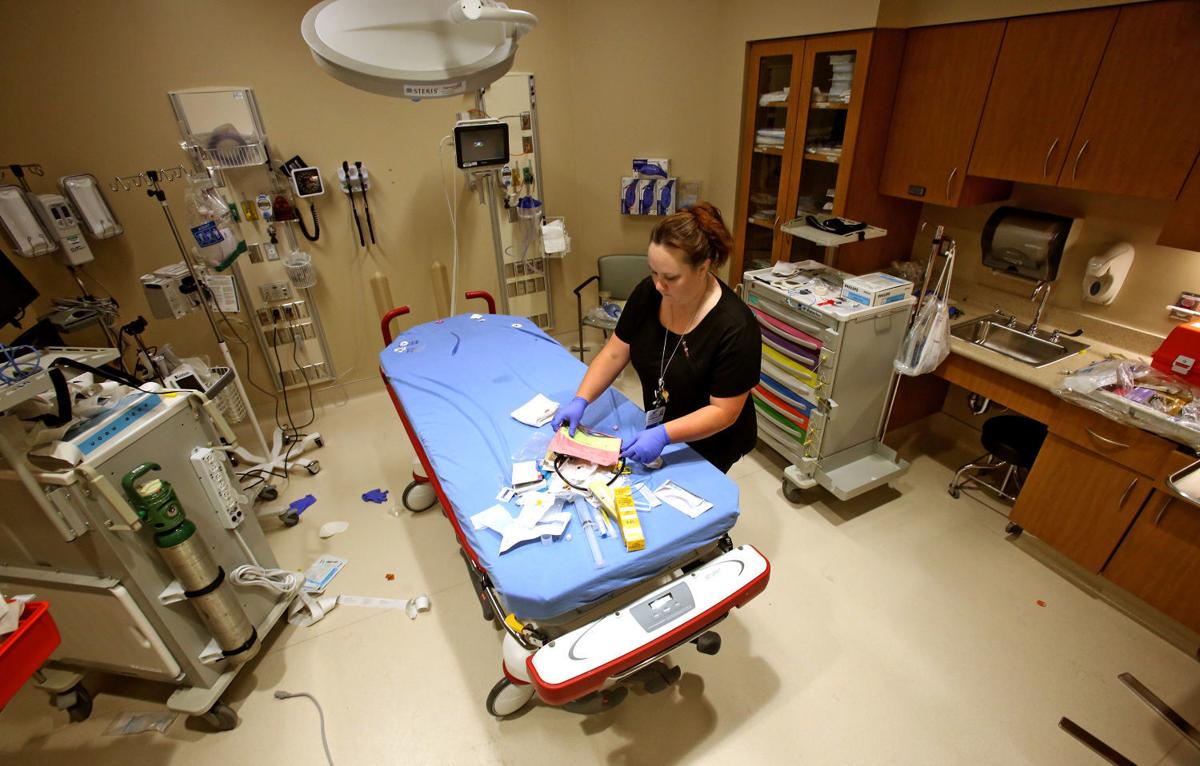 Northwest Healthcare plans to open an 18-bed "neighborhood hospital" with an emergency room and operating rooms in Sahuarita.
The new hospital — slated to open in late 2019, if approved by the town's mayor and council — is part of a $150 million expansion and renovation plan by Northwest. The health-care company already operates two hospitals, emergency and urgent-care facilities, specialty centers and a physicians' group.
Sahuarita residents currently have to travel either north to Tucson or south to Green Valley to access an inpatient hospital, said Sahuarita Town Manager Kelly Udall. Northwest's expansion reflects the vibrancy of Sahuarita, where population and commercial endeavors are on the rise, he said.
"It's the mark of a healthy community, in my opinion, that all these things are happening," he said.
The two-story acute-care facility, planned for construction just south and east of Sahuarita Road and Interstate 19, will employ about 150 workers, including nurses, physicians and support staff workers.
The 70,000-square-foot facility will offer an emergency room and two operating rooms, with the second floor housing medical offices for primary care, cardiology, orthopedics and general surgery services, the company said.
Northwest, which owns Northwest Medical Center and Oro Valley Hospital, said the Sahuarita project is a continuation of its "no boundaries" growth strategy, which since 2014 has included nearly $70 million worth of capital projects.
Northwest first entered the Sahuarita market in 2010, with an urgent-care facility and outpatient imaging and laboratory services, Kevin Stockton, regional president and market CEO for Northwest Healthcare, said in an interview Wednesday.
"As we've been in that general neighborhood for so long, it made sense to continue our expansion," he said. "Growing populations require a growth in services."
Sun Corridor Inc., which helped Northwest with its expansion plans, estimated the new Sahuarita hospital will have a regional economic impact of $165 million over the next five years.
Carondelet Health Network dropped plans to build a multimillion-dollar health-care clinic in Sahuarita in 2014 after scrapping earlier plans for a hospital there amid the recession.
Northwest's news comes as the 49-bed Green Valley Hospital is poised to emerge from Chapter 11 bankruptcy. It filed for reorganization in April 2017 after less than two years in business.
John Matuska, Green Valley Hospital's outgoing CEO, was unavailable for comment Wednesday. But he told the Green Valley News on Tuesday that he was surprised by Northwest's plans to move into Sahuarita.
"It's the next town over," Matuska said. "It's hard to believe they would build something like that. It makes no sense."
Veletta Canouts, executive director of Green Valley Council, said the nonprofit needs more information to evaluate the potential impact of the planned facility in Sahuarita.
"The area is small, and the support for two hospitals might be difficult," she said. "We are remaining neutral until we can get more information and get our executive committee together."
But Udall said Sahuarita is experiencing a period of growth: In recent years, the town's population has increased by 2.5 percent to 3 percent annually. About 30,000 people live there now. In the past year, 200,000 square feet of new commercial space has opened up, he said.
"These businesses that open new facilities, they know their own business models, and Northwest is no different," he said. "They feel like coming into Sahuarita and serving the residents here is viable for them."
Stockton said it's clear there's demand for more health-care services in the area, and he noted that Green Valley Hospital is about 10 miles from the new hospital's planned location.
"Folks may not know that Northwest (Medical Center) and Oro Valley Hospital are 13 miles apart and work very well together," he said. "We feel this is a great step for our system and we're going to continue to serve that greater community as we have for the last eight years."
Green Valley Hospital will have a new CEO when its bankruptcy reorganization is complete. But incoming CEO Kelly Adams, of ER Hospitals in Salt Lake City, said Wednesday that it would be "inappropriate" to comment before taking the helm at the hospital.
Northwest Healthcare is owned by Community Health Systems, a Tennessee-based for-profit company. Besides the two existing hospitals, Northwest Healthcare operates Northwest Emergency Center Vail, five Northwest Urgent Care locations, the Women's Center at Northwest, Northwest Allied Physicians, Desert Cardiology, Northwest Heart & Vascular, Northwest Tucson Surgery Center, Tucson Surgery Center and the Center for Pain Management.
Star reporter David Wichner contributed to this story. Contact reporter Emily Bregel at ebregel@tucson.com or 573-4233.