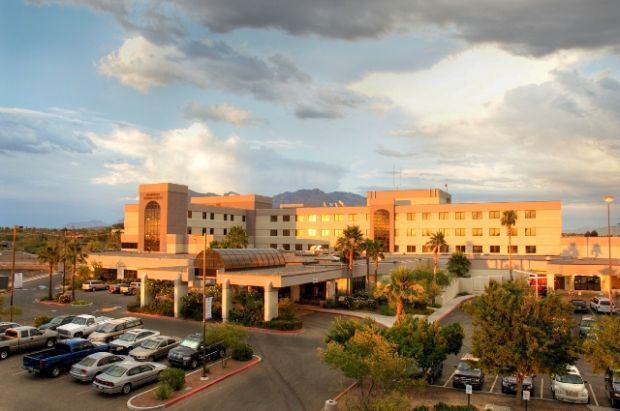 Predicting which COVID-19 patients are going to become gravely ill is one of the goals behind a national health registry that now includes data from two Tucson hospitals.
Northwest Healthcare, which includes Northwest Medical Center and Oro Valley Hospital, is providing the Robert Wood Johnson Foundation with information about its patients — particularly asymptomatic and pre-symptomatic ones — to better understand the disease.
And their efforts are already telling: At Northwest Medical Center, 6200 N. La Cholla Blvd., they have determined that one in five patients admitted for COVID-19 were initially asymptomatic and experiencing what's called silent hypoxia. Put simply, that's when blood-oxygen saturation levels are exceedingly low but it's "silent," meaning the patient doesn't realize it.
"We've got a good handle on who's most at risk, but what we don't know is how to predict it," said Dr. Zain Khalpey, a cardiothoracic surgeon at Northwest Medical Center who is heading the data collection effort.
He said in addition to identifying key aspects of how COVID-19 affects patients, they will also be using artificial intelligence to make better predictions about the illness.
"We want to share our data and we want to be open-hearted and open-minded about the younger folks who think they are invincible with this invisible disease," he said, explaining the patients they see with the worst effects are not just elderly.
The national effort, called the Health Data for Action COVID-19 Patient Registry Network, includes a collaboration between the Health Care Cost Institute, CareJourney, and health providers from around the country.
"We started in April and we wanted a geographically diverse group of systems that were willing to participate in a collaborative attempt to create an open data model," said Katherine Hempstead, a senior policy advisor with the foundation.
Hempstead said one objective is to better understand how COVID-19 is influenced by age and pre-existing conditions. More data on race is needed because the virus is "exacerbating racial disparities," she said.
The data registry will include data and queries that will "allow researchers, clinicians, policy makers, and journalists to better understand the impact and progression of COVID-19," she said. "We hope to have a report by October."
Jennifer Schomburg, chief executive officer at Northwest Medical Center, said they are "honored to receive this funding which will allow us to contribute in a significant way to the research being conducted on a national level.
"Our team is doing extraordinary work with COVID-19 patients here in Tucson, and we are excited to participate in something that will have a long term benefit to patients all over the country."
Concerned about COVID-19?
Sign up now to get the most recent coronavirus headlines and other important local and national news sent to your email inbox daily.