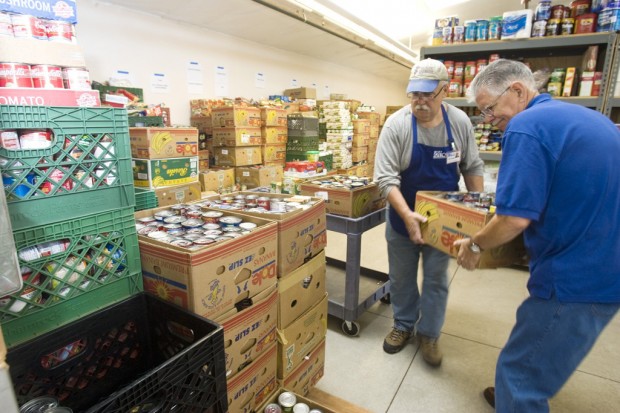 When Tucson's weather heats up, winter visitors head out, leaving local charities hurting for donations.
One of those nonprofits, Interfaith Community Services, is holding its fourth annual "Freedom From Hunger" food and fund drive through July 5.
ICS provides food and other help to people in need throughout Pima County. It is accepting donations of cash and nonperishable food at Commerce Bank (2285 W. Ina Road, 3805 E. Broadway and 3002 N. Campbell Ave., Suite 100); Rising Star Baptist Church, 2800 E. 36th St.; and the ICS offices, which are at 2820 W. Ina Road and New Spirit Lutheran Church, 8701 E. Old Spanish Trail.
The items it needs most are pasta, spaghetti sauce, chili and other canned meals, cereal, peanut butter and canned fruits.
Last summer's Freedom From Hunger drive collected more than seven tons of food for ICS, according to the agency.
Interfaith Community Services opened an expanded food bank in fall 2011. Since then it has served a record number of clients: In April 2012, volunteers distributed 1,600 food boxes and more than 35,000 emergency supplemental food items, according to a press release from the organization. That's a 71 percent increase over April 2011.
While donations drop in the summer, the need for food increases since children are out of school.
"The food and funds collected during Freedom From Hunger are critical for keeping the shelves at the ICS Food Bank stocked and to maintain a healthy selection of food," ICS Executive Director Bonnie Kampa said in the press release.
According to ICS, it receives monthly food boxes from the Community Food Bank of Southern Arizona, but those boxes last families only a few days. At ICS, clients can obtain additional staples and fresh food.
Businesses and organizations are invited to help out by hosting a food drive or by serving as a collection site. Call ICS Food Bank Coordinator Curt Balko at 297-2738, Ext. 231, for more information.
Be the first to know
Get local news delivered to your inbox!