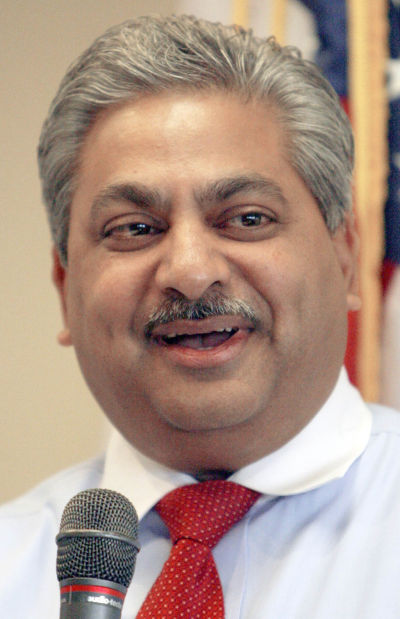 Oro Valley Mayor Satish Hiremath resigned from an organization of mayors who oppose illegal firearms under pressure from a gun-ownership-rights group that called for him to make the move.
Hiremath joined Mayors Against Illegal Guns (MAIG), a group with 1,000 mayors in 46 states, more than a year ago. He announced Nov. 6 in an email to the Star that he had resigned.
"I am aware of the efforts of members of Arizona's criminal justice community and our state Legislature, and I support their direction. It is apparent that MAIG differs from the focus of our state leaders, which is consistent with my views," Hiremath wrote in the email.
"Therefore, I am forwarding my resignation to the Mayors Against Illegal Guns along with my recommendation that the group focus its efforts on what I believe was the original premise to deal with 'illegal guns.' "
The Arizona Citizens Defense League (ACDL) sent an email to supporters, listing the names of mayors in the state who are members of MAIG.
ACDL spokesman Charles Heller said the group wanted Hiremath and other MAIG members to quit the group, which was founded in 2006 by New York City Mayor Michael Bloomberg and Boston Mayor Thomas Menino.
On its website, MAIG says its intent is "keeping illegal guns out of dangerous hands." In the email it sent to supporters, the ACDL contends MAIG is "a coalition to push for draconian gun control laws across the country" and says the group wants to keep "any and all" firearms out of the hands of "law-abiding citizens."
Hiremath was one of seven mayors identified in the email, along with Tucson's Jonathan Rothschild, Avondale's Marie Lopez Rogers, Paradise Valley's Scott LeMarr, Tempe's Mark Mitchell, Tolleson's Adolfo Gomez and Phoenix's Greg Stanton.
Hiremath said in the email that he joined MAIG because he thought he would help support closing loopholes in gun laws.
"Over a year ago, I was contacted by a group of mayors advocating against illegal guns: Mayors Against Illegal Guns. In an effort to protect our community and support our police and prosecutors to address the 'weaknesses and loopholes in the law,' I signed onto the effort," he wrote.
"I consulted with our police chief and determined that we in the state of Arizona do a fairly good job in our efforts against illegal guns, but that more can be done, especially related to the mentally ill who are prohibited from possessing guns."
Heller predicted Hiremath's resignation the day before he turned it in.
"He's a very nice, smart man," Heller said. "And if he'd been paying attention, he'd see it was very dishonest. A number of mayors have left the consortium, and the reason is it's a front for an organization that's interfering with people's rights. Once a mayor realizes that people don't agree with that, they usually leave."