Funeral notices for Sunday, April 21, 2019. For more obituaries go to
legacy.com/obituaries/tucson/
In memoriam: Funeral notices, April 21, 2019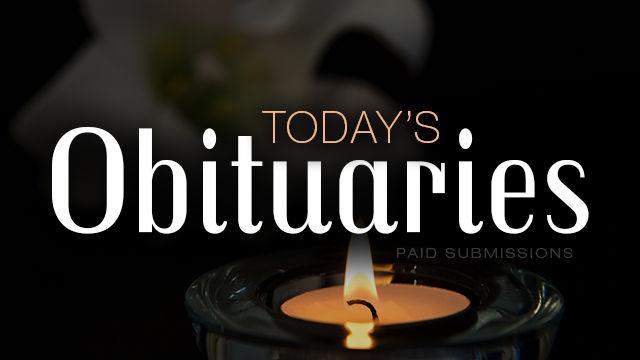 ANDERSON, Garnet Freedom "Andy"
ANDERSON, Garnet Freedom "Andy"
Andy passed away on April 12, 2019, surrounded by his family. He was born in Wheeling, WV June 17, 1939. Andy served 23 years in the US Army as a parachute rigger and recruiter achieving the rank of Master Sargent. Upon retirement he taught Junior ROTC at Flowing Wells HS. Andy is survived by his wife, Maria; children, Michael (Laura) Anderson; Patricia (Jon) Mendes; Deborah (James) Abolt and Andrew (Anne) Anderson; stepsons, Daniel Jackson and Anthony (Ofelia) Jackson; eight grandchildren, Michael, Sarah, Ellen, Joseph, Daniella, Elizabeth, Priscilla and Mark. He was preceded in death by his wife, Martha; sisters, Ellen Anderson and Mernie Porter; brothers, Joel Anderson, Charles Anderson, George Anderson and Frank Anderson; grandson, Mitch Anderson. Services will be at 10:00 a.m., Thursday, April 25, 2019, EVERGREEN MORTUARY, 3015 North Oracle Road, Tucson, AZ. Arizona Army National Guard Honor Guard will perform military honors.
ARREOLA, Susie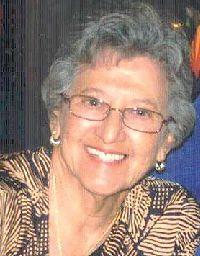 ARREOLA, Susie
A native of Tucson, Susie Arreola entered Heaven on Sunday, April 14, 2019 at age 93. Born July 5, 1925, she will be lovingly remembered by her friends and family. Funeral Services will be held Thursday, April 25, 2019 beginning with the Visitation at 8:00 a.m. and Rosary at 9:00 a.m. at CARRILLO'S TUCSON MORTUARY. Mass will be at 10:30 a.m. at St. Augustine Cathedral. Interment to follow at Holy Hope Cemetery. Susie requested colorful attire. "I came, I worked and had fun, traveled and loved my family. Thank you and now it's time for me to go. Ani! Ani! Ani!" Arrangements by CARRILLO'S TUCSON MORTUARY, INC.
BILL, Jacob Calvin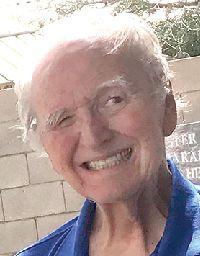 BILL, Jacob Calvin
passed away April 12, 2019, he was 88 years old. Jacob "Jake" Bill was born June 13, 1931 in Ft Wayne, Indiana. Jake was a chemical engineer who worked for Magnavox, Texas Instruments, NASA, and Raytheon over his sixty year profession. Jake also served in the U.S. Marines during the Korean War and saw combat during the conflict. He also was a 32 degree Mason who last year received his 50th year diamond pin from his lodge in Clearwater, Florida. He also was a Shriner and remained an active member well into his 70's. He is survived by his two sons, Gregory Jacob Bill and Michael James Bill. Also his brother, Dr. Daniel Bill; five grandchildren and five great-grandchildren. Arrangements entrusted to DESERT SUNSET FUNERAL HOME 520-297-9007.
COMEY, Ralph H. 11/20/1924 - 3/5/2019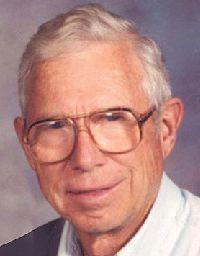 COMEY, Ralph H. 11/20/1924 - 3/5/2019
Gifted architect, artist, devoted husband and father, lover of God and the animals he created, Ralph "Sandy" Comey passed away peacefully at home at age 95 on Tuesday, March 5, 2019, joining his beloved late wife Jackie in heaven. Ralph was born in Cleveland, Ohio, and graduated from University School in Shaker Heights before enlisting in the Air Force and serving as a B-24 pilot during the final days of WWII. Following the war, Ralph graduated with undergraduate and graduate degrees in architecture from Yale University (B.A.) and Colombia University (M.A.). Ralph worked in private practice in Cleveland, where he married Jackie in 1961, then moved his family to Tucson in 1972 when he joined the faculty at the U of A School of Architecture. He went on to practice as an architect in Tucson for many years, ending his professional career with an emphasis on historic preservation and qualifying distinctive Tucson neighborhoods for inclusion on the National Historic Register. Before his death, Ralph wrote: "I am blessed to having been privileged to live in this marvelous world. I had loving parents and a wonderful, loving family, and a very special loving wife, Jackie. I have known many fine people, and some interesting animals have been my companions. I have a strong feeling that God has watched over and guided me I have lived under his loving care." Ralph will be remembered for his devotion to family, his quiet compassion and strength of character, a keen aesthetic sense, a love for animals and the beauty of the natural world, and his optimism and joy for life. He is survived by his sister, Carol Harrington; children, Janet Chuck, and Drew; grandchildren, Kelsey, Will, Dwight, Joseph, Franklin, Ian, Daniel, Hidetaka, Michael, Kuneo; and great-grandchildren, Aaron and Karissa. Memorial Services will be held at 11:00 a.m. on Friday, April 26, 2019 at Northminster Presbyterian Church at 2450 E. Ft Lowell Road in Tucson. Arrangements by DESERT ROSE HEATHER.
ESCALANTE, Francisco "Frank"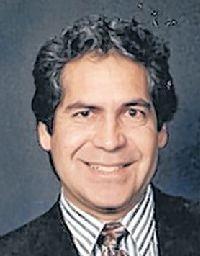 ESCALANTE, Francisco "Frank"
passed into a new life on Friday, April 12, 2019. Frank was born on December 2, 1948 to María Luisa and José Francisco Escalante in Marana, Arizona. He grew up in the Marana area and attended Marana Public Schools. He graduated from Marana High School in 1968 and went on to attend the University of Arizona, graduating with a B.A. in 1973. After graduation he went to work at the Pima County Hospital and later in the Public Fiduciary's Office where he worked for almost 40 years. He retired in 2016. He was a life-long sports fan, having a passion for baseball. He was also an avid reader but his greatest passion was traveling. He visited half of the U.S. states and a dozen foreign countries. He was an easy-going, caring, loving and charitable person who always put family first. He will be sorely missed. He is preceded in death by his parents; his brothers, Henry, Jesse and Gilbert. He is survived by his sister, Delia Escalante; nephews, Abraham Sánchez, Enrique (Tracey) and Armando Escalante and nieces, Carmen Noyola (Ramón), Consuelo Madere (Michael), Teresita McNabb (Tim) and María Bovill (Shawn). A Rosary will be said at 9:00 a.m. on Friday, April 26, 2019 at St. Augustine Cathedral, followed immediately by a tribute to Frank. A Funeral Mass will follow at 10:30 a.m. Arrangements by ADAIR FUNERAL HOMES, Dodge Chapel.
HERZMARK, Barbara Lerner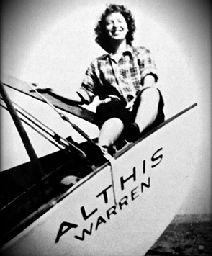 HERZMARK, Barbara Lerner
Summing up Mom in two words: Loving, Bright, Relentless, Empathetic, Warm, Nervous, Pushy, Kind, Curious, Elegant, Passionate, Giving, Nosey, Cautious, Salty-Tongued, Tasteful, and, heartbreakingly, Gone. On Friday, March 22, 2019 at 1:14 a.m., Barbara Marsha Lerner Herzmark, of San Pedro, California, split for parts unknown. It was her time of day. She was usually up then- "thinking or worrying." What are you worrying about, Mom? "Everything. It's a beautiful world but there's so much that can go wrong." And yet, so much went exactly right for her. Her 68 year marriage to Leonard was a union that produced three sons, Michael, Jay, and Paul (a noisy family, but it was bound by love). Mergers and acquisitions brought her grandchildren and great-grandchildren. Mom was crazy for them (as they were for her). It was even better than she'd expected (and Mom had lofty expectations). She did well growing up in New Jersey and, as a young wife, became a solid citizen of Kansas City. She pulled up those roots to head west with Len, and re-planted them in Denver, Phoenix, Scottsdale, Tucson, and, finally, San Pedro, CA. Not that she was on the run from anything, but she was always on the move. Education was Mom's deity. Her scholastic record features Bank Street in NYC, Pembroke/Brown in Rhode Island, graduate school at the University of Kansas (Rock Chalk Jayhawk), Arizona State University (A proud Sun Devilbut wear a hat and use sunscreen), and classes at The University of Arizona in Tucson. Her master's degree was a treasured accomplishment. "I'm silently correcting your grammar," reads the refrigerator magnet still in Mom's kitchen. Yes, she corrected grammarbut not to make you feel small or incompetent. It was just to get it right. Because deep down, as a teacher, she wanted you (and everyone) to know, to expand, to learn, to growand to wear a helmet as a guard against injury. Her career path wound through camp counseling, teaching, travel agencies, and occasional stints at the family plastic bag factory. All the while holding down the home front with hand-squeezed orange juice for breakfast. Despite the phone numbers written on dozens of tiny paper scraps strewn about her home, she was an organizer. Need volunteers to slice turkey at the Salvation Army Thanksgiving and Christmas meals? They say Mom rounded up over 400 slicers during her years in Tucson. She also ran herd, every year, on the docents at the Southern Arizona Research, Science, and Engineering Foundation (SARSEF) while Dad was busy proving E=MCSquared to the young entrants at the science fairs. As a Cub Scout mother, she was the force behind a 1/10th scale model of the Denver Civic Center-constructed entirely of macaroni (and painted white) by Den 12. She served as president of Women's American ORT in Kansas City. During political elections, she canvassed to get out the vote. One weekend, while a teacher, she drove a van of her special-needs students from Tucson to Los Angeles for a visit to the rockets at the Jet Propulsion Lab. And she had them all back in class on Monday morning. In her retirement communities, Mom helped run the libraries and bring in speakers. She enjoyed hearing the author comparing and contrasting his novel's characters, the artist discussing her painting, the political scientist trying to explain what the heck was going on. She just wanted to know. Plus it distracted her from the world's limitations. She tried playing viola, took a spin at rock hounding, snow skied (she knitted herself and dad some terrific ski sweaters), went hiking, biking, and got the family out camping. Mom loved to play catch with a hardball. She provided her kids music lessons, and beamed as they scratched through the works of Mozart and The Beatles. A life-long hobby was visiting the doctor. Just in case. Her soul was that of an artist. Her medium, people. Her M.O., direct: "Do you ever give lessons?" she asked a world famous, Navajo Master rug weaver. (This is akin to cornering Tiger Woods at the US Open and asking him to help you with your putting.) Nobody does that. But she did. And it worked. Just a few days later, Mom (aged 59) was barreling towards Shiprock, NM, where she spent a week with the Navajo family. She slept on a stack of rugs in an out-building, learned a bit of weaving, played with the children, drank in the local culture, and helped, just a mite, to smooth the great fabric of humanity. Mom and the weaver were friends to the end. Mom's reality was she loved you and believed in your value as a person. She wanted to know all about your kids, where you grew up, what you considered important, and if you were from Kansas City or Tucson-or knew anyone from Kansas City or Tucson. During the past two years, she asked if you knew anybody from San Pedro. She just wanted to know. Oh, and one last thing. As a perennial student of literary technique, at the end she chose irony. Cause of death: head trauma. You were right, Mom. So many things can go wrong but it's a beautiful world. We love you. Survivor's include her sons, their families, extended families, grandkids, great-grandkids, cousins, nieces, and nephews: Michael, Jay, Paul, Melissa, Sheila, Sheila, Mason, Adam, Lizzy, Heather, Henri, Jasper, Lili, Liam, Anna, Scott, Lisa, Laurie, Jan, Julia, Fran, Joe, Mark, Debby, Michael, Susan, Laura, Jake, Jody, Valerie, and Vicki. As Mom requested, no services are planned. The family will sprinkle Barb's and Leonard's ashes together in Puget Sound. We would be honored by any contribution to Harbor Interfaith Services, San Pedro, CA, Trinity Care Hospice, Torrence, CA, or SARSEF, Tucson, AZ.
LAWWILL, Benjamin H.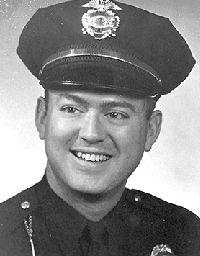 LAWWILL, Benjamin H.
died April 16, 2019. Originally from Cincinnati, Ben was a long time resident of Tucson. He graduated class of 1952 from Dartmouth, where he had excelled as a pole vaulter and competed in Madison Square Gardens. He served America during the Korean War. In Arizona he fulfilled a dream by joining the Tucson Police Department eventually attaining the rank of lieutenant, and also spent a year at Northwest University studying Traffic Police Administration, class of 1962. Later he was involved in the manufacturing of pickup mounted Malibu campers. Always seeking, he fulfilled another dream with the purchase of the sailing vessel Amiga, and sailed the Caribbean for six years with his wife, Janet. He leaves a grandson, Richard W. Lawwill; and a loyal and loving friend, Doris Lynn. Thanks go to the many at La Rosa who helped him through the last years and the last days of his life. ABBEY FUNERAL CHAPEL, Tucson, AZ, is assisting the family 520-888-1111.
MINOR, John "Jack" Patrick Sr.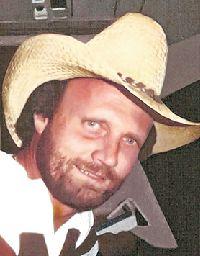 MINOR, John "Jack" Patrick Sr.
Jack passed away April 3, 2019 peacefully at his home. Jack was born January 1, 1943 in Cincinnati, Ohio, the fourth son of Daniel and Lorraine Minor. His father and brothers, Daniel Minor Jr. and Milton Minor, precede him in death. Jack is survived by his loving wife of 37 years, Terri (Hart) Minor; mother, Lorraine; brothers, Richard and Michael; daughter, Debbie Mack (Brian); son, John Patrick Minor Jr. (Cindy); and his grandchildren, Justin Debolt, Janine Romero, Claire Mack, Brooke and Garrett Minor. Jack's love for life and adventure was undeniable. His energy was endless for his work, his play, his family, and his beloved pets. Jack had a magnetism and sense of humor that was with him until the end. Jack had enjoyed everything from rodeo, boating, scuba diving, travel, Harleys, and his motorcycle club. Jack was a businessman in Southern Arizona for well over 30 years. Through his businesses, Jack had numerous relationships that he valued and considered friends. The family asks that in lieu of flowers and to honor Jack's charitable spirit, donations be made to the Southern Arizona Humane Society in his remembrance. Graveside Service will be held Friday, May 3, 2019, 3:00 p.m. at Holy Hope Cemetery, 3555 N. Oracle, Tucson, AZ. Arrangements by EVERGREEN MORTUARY.
MOORE, Carmelia Louise "Cammy" September 13, 1943 - April 2, 2019
MOORE, Carmelia Louise "Cammy" September 13, 1943 - April 2, 2019
Cammy passed away on April 2, 2019 after a brief illness. She is preceded in death by her husband, Kenneth Owen Moore. Cammy was born in Norristown, PA and resided in Saddlebrooke prior to her death. She was an active real estate agent with Long Realty for many years. Cammy was a talented singer and performed on cruise ships and in Europe in her younger years. She was also active with the Saddlebrooke Rotary and Resurrection Lutheran Church. Cammy will be missed by her many friends, clients and fellow Rotarians. Her remains will be interred at Resurrection Lutheran Church in Oro Valley next to her husband. A Celebration of Life will be held on Monday, April 29, 2019 at 1:00 p.m. at Resurrection Lutheran church in Oro Valley. Arrangements under the care of VISTOSO FUNERAL HOME.
MORSE, Frederick Addison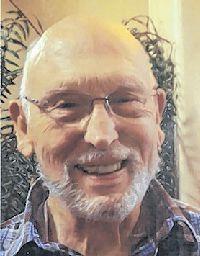 MORSE, Frederick Addison
passed away on April 12, 2019 at the age of 82. Fred is survived by his wife and three brothers, Joe (Karen), Richard (Roxanne) and Carl (Sherry); sister, Vivian (Michael) and sister-in-law, Kathy (Larry). His loving wife Janie and he were high school sweethearts and celebrated their 61st anniversary last August. Fred had a PhD in physical chemistry and retired after reaching Associate Director of Los Alamos National Laboratory. His legacy continues in their three children, Eric, Wayde and Kristie and five grandchildren, Cameron, Shay, Brittnee, Marisol and Forrest. He and Janie have taught us all to love, learn, strive, teach and care for each other. A Celebration of Life will be held this summer. Arrangements by BRING'S BROADWAY CHAPEL.
POTTER, Master Sergeant Dale L., Jr., USAF, Retired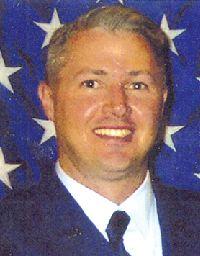 POTTER, Master Sergeant Dale L., Jr., USAF, Retired
52, "now surrounded by HIS Glory" no longer needs to "IMAGINE" (his favorite song) what it will be like "when he walks by the side of Jesus", because that song became reality to him on APRIL 12, 2019, when he entered into the Presence of Jesus. Dale accepted Jesus as his Lord and Saviour at age 13, and served him faithfully his entire life, even through this final journey with ALS. Dale was born at Ft. Polk, Louisiana, on December 7, 1966. He lived in Iowa, Texas and New Mexico. He graduated from Gadsden High School in Del Cerro, New Mexico, after which, he enlisted in the United States Air Force, serving honorably for 22½ years, achieving the rank of Master Sergeant. While on active duty, he served in North Dakota, Germany, England, the Middle East during Operations Desert Storm and Enduring Freedom, and two tours at Davis Monthan AFB, Arizona. After retirement, Dale made Tucson his home. He completed his Bachelor's Degree in Social Work at the University of Phoenix, after which he was employed by the Arizona Department of Veteran's Services where he served as a Veteran's Benefits Counselor. Dale was a blessing to all who knew him-Family, Friends, Co-workers and Clients. He truly allowed the Holy Spirit to move in him to make all our lives better. He is greatly missed by everyone he leaves behind-especially his Beloved Children, Ashlyn Noel Potter and Mitchell Edward Harrow Potter; his mother, Judy Ann Jacobi; his sisters, Lorry Lucero (Jerry) and Misty Ballesteros; brother, Lance Jacobi; the mother of his children, Julie Harrow; sister-in-law, Ashley Averill; and Ed and Carolyn Harrow. Until we meet again, dearest Dale! Viewing will be held on Thursday, April 25, 2019 from 5:00 p.m. till 9:00 p.m. at EAST LAWN PALMS MORTUARY. A Celebration of Life will be held at Pantano Christian Church on Friday, April 26, 2019 at 5:30 p.m. till 8:30 p.m. Casual attire. In lieu of flowers, please consider making a donation in memory of Dale to Desert Christian Schools Scholarship Fund, the ALS Association of Arizona, or Pantano Christian Church.
QUICK, Rhonda Carol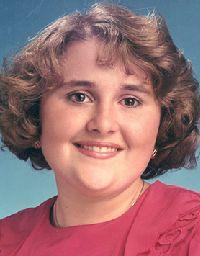 QUICK, Rhonda Carol
passed away suddenly in her sleep on March 17, 2019. A vascular surgeon, she had been a member of the Tucson medical community since 2003. She prioritized family, friendship, lifelong learning, and the relentless pursuit of excellence in service to her beloved patients. Rhonda traveled extensively and never met a stranger. Despite demanding professional obligations, she was a voracious reader. A connoisseur of bourbon, Rhonda liberally shared both her extensive, encyclopedic knowledge and sizeable personal collection of America's Native Spirit. Born August 9, 1967 in Cullman, Alabama, Dr. Quick was valedictorian of Cullman High School and a first-generation college student. She was awarded a full ride, four-year scholarship by Auburn University in pre-medicine and earned a B.S. With High Honor in Biology in 1989. Rhonda continued her education at Wake Forest University Bowman Gray School of Medicine, receiving her Doctor of Medicine in 1993. She completed a residency in general surgery at the University of Kentucky Chandler Medical Center and University Hospital in 1998, serving as Chief Resident during her final year. Rhonda continued her work there in a two-year vascular fellowship. Dr. Quick then remained on faculty at the University of Kentucky College of Medicine in the Department of Surgery as an Assistant Professor of Surgery with a joint appointment at the Lexington VA Medical Center. During her time in Kentucky, she learned to play golf, poker, and the horses - all of which accelerated her continuing education about bourbon. However, an infatuation with Arizona had begun during a three-month research fellowship in vascular and endovascular interventions at the Arizona Heart Institute and Foundation in 1999. When offered a position at Tucson Vascular Surgery, she readily accepted in December 2003 and never again ventured east for more than a brief visit or to chase a rare Kentucky bourbon. Rhonda attended Northminster Presbyterian Church in Tucson. Dr. Quick was a Fellow of the American College of Surgeons and a member of the International Society of Endovascular Specialists, the Edward B. Diethrich Vascular Surgical Society, the Vascular Access Society of the Americas, the Western Vascular Society, the International Society for Vascular Surgery, the Southern Association for Vascular Surgery, the Association of Women Surgeons and the Peripheral Vascular Surgery Society. She was Board Certified in both vascular surgery and general surgery. Rhonda leaves behind a host of loving family members, loyal friends, professional colleagues, and patients who now celebrate her life well-lived while simultaneously mourning the unexpected loss of a brilliant, compassionate surgeon and a kind and gentle soul. The Memorial Service will be held on Saturday, April 27, 2019 at 1:30 p.m. in the Chapel at EAST LAWN PALMS MORTUARY. A Celebration of Life will be later that day from 5:00 p.m. until 8:00 p.m. at JW Marriott Starr Pass Resort, 3800 W. Starr Pass Boulevard in Tucson.
RAMIREZ, Josephine Sandoval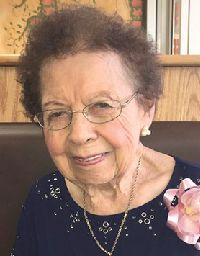 RAMIREZ, Josephine Sandoval
Our beloved mom, Josie, passed away at home surrounded by her family on April 14, 2019. She had a wonderful, happy and healthy life. It was dementia that finally took her. Born to Francisco and Mercedes Sandoval on November 18, 1923. We were very blessed! She graduated from Tucson High; where in her senior year was placed at Myerson's Department Store where she worked for 36 years until the store closed. Our lovely mom was strong willed, hard-working, proud, generous, loving, active, enjoyed gardening, loved to chat and made her husband (Bert), children and faith her priorities. She was Dad's partner, cheerleader, supporter and strength. Josie is survived by her daughter, Yvonne; sons, David (Becky) and Eric (Elaine); grandchildren, Kenny, Aaron (Maggie), Valerie (Wes), Matthew, Eric (Kasie), Toni (Alex) and Hannah Jo (Matthew); greats, Cameron, Kenadee, Hayden and Makena. We will miss our mom beyond words, will cherish every memory and know she is in heaven with Dad. Thank you to all caregivers who were patient, caring and priceless. A heartfelt thank you especially to Rita and Malena. We appreciate the Casa de La Luz home hospice team, who taught us and supported us the past couple of months. Love you, Mom! Services begin at Carrillo's Tucson Mortuary, 240 S. Stone on Wednesday, April 24, 2019 with the Viewing from 8:00 a.m. - 10:00 a.m. Rosary at 9:00 a.m. followed by Mass at the Cathedral, 192 S. Stone at 10:30 a.m. and interment at Holy Hope Cemetery Mausoleum. In lieu of flowers, please consider donations to St. Vincent de Paul, St. Augustine Cathedral chapter. Arrangements by CARRILLO'S TUCSON MORTUARY, INC.
REX, Lois Ann (Shefferly)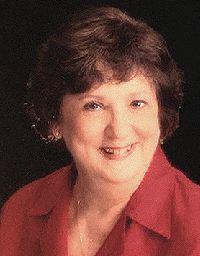 REX, Lois Ann (Shefferly)
84, of Las Vegas Nevada, passed on March 4, 2019. Born April 19, 1934, in Detroit, Michigan. Lois was a long-time resident of Tucson where she raised her family. Lois is survived by her children, Julie (Tim) Mueller, Mark (Kevin Luber) Rex and Jill (Dan) Davis and many grandchildren and great- grandchildren. Preceded in death by her son, Gary Rex. A Memorial Service is planned for 12:00 noon, on Saturday, July 6, 2019, at East Lawn Palms Cemetery. Arrangements by EAST LAWN PALMS MORTUARY.
SCHMICH, John
SCHMICH, John
Richard John Schmich, age 70, passed away Saturday, April 13, 2019 in Tucson, Arizona. John and his family lived in Tucson since 1985 when he was relocated to Arizona by his employer. John was born in Toledo, Ohio and graduated from Whitmer High School in 1966. He enlisted in the U.S. Marine Corps in 1967 and served as an Aviation Electrician while deployed to Vietnam from 1970-1971. After leaving the Marine Corps, John began his career as a Medical Electrical Engineer in 1971 with American Hospital Supply in Romulus, Michigan. Amidst numerous corporate mergers, he retired from Siemens in 2011 after 40 continuous years of service. During John's retirement he enjoyed taking his grandchildren on road trips and attending their sporting events. You could also find him in the poker room at the casino or anticipating the holiday card games with family and friends. John is survived by his wife, Debbie: children, Army Warrant Officer CW5 Brandon Schmich, Brenton (Krystal) Schmich, and daughter-in-law, Amanda (Brodie) Schmich; grandchildren, Kaitlin, Camden, Austin and Jackson Schmich. He is also survived by his sisters, Marcy (Terri Sachnik) Schmich and Sandra (Tim) Mennitt; brothers, Frank Schmich and Blane (Susi) Schmich; eight nieces and nephews and ten great-nieces and great-nephews. John was preceded in death by his son, Brodie Schmich in 2001, and parents, Richard and Mary Schmich, and sister-in-law, Barbara Schmich. Funeral Services and burial will be held in Toledo, Ohio. The family requests memorial contributions be made to the American Cancer Society. Arrangements by DESERT SUNSET FUNERAL HOME.
SHOCKEY, John Douglass Doug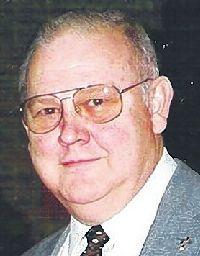 SHOCKEY, John Douglass Doug
age 80, died on April 16, 2019 in Tucson, AZ. He was born on December 10, 1938 to his late parents, E. B. and Mae Shockey of Pound, VA. In addition to his parents, he was preceded in death by his great-niece, Alison Mahan and his mother-in-law, Mildred B. Mullins. He is survived by Judy, the wife he cherished for 55 years; his sister, Mary Mahan; his beloved daughter, and granddaughters, Deneen (Steve) Safritt, Courtney and Mariah Safritt. He is also survived by his niece, Jennifer (Greg) Kimoto; great-niece, Aries Baker; in-laws, Anna and Garry Damron; his special friend since childhood, Harlis Maggard, plus other relatives and many Virginia and Arizona friends. Doug taught 33 years at Clintwood High School (in VA), and was extremely active in the Masons and Eastern Star. Doug was a member of the Masons for 50 years and over 40 years in OES in VA and AZ chapters. The Celebration of Life for John will be held from 2:00 p.m. to 3:00 p.m. on Saturday, April 27, 2019 in the Ballroom of the Voyager RV Resort, 8701 South Kolb Road, Tucson. In lieu of flowers, he has requested that you help to further his spirit of service by donating to the Community Food Bank, 3003 S. County Club Rd., Tucson, AZ 85713. Arrangements by BRING'S BROADWAY CHAPEL
SHUPALA, Nanette Marie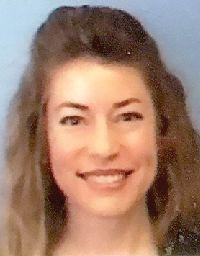 SHUPALA, Nanette Marie
born in Erie, PA on February 20, 1968, passed away April 24, 2018, in Tucson, AZ, after a courageous battle with cancer, surrounded by family and friends. She was the daughter of Jeanne M. Shupala and the late Dr. Robert J. Shupala. Nanette had a career in sales, but her true passion was the study of geology, and the preservation of all God's creatures, including time spent in Ethiopia studying baboons, and at home rescuing desert tortoises. In addition to her mother, Jeanne, Nanette is survived by her brother, Andy Shupala (Chris); her sister, Jennifer Shupala Roeback (Jason); nieces, nephews, cousins and dear friends, Bud and Dawn Rita Morris. Arrangements by ANGEL VALLEY FUNERAL HOME.
STUART, Douglas Gordon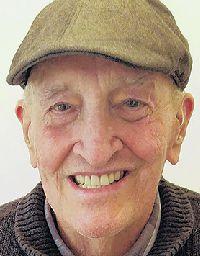 STUART, Douglas Gordon
It is with profound sadness that the Stuart Family announces the passing of our patriarch, Douglas Gordon Stuart, on April 6, 2019 at his home in Tucson from multiple myeloma. In the final weeks of his life, Doug took delight in phone calls from friends and family near and wide, enjoyed the company of many visitors and spent his days enveloped by the love of his children, grandchildren, great-grandchild and his faithful dog, Bentley. At the time of his death, Doug held the position of Regent's Professor Emeritus of Physiology at the University of Arizona, an institution that he served with distinction since 1967. He was a world-renowned researcher on the neural control of movement as evidenced by his more than 200 publications. One of the founding faculty members of the UA College of Medicine, Doug was instrumental in shaping its research and teaching missions, serving as the head of two academic departments and the Associate Dean for Research during his more than 50 year tenure. It is nearly impossible to capture the richness of the extraordinary life that Doug experienced throughout his 87 years. His infectious joie de vivre, extroversion and effervescent sense of humor left an indelible memory in everyone he met. Two themes, or rubrics as Doug was wont to say, ran through the course of his life. The first was training. As a young man in Australia, Doug trained to compete with the Australian team in the British Commonwealth Games as a high jumper. Later, in the US, Doug transferred the drive and discipline of an elite athlete to training to become a world-class scientist. But that transfer was never completed, as he continued to train as an athlete throughout his entire life, be it for a mid-life marathon, many triathlons, a run across the Grand Canyon, or five-set tennis matches and rounds of golf in the 100+ degree days of Tucson's summer. Even as a lab chief and mentor, Doug famously always referred to his students and postdocs as trainees. The second theme woven into the fabric of Doug's life was devotion. Doug was devoted to his family. He adored and admired his late wife, Jean. He took enormous pride in the lives of his four children, Monty, Kathy, Dan and Cindy, as well as in those of the life partners each of them added to his family. And, of course, Doug was devoted to the next generations of Stuarts that his children brought forth. Doug was also devoted to his friends, to his colleagues, to his many students and postdoctoral fellows, to his studies of neurophysiology and motor control and to the University of Arizona. And these devotions were evident in his every action. Doug was preceded in death by his wife, Jean Rassbach Stuart and survived by his children, Monty (Debbie) Stuart, Kathy (Tom) Lohse, Dan Stuart, and Cindy (Mike) Sadowsky; his grandchildren, Samantha Stuart, Bryan, Karen and Amy Lohse, Daniel Stuart, Miles Sadowsky, Corinne Sanders, and great-grandchild, Scotlynn Roberts. Doug's beloved dog, Bentley, has also survived him and will be well cared for. "I've had a good go of it, done what I wanted to do in life." - Douglas G. Stuart Those wishing to commemorate Doug Stuart's life may do so by contributing to the 'Douglas G. Stuart Mentoring Initiative' fund established through the UofA Foundation to honor his contributions to research, teaching and service. Arrangements by BRING'S BROADWAY CHAPEL.
SUTTON, Elizabeth Susan "Susie" June 22, 1933 - April 16, 2019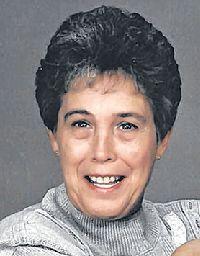 SUTTON, Elizabeth Susan "Susie" June 22, 1933 - April 16, 2019
passed away peacefully at age 85, after a long illness. A long time resident of Tucson, she was born in Chicago, Illinois to Herbert and Jeanette Gillard. The family moved to Tucson before Susie's senior year of high school. She attended Tucson High and The University of Arizona where she met Doug Sutton Sr. They were married 57 years when Doug passed away in 2010. Susie was a homemaker, devoting her time to raising their three sons, Doug Jr. (Jeannie), Donnie (Doris) and David (Lynne). Susie loved swimming, water ballet, bowling and playing bridge weekly with her friends. Her favorite times were spent with Doug Sr. at their cabin on Mt. Lemon. Susie is survived by her three sons; three grandsons, Taylor (Kirra), Parker (Megan) and Raber and three great-grandchildren, Eliana, Oliver and Paxton. Arrangements are being handled by ADAIR FUNERAL HOMES, Avalon Chapel there are no services planned.
TURCO, Christopher S. (1963 - 2019)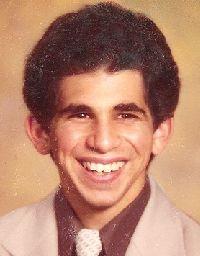 TURCO, Christopher S. (1963 - 2019)
Christopher S. Turco, 55, a resident of Oro Valley, AZ, and formerly of Kenosha, WI, passed away peacefully on Tuesday, April 2, 2019, in Tucson, AZ. Chris' health had deteriorated significantly over the past few years, due to complications stemming from cerebral palsy. Chris was the son of the late Peter and Gilda (Mazzei) Turco, of Kenosha, WI. Chris is survived by his sister, Cynthia (Larry) Eckert of Glendale, WI, and brother, Anthony (Renae) Turco of Oro Valley, AZ. He is also survived by two loving nieces, Kailey (Nick) Moschetta of Carlsbad, CA, and Kristen Turco of Gilbert, AZ. Chris worked as a utility clerk in the grocery industry, having last worked at Safeway on Oracle and Ina Road in Tucson. Chris was an avid sports fan who enjoyed following the Cubs, Brewers, Packers and Bears. He also derived enjoyment from collecting miniature cars and sports cards. We will always be grateful for the compassionate care provided by Feel At Home Assisted Living, Mountain View Care Center and Agape Hospice. A Funeral Mass will be held on Saturday, May 4, 2019 in Kenosha, WI. In lieu of flowers, donations may be made to United Cerebral Palsy (https://ucp.org/donate-to-ucp-national/). Arrangements by VISTOSO FUNERAL HOME.
VIDAURRI, William "Bill" and Margaret B. Vidaurri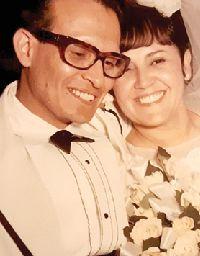 VIDAURRI, William "Bill" and Margaret B. Vidaurri
Bill went peacefully to be with our Lord Saturday, April 13, 2019, surrounded by his loving family. He was born on June 8, 1937 in Tucson, AZ. Son of Baltazar and Frances Vidaurri. He served in the US Army, where he was stationed in Germany. He worked for many years at Fields Jewelers downtown and met his love of his life and wife of 48 years, Margaret Badilla; together they raised their only daughter, Sylvia who was their pride and joy. He retired from Golden Eagle Distributors and had a great love for his pet dogs. His giant heart, and his desire to help others will be missed by all. Preceded in death by his wife, Margaret B. Vidaurri who passed away December 19, 2011; his mother, Frances and father, Baltazar Vidaurri. Bill will be lovingly remembered by his daughter, Sylvia; sisters, Norma Vidaurri and Helen Ouellette (Joseph); brother, Richard (Margaret) Vidaurri; nieces, Jacqueline and Debbie. He will also be missed by his loving pets, Leo, Star and Cleo (Khloe). A part of him will remain in us forever. We are grateful for his love. Visitation will be held Tuesday, April 23, 2019 from 9:30 a.m. - 10:30 a.m. at St. Margaret Mary Church, 801 N. Grande Ave., with a Rosary recited at 11:00 a.m. Mass will follow at 11:30 a.m. Interment at Holy Hope Cemetery. Arrangements by CARRILLO'S TUCSON MORTUARY, INC.
WADE, James C.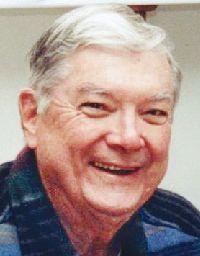 WADE, James C.
Jim peacefully left this world on March 23, 2019 at the age of 91, joining his wife of 63 years, Audrey, who preceded him in death in 2010. After his 1946 discharge from the Navy, he moved from Minnesota to Tucson, where he graduated from U of A Eller College of Management. While providing for his amazing wife and his six children, (Steve, Cathy, Margaret, Paul, John and Robert), he sought to be a loving husband, father and committed volunteer, sharing his talents and dedication with Arizona Desert Museum, Sahuaro Little League, Rincon Kiwanis and The Presbyterian Church. As an active Charter Member of Christ Presbyterian Church, his leadership skills were always in demand, as well as his bass voice in the choir from 1956 forward. His legacy includes 14 grandchildren, three great-grandsons and a great-granddaughter on the way. He touched many people with his kindness and faithfulness. A Life Celebration will be held on Saturday, April 27, 2019 at Christ Presbyterian Church, 6565 E. Broadway Blvd at 3:00 p.m. In lieu of flowers, donations to the church or the Desert Museum are preferrred. Arrangements by HUDGEL'S SWAN MORTUARY.