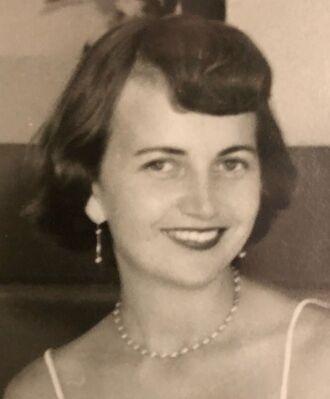 BAFFERT, Dehlia Holler
Lifelong Nogalian, passed away on August 18, 2021. She was born December 15, 1922 to Charles and Maria Teresa Holler in Nogales, AZ. Dehlia was a great resource for anything relating to Nogales history and enjoyed telling stories of her childhood on Crawford Street. Her eyes would light up as she shared the joy of growing up in her beloved Nogales. One of her early achievements in life was representing Nogales at the 1939 World's Fair in San Francisco as the Drum Majorette for the Nogales High School Drum and Bugle Corps. She went to work in the County Assessor's Office after graduating high school and in 1946 she met her future husband, Pierre S. Baffert, who happened to be her new boss. They married in 1948 and raised a family of five boisterous children. Her greatest joy in life was raising her family and creating a home that was full of love and laughter. Dehlia's love of her family and Catholic faith were the cornerstones of her life.
Dehlia was heavily involved in the Nogales community. Her philanthropic journey included the St. Andrews Children's Clinic, Telecare, the Pimeria Alta Historical Society and the Sacred Heart Church Preservation and Restoration Committee. In 2019, at age 96, she gave a history lecture at the historical courthouse describing life in Nogales during the war years from 1940 to 1952. Dehlia poignantly described the pain of signing draft orders which sent young men to war.
After Pierre's passing in 1982, Dehlia relished the role of matriarch of the family. She oversaw the swimming lessons taught in her backyard by her daughters. Literally hundreds of children learned to swim there over a twenty-year period. As her children had families of their own, her grandchildren became her greatest joy. The grandchildren all agree there was no place like Nini's house. Her slumber parties were epic and hot fudge Sunday dinners will not be forgotten. Always mischievous, particularly with her grandchildren, she had a great sense of humor which came out during Facetime or Instagram calls. In her late nineties, she utilized the new technology to communicate with her far-flung flock of grandchildren and great-grandchildren. Each one was special to her.
Dehlia was preceded in death by her beloved parents, husband and sisters, Olga Hoeffer Anderson and Rebecca Holler. She is survived by her children, Pierre S. Baffert Jr. (Linda), Teri Baffert (Hank Matz), Renee Guevara (Alfredo), Cynthia Dyer (Greg) and Melissa Baffert (George Ellis). She is also survived by twelve grandchildren and six great-grandchildren. A funeral Mass will be held on Monday, August 23, 2021 at 10:00 a.m. at Sacred Heart Parish. In lieu of flowers, the family suggests contributions be made to Sacred Heart Parish in Nogales, Arizona or the Pimeria Alta Historical Society. Arrangements by MARTINEZ FUNERAL CHAPELS.