In memoriam: Funeral notices, June 13, 2018
Funeral notices for Wednesday, June 13, 2018. For more obituaries go to
legacy.com/obituaries/tucson/
In memoriam: Funeral notices, June 13, 2018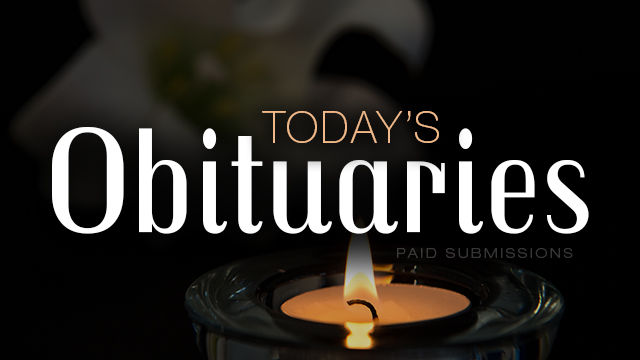 BEDFORD, Henry Martin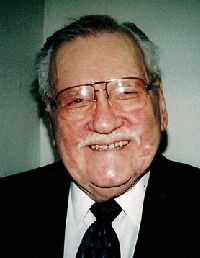 BEDFORD, Henry Martin
passed away on May 24, 2018, at his home in Lakeside, AZ. Marty was predeceased by parents, Ellis and Frances and brother, Ray. He is survived by his beloved wife, Nancy; daughter, Tara Bedford Chipman (David); son, Travis; stepdaughter, Candace Hatfield (Carey); grandchildren, Jared Hatfield and Sarah Westman (Rob) and his loving and faithful dogs, Louie and Angus. An educator, a scholar and a writer of sermons and speeches, Marty taught Geography and American History. When he retired from the Tucson Unified School District, he began a second career as a preacher in the Church of Christ. He was a member at the Mountain Avenue, Ina Road, and East View Churches of Christ in Tucson, and the High Country Church of Christ in Show Low, AZ, where he served as a preacher and a leader in the congregation. A Memorial Service will be held on Saturday, June 16, 2018, at High Country Church of Christ at 2:00 p.m. In lieu of flowers, contributions in Marty's name can be made to your favorite veteran's organization or a Church of Christ in your area. Arrangements by OWENS LIVINGSTON MORTUARY.
BURRUEL, Mercedes Tellez (1937 - 6/10/2018)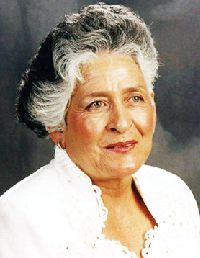 BURRUEL, Mercedes Tellez (1937 - 6/10/2018)
80, daughter of pioneer ranching family, passed away peacefully in the presence of her family. Preceded in death by her parents, Juan and Bernarda Tellez; brothers, Gilbert, Edward, Juan, Rudy, Armando, Arnulfo "Chacho" Tellez, and Gilbert Benitez; sisters, Matilde Quijada, Lydia Valdez, Mary Pallanes, Helen Romero, Linda Alegria, and Enriqueta McBride. She will be forever remembered by her husband of 64 years, Jesus Gallego Burruel; children, Jesus "Shorty" (Carol) Burruel, Bettina (Felix) Arvizo, Mary Anne (Carlos) Armijo, Lupe (Andy) Gastelum; sister, Grace (Angel) Alegria; 11 grandchildren; four great-grandchildren; and many beloved nieces, nephews, and extended family. Visitation will be held Thursday, June 14, 2018 from 5:00 p.m. - 9:00 p.m. at Carrillo's Tucson Mortuary with Rosary recited at 7:00 p.m. Mass will be offered at 9:00 a.m. Friday, June 15, 2018 at St. Augustin's Cathedral. Interment to follow at Holy Hope Cemetery. Arrangements by CARRILLO'S TUCSON MORTUARY, INC.
CLARE, Leslie (Les) Charles
CLARE, Leslie (Les) Charles,
101, of Tucson passed away to be with his Lord on June 7, 2018. Les was born to Charles and Gladys Clare on February 14, 1917 in London, England. He served in the Canadian Army during World War II, moved to Tucson in 1953 and worked for many years at Arizona Portland Cement, retiring as the Plant Engineer in 1982. In his later years, Les enjoyed spending time with family and friends and playing the organ. He was also pleased to be recognized as one of Tucson's centenarians on both his 100th and 101st birthdays. Les was preceded in death by his loving wife of 65 years Mary; his parents; son-in-law, Lynn Bizik; and sister, Irene. He is survived by his devoted daughter, Elisabeth Bizik; grandsons, Linley (Lee) Clare Bizik and Brent Clare Bizik and Brent's wife Amy; great-grandchildren, Evan Bizik and Elliana Bizik; and sister, Norma. Visitation will be held from 6:00 p.m. - 8:00 p.m. on Thursday, June 14, 2018 at EAST LAWN PALMS MORTUARY AND CEMETERY, 5801 East Grant Road. Funeral Services will be held at the same location at 11:00 a.m. on Friday, June 15, 2018. As a remembrance, the family asks that you spend 101 minutes in coming days with family and loved ones in celebration of Les' 101 years of life.
LEACH, Jeffrey Dean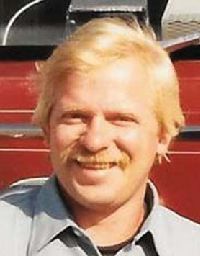 LEACH, Jeffrey Dean
Born in Camp Rucker, Alabama, March 13, 1952. After an extended ICU stay at Univ of WA Med Center, Seattle, Jeff, 66, died March 23, 2018 from heart complications. Survived by his wife Debbie Chavez Leach, Sequim WA, Other family history found in Sheboygan WI press. Closely proceeded in death by mother Janet Reinhardt. He served Tucson for 30 years with Tucson Fire, retiring in 2010 as a Captain. He serviced on NET terms where he thrived in enhancing neighborhoods. He made his final home with his wife Debbie on the Olympic Peninsula in WA state where he could hike, bike, kayak and walk his dogs in the pristine wilderness. A Celebration of his Life is planned on Friday, June 15, 2018 at the VFW in Sequim WA where he was President of VFW Auxiliary. He was a long team supporter of charities too many to mention. His final gift was the donation of his corneas which gave sight to two women. Continuing his legacy, memorials can be made in his name to St. Joseph's Indian School PO Box 326, Chamberlain, SD 57326.
ODENWELLER, Joseph Daniel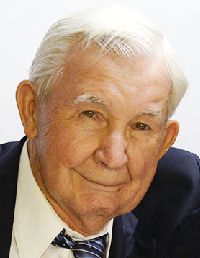 ODENWELLER, Joseph Daniel
91 years old, passed away peacefully on June 8, 2018 at his home. He is survived by his loving wife of 70 years; nine children and numerous grandchildren and great-grandchildren. At the age of 17, Joe enlisted in the Navy during World War II. He served in the 3rd Fleet on the destroyer USS Stockham accompanying the battleship USS Missouri into Tokyo Bay for the surrender by Japan in 1945. After the war, he came home to Michigan where he married the love of his life, Lois. He earned his undergraduate degree at the University of Detroit. He began his career as a chemist while building a large and loving family. He returned to school, studying at night, to earn a law degree at the Detroit College of Law. The Oakland Press (MI) featured a front-page photo of his nine children when he remarkably passed the bar exam while working fulltime as a chemist and being a husband and father. He practiced as a patent attorney until he retired many years later. (nine children, Laura Holochwost (Alan), Linda Perry (David), Joe Odenweller (Fae), Sharon Gillam (Chuck), Mary Roberts (Jack), Rich Odenweller (Kathe), Charles Odenweller, Bob Odenweller (Terri), Jeff Odenweller (John)). Visitation at VISTOSO FUNERAL HOME, 2285 E Rancho Vistoso Blvd Oro Valley, AZ 85755 on Friday, June 15, 2018 from 4:00 p.m. - 6:00 p.m. Services will be held on Saturday, June 16, 2018 at 10:00 a.m. at St Mark the Evangelist Catholic Church, 2727 W Tangerine Rd Oro Valley, AZ. In lieu of flowers, please make donations to St. Jude Children's Hospital.
THURMAN, Darlene
THURMAN, Darlene
died of natural causes on June 11, 2018 in Tucson, Arizona. She was 83. Darlene was born on August 9, 1934 in Kansas City, Kansas to Russell and Edith Wells. She met the love of her life, Mack Ray Thurman, at the tender age of 15, and the two were married two years later on June 21, 1952. The Mack and Darlene moved to Tucson in 1954 where Mack worked for an automobile dealership and Darlene soon began her career in the banking industry by accepting a job as a teller with the Douglas Bank. She retired from the industry in 1991 and enjoyed her remaining years by traveling, cooking, working with her church, watching her grandchildren grow up, and spending every available moment with her soul mate, Mack. Darlene was very accomplished in her career as well as in her personal life. In her career she rose from bank teller to the level of Vice President of a Savings and Loan institution at a time when a woman holding such a position was a rarity. She was an innovator, helping to create a customer service automatic bill payment system called Pay By Phone, which is a predecessor to today's popular online banking and electronic payment systems. For her success, Darlene was recognized in Who's Who of American Business Women, and was hired by the federal government after the collapse of the Savings and Loan industry. She was also an accomplished private pilot, a sailor of 40 foot sailboats, an avid bowler, and above all a loving, dedicated, and supportive wife, mother, and grandmother. Darlene is survived by her husband Mack; her sons and daughters-in-law, James Ray Thurman and Diane DiMiceli, Russell and Patricia Thurman, and Ryan Thurman and Sherri McKinley; seven grandchildren, Chris Thurman, Cheryl Aviles, Carrie Thouvenot, Lia Sweeney, Rusty Thurman, Tyler Roberts, and Mackenzie Roberts, and three great-grandchildren, Milana, Emma, and Griffin. Darlene's life will be Celebrated on Thursday, June 14, 2018 with a gathering of family and friends between 1:00 p.m. and 3:00 p.m. at Bring's Broadway Chapel, 6910 E. Broadway Blvd, followed by a Memorial Service at 3:00 p.m. Burial will be at immediately afterwards at East Lawn Palms Cemetery, 5801 E. Grant Rd, preceded by a graveside service. All are welcome to attend and celebrate Darlene's life. Arrangements by BRING'S BROADWAY CHAPEL.
THURSTON, Charles (Chuck) Wilbur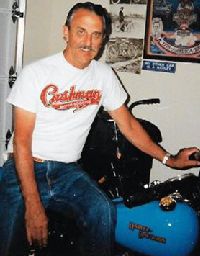 THURSTON, Charles (Chuck) Wilbur
83, of Farmington, NM, passed away Tuesday, May 22, 2018, after a brave battle with cancer. He was born November 5, 1934 in Lynn, Indiana. He is preceded in death by parents Eugene and Ruby Thurston, and sister, Norma Kyle. He is survived by his loving wife of 43 years Rosa Maria Thurston; his sister, Madonna (Don) Toia, and his stepdaughters, Marlene Jacobson, Martha Jacobson, Marjorie (Tom) Fagan, Theresa (Randy) Stevens, and Kathryn Jacobson. He leaves behind six grandchildren and two great-grandchildren, many nieces and nephews, great nieces and nephews, and cousins, and many great friends that he considered to be extended family. A Celebration of Charles "Chuck", "Bo" Thurston's Life will be held at Celebrations Party Spot, 2823 N. Stone Ave. Tucson, AZ on Saturday, June 16, 2018 11:00 a.m. - 1:00 p.m.