In memoriam: Funeral notices, March 26, 2019
Funeral notices for Tuesday, March 26, 2019. For more obituaries go to
legacy.com/obituaries/tucson/
In memoriam: Funeral notices, March 26, 2019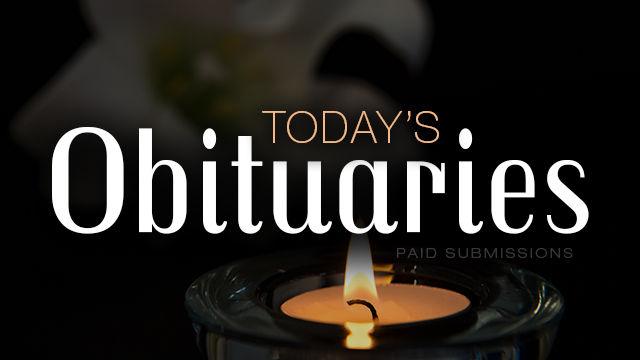 CRAWFORD, Marilee Ann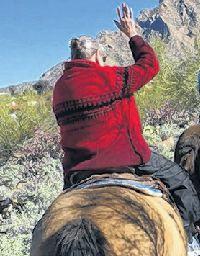 CRAWFORD, Marilee Ann
69, found peace on March 21, 2019 in Tucson, Arizona. She was born October 19, 1949 in Dayton, Ohio to Charles Samuel and Beatrice Maxine Crawford. Marilee is survived by her three daughters and their husbands, Susan Shobe and Keith Delaney, Betsy Shobe and Eric Murphy, and Kathryn Neece and Patrick Neece and her grandchildren, Dahlia Schorr, Willow Schorr, Violet Schorr, Kami Murphy, Adam Murphy, AJ Neece, Alex Neece, Alex Peebles, Andrew Peebles, and great-granddaughter, Ava Murphy, as well as her sister, Leta Miksza-Crawford and her family; sister, Carolyn 'Candy' Glancey and husband, Thomas Glancey; sister-in-law, Cris Crawford and her family. She is preceded in death by her parents, Charles and Beatrice Crawford; her brother, Frederick Charles Crawford and sister, Susan Margaret Crawford. Her various employment was as diverse as her talents and skills. Her passions and volunteer work included singing and playing the banjo and piano, catering, Girl Scouts, camping, cooking over an open fire for guest ranches, as well as creating ethnic costumes from around the world. Her vast knowledge and love of Arizona and it's history was freely shared with family and friends. Marilee was never happier than when she was with her daughters and grandchildren. Her big heart and love of teaching shone through everything she did. Her wandering spirit and love of the outdoors made every trip an adventure and an amazing experience with every bend of the road. A celebration of her life will be held Saturday, March 30, 2019 at 2:00 p.m. at the ANGEL VALLEY FUNERAL HOME in Tucson, AZ. In lieu of flowers, the family requests contributions be made in her honor to the Girl Scouts of America.
DOUGLAS, Mary Ann (Bruhn)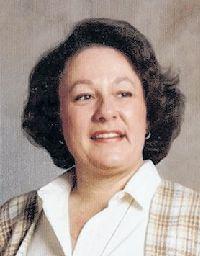 DOUGLAS, Mary Ann (Bruhn)
age 78, formerly of Midland, Texas passed away Friday, March 8, 2019. Born May 9, 1940 in Carlsbad, New Mexico to Ruth and Henry Bruhn, she was the eldest of two children including David Bruhn. Mary Ann was a graduate of Carlsbad High School in 1958. She married Donald "Dugan" Douglas on May 25, 1980 in Eckert, Colorado and they lived in Midland, TX for 32 years before moving to Tucson, Arizona in 2012. While in Midland, Mary Ann was an active member of the local Republican Party. She enjoyed knitting, needlepoint, sewing, fashion, textiles and profuse reading. Mary Ann also enjoyed horseback riding and gardening. She and Dugan enjoyed traveling throughout the country visiting friends and family. Mary Ann is survived by her daughter, Shawn (Armstrong) Edgar; son, Michael Armstrong; grandchildren, Brooke (Armstrong) Prescott, Sean Michael Armstrong and Malcolm Edgar. A Celebration of Mary Ann's life will be held on Wednesday, March 27, 2019 at 3:00 p.m. at EAST LAWN PALMS MORTUARY, 5801 East Grant Road, Tucson, AZ. There will be a reception immediately following the service at East Lawn Palms.
LAWALL, Janice O.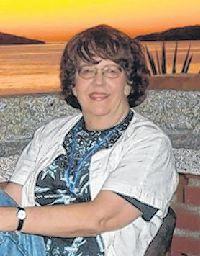 LAWALL, Janice O.
Passed on March 17, 2019 at 77. Survived by daughters, Anne and Gina; stepdaughter, Sara; granddaughters, Emerson and Miriam and sons-in-law, Matthew and David. Jan earned her MSW from the UofA and served as a social worker for over 30 years. Her calming presence made her a trusted confidant to her family and countless friends. Memorial will take place on Saturday, March 30, 2019 at 2:00 p.m. at Trinity Presbyterian Church, Tucson. Donations can be made to Lutheran Social Services of the Southwest: lss-sw.org. Arrangements by DESERT SUNSET FUNERAL HOME.
MORTENSEN, Melven LeRoy Jr.
MORTENSEN, Melven LeRoy Jr.
82, passed away on March 20, 2019 in Tucson, AZ. He proudly served his country in the US Navy and Air Force. He will be remembered as a hard worker, dedicated to supporting his family. He loved trains. He had a strong testimony of the restored Gospel of Jesus Christ. He is survived by his children, Owen (Michaelette) Mortensen, Ruthann (Jeffery) Wiggins and Roseanna (Steven) Williams; eight grandchildren, four great-grandchildren with one on the way. He was preceded in death by his parents, wife, and granddaughter. Services will take place at 3:00 p.m. on Saturday, March 30, 2019 at The Church of Jesus Christ of Latter-day Saints, 105 N. Norton Ave., Tucson, AZ with a Viewing at 2:30 p.m. Burial to follow at Binghampton Cemetery. Arrangements by BRING'S BROADWAY CHAPEL.
RIVERA, Terry Valenzuela 2/22/1929 - 3/19/2019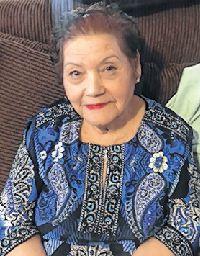 RIVERA, Terry Valenzuela 2/22/1929 - 3/19/2019
Native of Tucson, AZ passed away peacefully at home, surrounded by family on March 19, 2019. She was preceded in death by her parents, Valentine and Inocencia Valenzuela. As well as her granddaughter, Jessica Bojorquez; her nephew, Robert Valenzuela Jr. and her brothers, Ventura, Jesus and Robert Valenzuela. Survived by her children, Richard Rivera (Anabel L.), Joanne Wyatt (Danny W.), Raymond Rivera, Michael Rivera and Rosa Rivera (Danny D.); brother, Valentine Valenzuela Jr. and sisters, Norma (Danny), Isabel Valenzuela, Mary Sanchez (Alex). She will be missed by her 18 grandchildren and numerous great and great- great-grandchildren. She was a very strong, funny and witty soul. She never failed at providing unconditional love. She will be missed and forever in our hearts. Special thanks to her nurse Vera and the rest of the staff at Hospice Family Care for the excellent care and comfort provided for Terry in her final days. Services will be held at 9:30 a.m., Thursday, March 28, 2019 at FUNERARIA DEL ANGEL SOUTH LAWN with reception to follow at same location, 5401 S. Park Ave., Tucson, AZ 85706.