In memoriam: Funeral notices, March 29, 2019
Funeral notices for Friday, March 29, 2019. For more obituaries go to
legacy.com/obituaries/tucson/
In memoriam: Funeral notices, March 29, 2019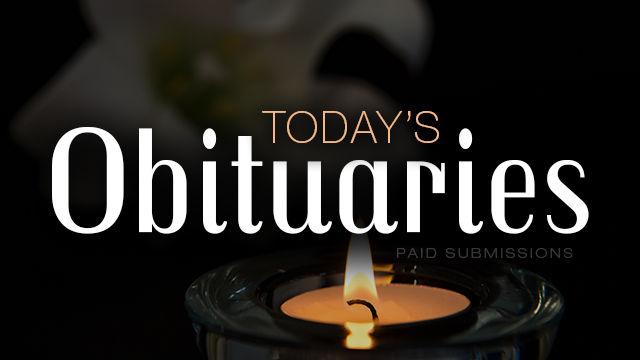 BENTON, Robert Lee, Jr.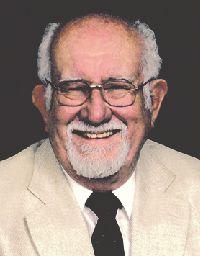 BENTON, Robert Lee, Jr.
went to be with the Lord on Sunday, March 24, 2019. He was born on April 10, 1938, at the Stork's Nest Downtown to Robert Lee and Amelia Tellez Benton. He was preceded in death by his parents and brother, Eugene Alfred Benton. Bobby, as he was known to family and friends, was a descendant of San Agustin del Presidio Soldier Jose Gausinio Telles. He grew up in historic Barrio Anita and was delighted to be part of Borderlands Theater's "Barrio Stories in Barrio Anita." He is survived by his wife, Patricia; daughter, Cristina; sons, Robert Lee, IV (Maria de los Angeles "Marielos"); David (Nadia); and Daniel; four granddaughters, Sabrina, Amada and twins, Amelia and Adelaida; three nephews and numerous cousins and relatives. Bobby had a long, successful career in automobile and commercial truck sales. He started shortly after graduating from Tucson High School in 1957 when he went to work for O'Rielly Chevrolet's parts department, a job that required him to roller skate to fill orders. He worked his way up to sales and went on to work for other dealerships including Mathews Chevrolet, Watson Chevrolet, Bill Breck Dodge, Arizona Truck Center and Vanguard Truck Center. Bobby attended the University of Arizona and was a proud member of the Belmonts, a men's social club during the 1950s and 1960s. He proudly served in the U.S. Army and Reserves during the '60s. His affiliations included the American Legion Post 7, Marine Corps League, Tucson Mexico Sister Cities, Fundacion Mexico, Knights of Columbus, Tucson Presidio Trust and Los Descendientes del Presidio de Tucson. Bobby was an accomplished musician, playing guitar and singing. He recorded four albums. He considered his talents as a musician, especially his voice, to be a gift from God and to give thanks he started a music ministry, playing with a group of friends at Holy Family Catholic Church, St. Margaret's Catholic Church, San Cosme Chapel and Santa Cruz Catholic Church. The only thing that surpassed his passion for music was his love for his family and many friends, ties nurtured by his gregarious personality and love of life. He always looked forward to the many gatherings with his friends from John Springs Junior High, Tucson High School and Jim and Loma Griffith's Club Pimalteo Fiestas . Visitation is Sunday, March 31, 2019 from 5:00 p.m. - 9:00 p.m. at CARRILLO'S TUCSON MORTUARY, 204 S. Stone Ave., with a Rosary at 7:00 p.m. Funeral Mass is Monday, April 1, 2019 at 10:30 a.m., at St. Augustine Cathedral, 192 S. Stone Ave. In lieu of flowers, donations may be made to the churches he played at or Los Descendientes del Presidio de Tucson or The Presidio Trust for Historic Preservation.
FLORES, Nacho
FLORES, Nacho
After a long illness my beloved husband passed peacefully away March 24, 2019. He leaves behind a beautiful, loving family and many friends. We know he is joyfully resting in heaven.
LeCLAIR, Darlene Louise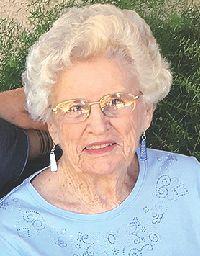 LeCLAIR, Darlene Louise
A desert artisan who practiced the old crafts of family nurturer, community builder, faithful wife, and landscape painter. Darlene always told her children "If something is worth doing, it is worth doing right." and that is exactly how she lived her full life. On the night of March 27, 2019, with almost 88 years non-stop energy, Darlene went home to be reunited with William James LeClair, her loving husband of 57 years. Everyone who knew Darlene recognized her unending graciousness and wisdom. A military wife, who eventually settled in the Tucson area, Darlene found unlimited joy in the family and community she so suddenly leaves behind. She is survived by her two sons, Steve and Bruce and her daughter, Carla. She is also survived by her four granddaughters, and two grandsons, as well as three great-granddaughters. Darlene will be dearly missed by all who knew and loved her. A Celebration of her life will be held on Saturday, March 30, 2019, at 2:30 p.m. at the American Legion Post 109 in Corona De Tucson, AZ. In lieu of flowers, please make donations to Corona Cares and Youth on Their Own, Vail School District.
MOLINAR, Magdalena Yanez "Helen"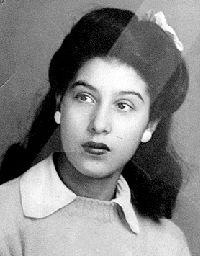 MOLINAR, Magdalena Yanez "Helen"
With heavy heart, I would like to inform you, that mom has passed away Sunday, March 24, 2019 in Tucson, AZ. MOM has joined my Father, Benjamin Saiz Molinar and added to Heaven's Glory. She graced the Earth on March 20, 1929 in Otis, Eddy county, New Mexico, her parents were Victoriana Baeza Dominguez de Yanez and Pablo Sanchez Yanez, both born in Texas. Her Grandparents were, Maria Heredia Baeza de Dominguez, Yrineo Acosta Dominguez, Eligia Sanchez and Justo Ruis Yanez, all born in Texas. She was educated in Carlsbad, New Mexico and became a Nurse at St. Francis Hospital in Carlsbad. Preceded in death: her husband, parents, grandparents, her siblings, Marcela Dominguez Yanez, Maria Yanez de Rodriguez, Justo Dominguez Yanez, Francisco Dominguez Yanez (Kiko), Michelle Dominguez Yanez de Methola (Mickie) and her beautiful granddaughter, Melissa Ernestina Fuentes. My Father and Mother built and designed their first house, when they were 22 in Carlsbad, New Mexico and every house, after that. After my Mother brought up her children, she would take classes at Pima Community College. She became the Family historian: meeting with Family members for decades in different states, just to obtain the information for her Family Books. She organized a Yanez Family reunion which 1000 relatives were invited, in Carlsbad, New Mexico. Mom discovered Family trees that were from the Canary Islands, that brought our ancestors to Nueva Espana. To her surprise one of her/our Great-grandfather's governed the Canary Islands, Domingo Gonzales per King Ferdinand and Queen Isabella appointment. Books have been written about our ancestors such as: Captain Gasper de Vera, General Pedro de Vera, etc... Our Ancestors were part of the Spanish Inquisition, our Families that belonged to Portugal, Valladolid, Spain, La Mancha, Spain, etc... As remarkable of an historian she was, she enjoyed taking swabs of the family members mouths for DNA testing back decades ago, before it became popular. My Mother's work can be seen in Ancestry.com. Mom loved singing in the Choir at Sacred Heart Church, while my Father was an usher for decades. Her devotion to her faith was awe inspiring and devotion to Family Poetic. She may have left this world but her mark will never be forgotten. With the Sun behind your eyes and warmth in your heart. You have blessed me and I will always love you, Darling Mom. Mom's wake will be held at MARTINEZ FUNERAL CHAPELS (2580 S. 6th Ave.) Saturday, March 30, 2019, at 8:00 a.m., with Rosary and Mass to be held at Sacred Heart Church (601 E. Fort Lowell Rd.) and burial at South Lawn Cemetery at noon (5401 S. Park Ave.)
VERONICK, Mary "Fern"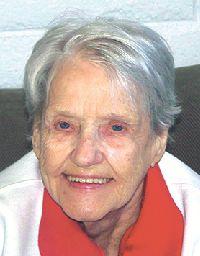 VERONICK, Mary "Fern"
Sweet Mary "Fern" Veronick, age 92, passed away on March 27, 2019 in Tucson, AZ. Born in McKeesport, PA, she is the daughter of Anna (Kelecava) Seeley and William Russell Seeley. She is preceded in death by her parents, her brother, Dennis, two husbands, Domenic Panepinto and George Veronick, and her son, Thomas Panepinto. She is survived by her daughter, Debbie Lloyd (William), three grandchildren, Eboni Lloyd, Tommy Panepinto and Kristy Nicholson, four great-grandchildren, one great-great-grandchild, cousins, nieces and nephews. Fern was quite active in her earlier years, married and raising two children, she found time to attend church and perform many volunteer activities. She was an Assistant Catechism Teacher, Leader of Boy Scout and Brownie Troops, Civil Defense Leader, and Bowling League Treasurer. Paid employment included a Candy Maker, Defense work in WW2, and Banquet Server. She is fondly remembered for being the life of the party, her homemade baked goods, her gentle and fun nature with children and her sense of humor; her laughter was infectious. We appreciate her many contributions and hope to see her again one day. She will be sorely missed. Viewing and ceremony to be held at BRING'S BROADWAY CHAPEL with viewing on Sunday, March 31, 2019 from 2:00 p.m. - 4:00 p.m: ceremony will be at 11:00 a.m. Monday, April 1, 2019. Graveside services will follow at East Lawn Palms Cemetery, Grant Road. In lieu of flowers, Fern would ask you to please read to a child or donate a children's book to the local public library.