Funeral notices for Thursday, May 17, 2018. For more obituaries go to
legacy.com/obituaries/tucson/
In memoriam: Funeral notices, May 17, 2018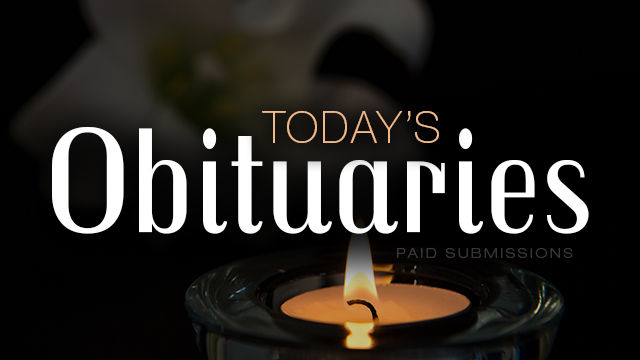 AGUILAR, Albert Brichta 5/17/1965-10/08/2012
AGUILAR, Albert Brichta
5/17/1965-10/08/2012
It will be 6 years since we have lost Al! You remain on our mind and in our hearts!
Happy 53rd Birthday, Al! Rudy, Lorraine, Jacob, Mel, Peyton and Family
NOON, Carol Ann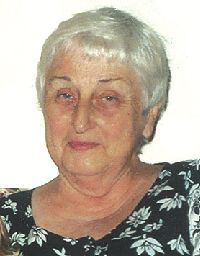 NOON, Carol Ann
77, passed away May 3, 2018. Carol is survived by her husband of 56 years, Larry; daughter, Cindy (Mike) Davis; grandson, Ben; sister, Lynn (David) Crobbe; many beloved nieces, nephews, cousins and friends. She was always active at her church and Cindy's school, and, later on, Ben's school, helping out wherever she could. A Memorial Service will be held at Faith Lutheran Church, 3925 E. 5th St., Tucson, AZ, Friday, May 18, 2018 at 1:00 p.m. In lieu of flowers, donations may be made to Faith Lutheran Church and School. Arrangements by ADAIR FUNERAL HOMES, Dodge Chapel.
REYMER, Virginia Ann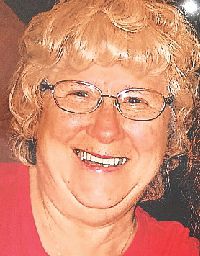 REYMER, Virginia Ann  
Virginia was received into the hands of her  Heavenly Father on  May 7,  2018.  She was welcomed into heaven by her father, Allen Woodrow Stonnell and her mother, Dorothy Pearl Ayers; her dearly loved husbands, Alfred Walter Steinat, John Edward Stout, and Richard Wilson Reymer; her sons, John Eric Stout and Rick Reymer and her grandson, John Kevin Colman Reed McDaniel.  Gee-Gee as she was known by her family and friends, was born on July 7, 1938 in Washington  D.C.  She grew up in Georgetown and made her homes along the Potomac in  Maryland  while raising her children. She later moved her home to Tucson,  Arizona where she enjoyed the company of her many church friends and "family". She relocated to Winter Garden,  Florida to valiantly fight the end stages of neuroendocrine cancer.  Gee-Gee will be mourned by her children, Carolyn Steinat of  Brunswick,  Ga. , Laurence Steinat (Julia) of Elizabethton, TN; Patricia Mink of Crownsville, MD; Robert Steinat (Susan) of Greenville, SC; Susan Breding (Robert Todd) of Winter Garden, FL; Ernie Reymer (Kathy) of Callao, VA; Debra Reymer of Smithfield, VA; Randall Reymer of Jacksonville, FL; Sherry Miller (Bryan) of Smithfield, VA; and many grandchildren and great-grandchildren. Gee-Gee loved Mickey and all things Disney, She loved to travel and a cruise was her favored mode of vacationing. She was a true and faithful servant of Christ and lived her life to His glory. Her presence will be missed by many who love her. A Celebration of Life will be held at Streams in the Desert Lutheran Church in Tucson, on Sunday, May 27, 2018 at 2:00 p.m. with reception to follow. Additional services will be held Friday,  July 6, 2018  at  Grace  Lutheran Church in Bowie,  Maryland  followed by interment in Fort Lincoln Cemetery in Bladensburg, Maryland. Arrangements by BERGEN FUNERAL SERVICES.
SCHMIDT, Walter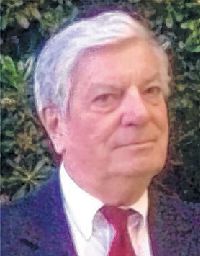 SCHMIDT, Walter
The family of Walter Dennin Schmidt are saddened to announce his passing on Wednesday, May 2, 2018 in Tucson, Arizona. Walter was born to Louis and Hellen on October 29, 1937 in Englewood, New Jersey. In 1961 he married Arleen Capitani in Tenafly, New Jersey. They resided and raised their children in Woodcliff Lake, New Jersey until his retirement from a family owned bus company. In 1989, they relocated to Tucson, Arizona. Arleen prematurely passed in 1997. Walter was fortunate to once again find love with Christine Herreras. They were devoted to each other for 20 years and were married for 11. He leaves Christine; his son, Ronald and daughter, Linda and Chris' loving daughters, Andrea and Michelle along with eight grandchildren, Dennin, Nicole, Donald, Hunter, Derek, Esai, Dana and Cabri. He was a loving husband, father, and grandfather. He is sorely missed. Funeral Services will be held at 9:00 a.m. on Thursday, May 17, 2018 at Most Holy Trinity Parish, 1300 N. Greasewood Road. Tucson AZ 85745) with a graveside service to follow at South Lawn Cemetery, 5401 S Park Ave. Tucson AZ 85706. Arrangements by FUNERARIA DEL ANGEL SOUTH LAWN.