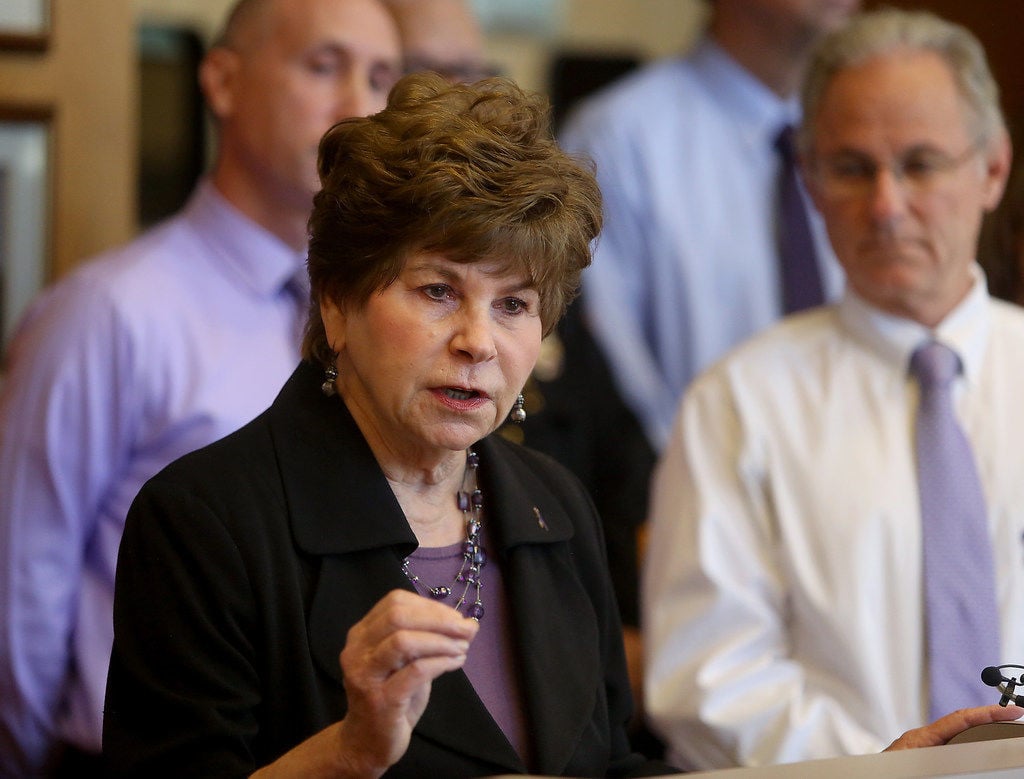 In response to an online campaign, Pima County Attorney Barbara LaWall sent a letter to the American Civil Liberties Union of Arizona asking that it "cease and desist from disseminating a misleading solicitation."
The ACLU was "dumbfounded" by the letter, which it found to be without "legal merit," a spokesman told the Star.
Earlier this month, the civil-rights group urged people to contact LaWall and ask her to withdraw her support for House Bill 2241, which would increase penalties for people convicted of several crimes involving certain opiates, including heroin and fentanyl.
"This is a dangerous bill that will force Arizonans suffering from drug addiction into prisons for years without treatment," a March 19 ACLU of Arizona Facebook post reads. "Take action now and tell Barbara LaWall to publicly withdraw her support for HB 2241!"
It is the claim that the bill would result in addicts spending years in prison that LaWall objected to, as well as the suggestion that she supports "putting those suffering from addiction in prison."
"This is simply untrue," reads the letter, which the Star obtained through a public-records request. "I have always been a strong advocate and a provider of treatment and prevention for persons suffering from addiction.
Steve Kilar, a spokesman for the ACLU, said his office felt the letter was in part meant to intimidate the organization. The ACLU has not modified the campaign and has not done anything else in response to the letter.
"Outside of our legal interpretation of the letter, the way that we perceived it is as the county attorney exploiting her position of power to attempt to prevent an advocacy organization from informing voter and taxpayers generally about how broken our criminal justice system is," he said.
County attorney spokeswoman Amelia Cramer said she was surprised to hear the letter was viewed as an attempt to intimidate, and pointed out that LaWall's request had to do with claims she felt were untrue or misleading, not with the campaign in general.
As evidence of her commitment to treating addicts, LaWall cited her establishment of the county's first drug court two decades ago, as well as her office's Drug Treatment Alternative to Prison program, which allows some people convicted of drug crimes to go to residential treatment instead of prison.
In the five years after its 2011 founding, the alternative program has had 139 participants, according to a report prepared by University of Arizona researchers. Cramer said the office has sought federal grants to support other non-prison alternatives and also has a new diversion program that can help addicts avoid prosecution altogether.
LaWall "has gone out of her way" to support such efforts, Cramer said.
In her letter, LaWall pointed out that HB 2241, whose prospects for passage look poor, only increases punishment for traffickers, dealers and manufacturers of heroin, fentanyl and similar drugs "who flood our community with the deadly poisons of fentanyl, carfentanyl and heroin." Individual users would not be impacted, she argued.
Opiates played a role in a majority of the 263 overdose deaths in Pima County in 2016, the Star previously reported.
Pima County Public Defender Joel Feinman said there's often not such a clean distinction between addicts and dealers, who sometimes sell to support habits.
"If it becomes law, that means anyone convicted of selling or trafficking any amount of heroin, fentanyl or related substances has to go to prison for a minimum of five years," said Feinman, who ran against LaWall in 2016. "It's completely counter to the prevailing wisdom, which is that small-scale drug users and people who support their habit through small-scale sales should be given treatment and probation and not mandatory prison."
Kilar said the ACLU had a similar interpretation of the bill.
Statistics gathered by Feinman's office in recent months and reviewed by the Star show that some people charged with possession for sale were found with small amounts of drugs, including one defendant who had just over one-tenth of a gram of heroin. Others were found with much more substantial amounts, including one case from last fall involving nearly 75 grams, about 2½ ounces, of heroin.
During a January hearing on the bill, several representatives raised similar concerns. State Rep. Daniel Hernandez Jr., D-Tucson, asked Yavapai County Attorney Sheila Polk, who testified in support of the measure, if there were threshold quantities that distinguished between possession for use and possession for sale. Polk said there were none.
"There's not even a minimum threshold for the substances that are covered," said state Rep. Kirsten Engel, D-Tucson. "What I see is that we are potentially locking up a lot more people at great expense to the Arizona public where they aren't getting any treatment."
Explaining his vote in support of the bill, state Rep. Mark Finchem, R-Oro Valley, said: "I don't care how much one person hands off to another. If somebody is selling dope to my kid, I want them in prison."
Cramer said that if something like HB 2241 were to become law, her office would still be able to offer programs like the alternative program to prison to addicts selling small amounts of drugs, thus avoiding the lengthy mandatory sentences included in the law.
However, the bill's fortunes seem dim. It was scheduled for a hearing in the Senate in late February, but no action was taken. The last day to hear House bills in Senate committees was Friday, according to the Legislature's website.
Asked if the county attorney was contemplating legal action against the ACLU if it did not comply with the request of the letter, Cramer said she didn't know if that was LaWall's intent. LaWall was unavailable for comment Monday because of travel, according to Cramer.