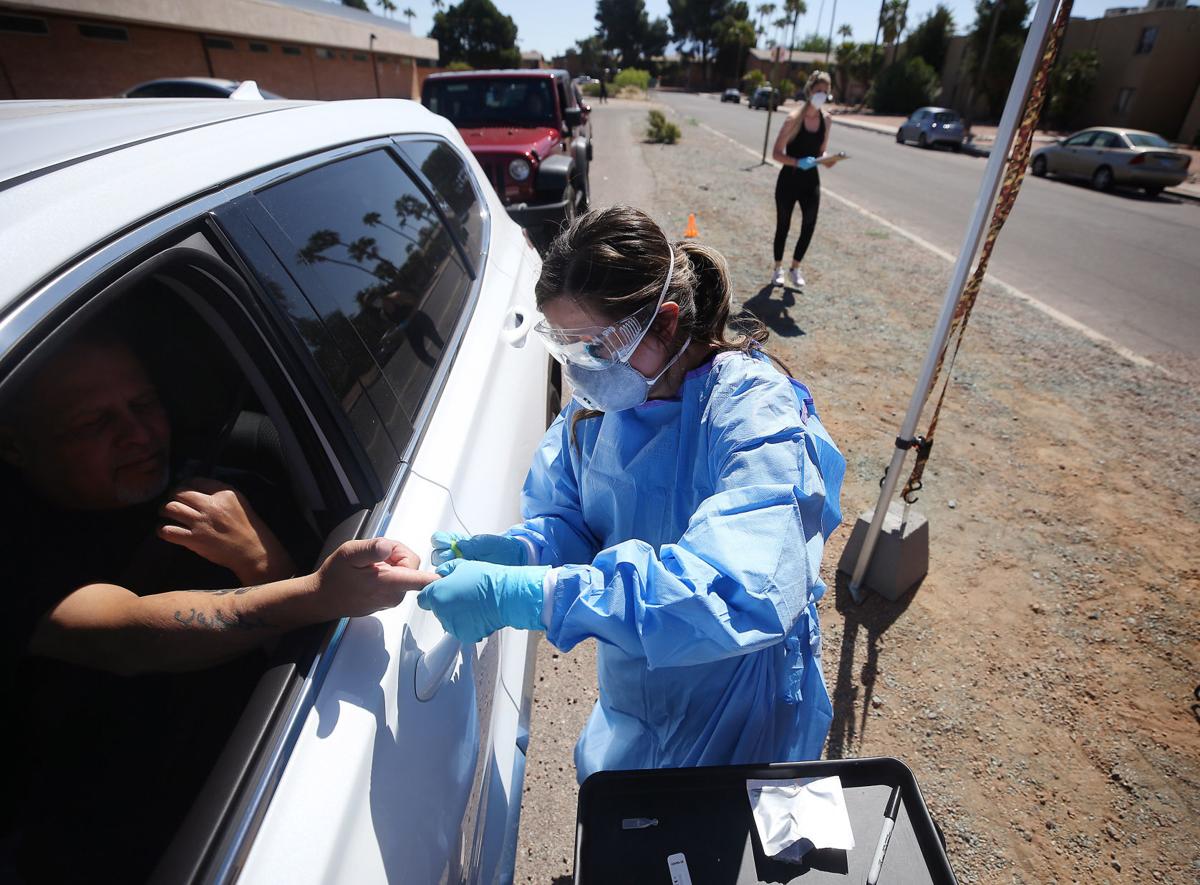 Barbara Schork had a mild sore throat and a persistent dry cough.
Concerned her age might put her at risk for complications from the coronavirus, the retired health-care data analyst jumped at the chance to participate in a statewide "testing blitz" to diagnose the spread of the virus.
On the first Saturday in May, she arrived at an east-side Walgreens, registration email in tow. She was on her way home 20 minutes later, barely having rolled down the windows of her car.
She was notified she was negative less than 24 hours later. She gained what she was after: peace of mind.
"I thought it was handled very well," Schork said. "I live alone so there's nobody else in the house to worry about me — except my dogs."
Despite the relative ease of her experience, Schork was one of just about 1,300 Pima County residents — and about 15,000 statewide — who took part in the testing blitz through its first two weeks.
At least in Pima County, those small numbers were caused by a number of factors, including continued difficulties securing test kits, a lack of equity of test site locations, and remaining limitations of who can get tested, according to local officials, who said at least some of those issues are being addressed from week to week.
Those concerns were coupled with the fact that the "state rolled this out with zero notice" to local health departments, according to Francisco Garcia, Pima County's chief medical officer. A lot of the operators doing the testing "were caught by surprise" when the blitz was announced last month, he added.
"I want them to prove me wrong. I want them to be successful. I want as many people who require testing to be tested because I think that's a good thing, and I think that gives us a better and better understanding of how that plays out in the community," Garcia said of the initiative. "This is being orchestrated at the state without a whole lot of local input, which is fine as long as they get it done."
During a news conference last week, Ducey acknowledged that the testing blitz has fallen short of projections but said that the "framework' of the testing is helping gauge the outbreak, by prioritizing testing in places like jails and long-term nursing homes and for first responders and front-line health workers.
The state health department announced Friday that the testing blitz has been extended another two Saturdays through the end of the month.
"In some other states what they are saying is if you are in doubt, come get a test. Over the course of time we will be able to open that up as well," Ducey said. "What that would not give us is an accurate reading on where we are in terms of contraction of COVID-19."
Public-health experts have maintained that widespread testing is a positive development, but that it's only one piece of the puzzle to trace the spread of the outbreak throughout the state.
But the results of the testing blitz have been used by Ducey as a justification for lifting Arizona's coronavirus restrictions. He pointed to the positive test rate, which has dipped since the state began increasing its testing this month, to about 6% statewide and 3% in Pima County.
"That's what you need. That is a good trajectory," he said. "More people are being tested with a lower percentage testing positive for COVID-19."
"Arizona is headed in the right direction," Ducey said, adding that the state is also "prepared if things were to turn for the worse."
"Not been a blitz"
After the first day of the testing blitz, Pima County administrator Chuck Huckelberry diplomatically called the outcome "not as anticipated" during a meeting of the county's Board of Supervisors.
A total of 588 people were tested at five sites across Pima County.
A week later, despite adding a handful of new sites, that number jumped to only 735.
"My experience with the blitz is it has not been a blitz," Huckelberry told the Star last week, adding that the county does not meet the definition of "widely available testing."
He said that has forced the county to focus on "where the virus is and sick people" by testing people who have symptoms.
"The reason we prefer to test those who have at least one symptom is it's likely we would catch more people who have an active case of the virus and catch them early," Huckelberry said.
The numbers were not much better at the state level. More than 5,400 polymerase chain reaction, or PCR diagnostic tests, were conducted on the first Saturday, and about 9,750 were administered on the second Saturday, although that latter number is likely to increase as results continue to trickle in.
Despite the low numbers, Dr. Cara Christ, the state's health director, said any increase in testing is a positive — a trend they have seen this month.
"That very first week after we announced the Arizona testing blitz we had 20,000 PCRs reported that week, and this past week we have over 30,000 PCRs. We before that were averaging about 11,000 or 12,000 a week, so this has been successful," she said, adding that the increased number of testing blitz sites is also a positive.
For Garcia, he has said that the county has had to work to alleviate some of the issues it has seen. The county has continued to push its test-kit contractors to provide more tests. The number of test sites rose to 14 Saturday with the additon of three new drive-thru CVS sites.
Heading into Saturday, the county had the capability of conducting more than 3,000 tests across its sites, all spread throughout Tucson, according to a local Health Department Facebook post.
Anyone who thinks they might have been exposed to the virus can get tested during the blitz, depending on each testing site's criteria. Normally the criteria to get tested is much more stringent.
The state provided 600 tests to Pima County, Garcia said, but those tests have been prioritized to high-risk places of outbreak, such long-term-care facilities, where the county is seeing more than half of its recorded deaths.
"I don't know whether to characterize it as disappointment," Garcia sad. "I just think that the level of testing is inadequate."
City weighs joining testing game
One solution to the problem of testing availability in the region could be decided during a City Council meeting this week.
Tucson Vice Mayor Paul Cunningham has crafted a plan that would allow the city, which does not currently administer its own tests, to provide roughly 1,000 diagnostic tests and 1,000 antibody tests a day at sites throughout the city.
He is hoping to eventually have sites up and running in each of the city's six wards, as well as another site at the Tucson Convention Center. The tests, first prioritized for city employees and first responders and then opened to the public, would start around Memorial Day and be fully operational at all sites by June.
The plan also includes an effort to do thorough data gathering to identify outbreaks, as well as two additional phases at a later time, one that would include partnering with local providers to accumulate 500 samples of convalescent plasma to treat patients who are ill.
"In speaking with health-care professionals, people around the county, different people around the country … the only consensus that has seemed to shine through is we need more testing," said Cunningham, who outlined the plan in a memo that will be discussed during Tuesday's council meeting.
Cunningham's plan is to use money from the CARES Act, of which the city received $95 million and has acknowledged is limited in its use. He said he has spoken with providers and suppliers to get an estimate on how much his plan would cost, and that he estimates the maximum would be about 2% to 3% of that CARES Act money — or roughly $2 million to $3 million.
Asked if restrictions on using that money put the reimbursement in doubt, Cunningham said he is confident that will not be an issue.
"I wouldn't be doing this if I didn't think we would be reimbursed," he said.
One councilman has already expressed concern about the plan, saying the city should leave it to the county, state and local hospitals and health-care providers.
"It's fine to use CARES money to fund their efforts and help them ramp up, but the city has no business and no expertise in starting our own testing campaign," said Councilman Steve Kozachik. "We need to stay in our lane, focus on things that are within our authority and let the experts manage the testing. There are a ton of logistics that we don't have the capacity to pull off."
Asked about duplicating efforts by the county and the state, Cunningham said that he hopes the efforts work hand in hand with the county, with the city filling in the blanks.
"They're going to do what they do," he said. "There is a void for universal emergency testing. I think it's up to the city to fill the void."
County officials said they welcome any type of additional testing but cautioned what might actually come from that effort.
For Garcia, he said the diagnostic tests present only a "snapshot in time," while there are still some unknowns to antibody testing, including how long people are protected from again contracting the virus.
The desire to do antibody testing seems like a great idea off the bat," he said. "We really don't have a strong medical basis on which to say yes, you really are protected for a period of time. It gives you some important information, but it's not a panacea."
He also expressed caution that the testing could provide a "false sense of security."
"Anything that improves testing coverage is a good thing, and we're certainly enthusiastic about it, but we sort of caution what it is you are really getting from that in terms of self-assurance," Garcia said.
Contact reporter Justin Sayers at jsayers1@tucson.com or 573-4192. Twitter: @_JustinSayers. Facebook: JustinSSayers.
Concerned about COVID-19?
Sign up now to get the most recent coronavirus headlines and other important local and national news sent to your email inbox daily.