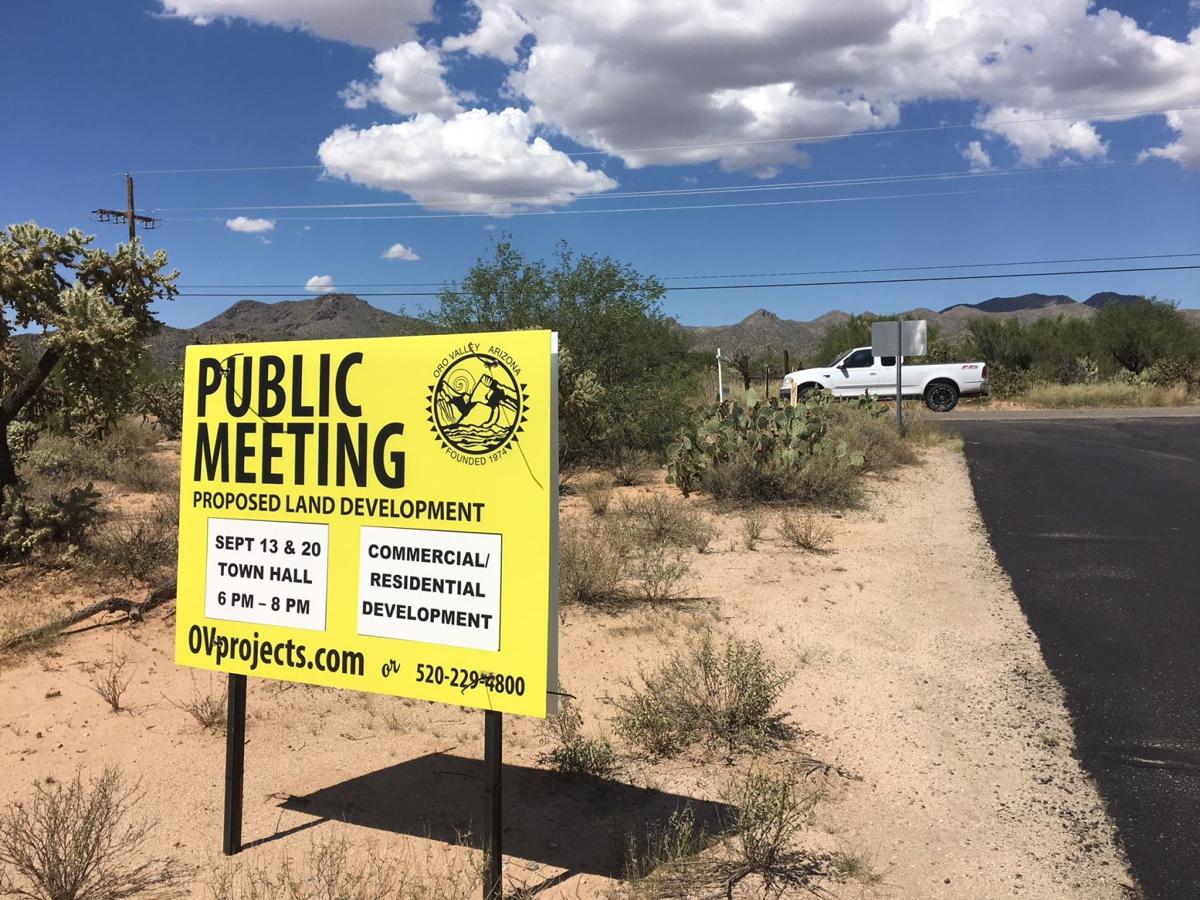 The move comes amid rumors that the state department was shopping the parcel to nearby Marana after discussions with Oro Valley were tabled earlier this year. It has also reignited neighbor and environmentalist concerns regarding the land, which is located in a special species management area in unincorporated Pima County.
The Arizona State Land Department notified Oro Valley of their intention to resume negotiations in a Sept. 23 letter – four months after discussions were put on hold to "focus on other priority work" amid a staffing shortage.
"Unfortunately, because ASLD's pause on this project coincided with public notices with Marana's 10-year general plan update, certain neighbors and others within the community have jumped to the conclusion that ASLD has engaged with Marana on the 885 Property. This is absolutely not the case," wrote Wesley Muehl, state lands director of strategic projects, in the letter, which was obtained by the Star.
"As detailed in my last letter, ASLD has an acute staffing issue. Both of the ASLD planning project managers who were responsible for our Southern Arizona projects left the department in June this summer. … Neither of those positions has been filled as of today," he said.
Muehl told the Star in a phone call that they're aiming to resume negotiations with Oro Valley in mid-November after completing a pair of annexations of a total 3,000 acres to Tucson near Houghton Road.
"We've kind of hit the pause button on Oro Valley," he said. "We're hoping to get through the Tucson effort and then resume talks with Oro Valley."
He emphasized that he's "had zero discussions with Marana" and blamed the rumors on "fear of the neighbors."
"I understand they do have a fear that they thought perhaps we weren't happy with how it was going or something, and that we were going to shift to Marana," he said. "That's simply not the case."
Marana Mayor Ed Honea confirmed the town has never had discussions with state lands regarding the property. He added that Oro Valley is "better situated to provide services to that area."
"Despite the property designation as special planning area within the Town of Marana's General Plan, it would be challenging for Marana to provide the water needed for development," Honea said in a statement.
The recent developments are yet another twist in what's been a decadelong attempt to annex the land to Oro Valley. The land includes about 316 acres north of Tangerine Road, between Thornydale, Moore and Shannon Roads, and 519 acres south of Tangerine Road to Camino del Norte.
For Oro Valley, the land — dubbed the 885 Property — is viewed as being in a natural growth area for a town that is historically a "patchwork of annexation," said town manager Mary Jacobs.
The parcel would represent the largest annexation in many years in the town, which is currently estimated to have a current buildout of town-owned land between 85% and 90%.
"That's how this community has come into being – through strategic annexations of both developed and undeveloped lands," Jacobs said. "This has been on the radar screen for a long time."
Discussions regarding annexation reached the point where the two sides received state approval to begin the formal process in mid-2018 after Oro Valley amended its general plan to include the property. State lands submitted its specific plan for feedback to the town later in 2018, opening the process up to public comment.
Neighbors' concerns specifically targeted development, as the proposal stated that a maximum of 3,182 units could be held on the property, a mixture of residential, commercial and office spaces.
That especially concerned environmentalists. Under Pima County's conservation plan, 100% of the 885 acres is under the special species management area overlay.
Sensitive species in the area include large saguaro cactuses, Ironwood and Palo Verde trees. It also includes washes as part of the Tortolita Fan that drains off the Tortolita Mountains.
The proposal set forth by the state lands department was "way off base from what needs to be done," said Carolyn Campbell, executive director of the Southern Arizona Desert Coalition. She vowed to continue to push back, unless it's amended.
"What they had proposed over there would have destroyed a critical piece of the Tortolita Fan," she said. "If they go back to Oro Valley, our concerns are the same. They're annihilating a really important piece of property. And a really big one."
Jacobs said any pushback is "certainly their right" but pointed to efforts from the town, including conducting a biological evaluation for the area.
She cautioned that it's still early in the annexation and development process.
There are several steps required before the land goes up for a state-required auction, including renewing approval to annex the property, which has since expired.
State lands also has yet to respond to the formal comments submitted to the town after the initial proposal.
But Jacobs emphasized that environmental concerns are going to be a part of the process.
"It's just something we're going to have work with the property owner on as we would with any other development," she said.
Further complicating issues during the annexation process was the change-over in council, when four new member of the town council, including the mayor, took over after the 2018 election.
Muehl acknowledged that the "town's desires have shifted," regarding the annexation.
"I'm not sure the extent of that shift," he said. "I think the new members are coming in and learning new processes and forming their opinions on what things should be. ... I don't think that anyone has arrived at any conclusions at this point."
Jacobs said the new council is very interested in land acquisition and pointed to Oro Valley Mayor Joe Winfield's comments during his recent State of the Town address.
Winfield said he's directed Jacobs and her staff to create an "annexation blueprint" to guide the town's growth and economic expansion. He added that the town takes several factors into consideration when annexing, including maintaining and enhancing "the character of our community."
"As a landscape architect, I am keenly aware of the importance of purposeful development. The Catalina Mountains are part of our identity," he said. "So it is important for our development philosophy — both commercial and residential — to be well-designed, practical and sustainable to help maintain that identity while continuing our quality of life."
Contact reporter Justin Sayers at jsayers1@tucson.com or 573-4192. Twitter: @_JustinSayers. Facebook: JustinSSayers.