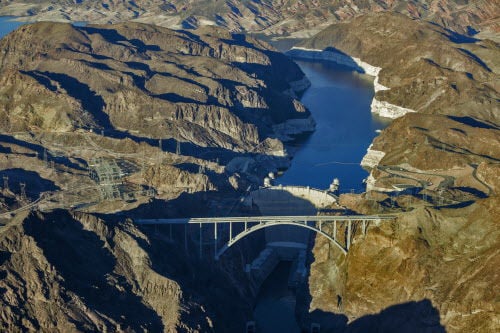 The Colorado River — Tucson's drinking water supply — carries nearly 20 percent less water than in 2000. Bark beetles are chomping away at our forests and killing off ponderosa pines. Wildfires are rapidly growing in intensity.
These problems have been linked to a drought that has stretched 19 years with no respite.
Now, a team of researchers concludes that the ongoing drought across the western U.S. rivals most past "megadroughts" dating as far back as 800 A.D. — and that this region is currently in a megadrought.
Using tree ring data as a proxy for drought conditions, the researchers say the current drought ranks fourth worst among comparable 19-year periods of megadroughts of the past 1,200 years.
A significant factor in this ranking is global warming triggered by human-caused climate change, says Park Williams, the study's lead author and an associate research professor at Columbia University's Lamont-Doherty Earth Observatory.
"The drought severity of the last 19 years is almost as bad as the worst 19-year period of the worst megadrought. It indicates that it's very important that we develop more sustainable ways of dealing with water and allocating water across the western U.S.," Williams said in a blog posted by Columbia's Earth Institute.
Williams presented the findings at the annual American Geophysical Union conference in Washington, D.C. in December. The study hasn't been peer-reviewed or published. But it's common for researchers to discuss ongoing studies at conferences.
The idea that this drought is among the worst compared to past megadroughts draws support from other researchers. There's disagreement, however, as to whether the West is actually in a megadrought now.
It's going to take more drought years before researchers Connie Woodhouse of the University of Arizona and Toby Ault of Cornell University — who also have studied megadroughts — are willing to use that term this go-around.
Ault's threshold for a megadrought is 35 years, although he acknowledges that many researchers use 20 years. Woodhouse, a tree ring researcher who co-authored a pioneering study on megadroughts 20 years ago, said she hasn't used a specific period to define megadroughts but that this drought hasn't lasted long enough to qualify.
"The definition of megadrought technically is open to debate," Jonathan Overpeck recently told The Atlantic in an article on Williams' study. Overpeck is a University of Michigan climate scientist who formerly ran UA's Institute for the Environment.
"The drought in the Southwest is right on the cusp of technically being a megadrought," said Overpeck, who co-authored the 1998 study with Woodhouse and gets credit from her for coining the term.
Tree rings tell the story
Williams' study uses tree ring records to reconstruct the amount of moisture found in the region's soils.
"Because of a huge abundance of drought-sensitive, tree ring records across North America, we're reconstructing drought very accurately even back to 800," Williams told the December conference.
"Trees grow annual tree rings every year. During years of really good growth the ring is wide, and during years of bad growth the ring is narrow. And so in dry places where trees are struggling during the driest years, then droughts are preserved in the tree ring records as clusters of narrow rings," Williams told Scientific American in an interview about his megadrought research.
"In western North America, we're really lucky that we have tree ring records from across the continent, and at a really high density — there's more tree ring records in this small area than any other area in the world," he told the magazine. "Many of them have preserved records of drought within them with extremely high fidelity."
The very worst known megadrought in the West occurred in the late 1500s, the second worst in the middle 1100s and the third worst in the late 800s, said Sarah Fecht, an editor for Columbia's Earth Institute who wrote the post on Williams' study.
One difference between this drought and most past megadroughts is that this one's effects have been spread over the entire West, whereas the earlier droughts were more heavily concentrated in parts of the region, Williams told the conference.
Not a lot of places in the West are experiencing their worst droughts on record today, "but instead, a lot of places are experiencing pretty severe droughts," Williams said.
Today's drought pattern could have the fingerprints of human-caused climate change, he said. By using computer-based climate models, the Columbia researchers calculated that climate change has made the current drought 38 percent more severe.
"Megadroughts are staples of western North American climate," Williams told the conference. "The current drought would have been occurring anyway without global warming, but by our calculations the current drought would have ranked eighth or ninth without global warming."
Williams didn't elaborate on how global warming is making the current drought's impacts so severe.
But typically, warmer weather aggravates drought conditions by increasing evaporation; by melting snowpack faster, thus decreasing river runoff; and by causing precipitation that used to fall as snow to now fall as rain, said UA's Woodhouse.
Fourth-worst megadrought?
Up to four megadroughts lasting at least 35 years have struck the Southwest in the past 1,000 years, Ault said last spring at a conference at UA. He's an assistant professor of earth and atmospheric sciences at Cornell University who got his doctorate at the UA.
Past megadroughts are suspected of helping trigger the collapse of major civilizations, including the Anasazi on the Colorado Plateau, Cambodia's Khmer empire, the Mayan empire, China's Yuan dynasty and Bolivia's Tiwanaku, capital of a dominant pre-Inca civilization between 500 and 900 AD, Ault said.
A decade ago, Woodhouse and another UA researcher, David Meko, used tree rings to reconstruct Colorado River flows back to the year 762. They found that in the 1100s, there was a six-decade period of almost continuous, below average flows.
Today, "we haven't seen anything quite like that yet," said Woodhouse, who also is a geography and development professor.
She agreed, however, that based on Williams' research and his definition of a megadrought, "it looks like you could call this drought the fourth worst."
Ault essentially agreed, saying, "If you look at the last 19 years and you say 'whoa boy, we've been in drought for 19 years', and you back go through tree ring reconstruction, this might be one of the worst."
He said that in the Southwest, there have been at least three and maybe six megadroughts since 850 that have lasted longer than 19 years.
Looking ahead, Ault's August 2018 study on megadroughts, published in Physics Today, offered a gloomy forecast.
If greenhouse-gas emissions from fossil-fuel burning continue to increase at the pace they've risen in recent decades, there's at least a 70 percent chance of a Southwestern megadrought in the second half of this century, he found. If we manage to slow down the pace of emission increases, the risk would drop but still exceed that of pre-industrial times, he and his colleagues wrote.
Either way, the study said, "Water managers in the Southwest should plan for the possibility of a megadrought before the end of this century."